Easy Vegan Meals for Fall
These three meals are simple, delicious, and healthy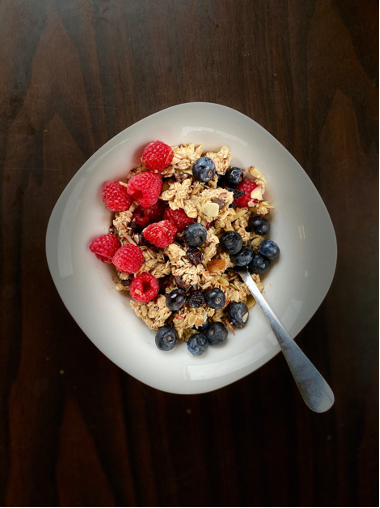 It's that time of year again; when the leaves are changing, the air is crisper, and you're craving all the seasonal spices and flavors that make fall, fall. But it's also a busy time of year with midterms approaching and a presidential election to pay attention to. 
Maybe you just don't have the time to really cook or even think about fall dishes, and that's okay. I've got you covered with some really simple vegan meals that are perfect for autumn.
Fall Overnight Oats

Ingredients:
One cup oats

½ cup non-dairy milk (I like oat milk)

½ tablespoon cinnamon

A tiny bit of nutmeg

Dried cranberries

A bit of maple syrup

Apple, pear, or any of your favorite fruit
Optional Ingredients:
Walnuts or almonds

Vegan chocolate chips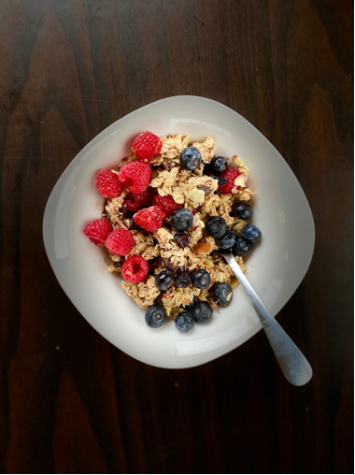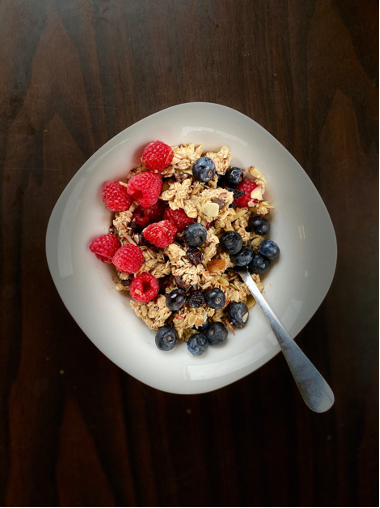 This quick breakfast recipe is definitely on the easier side. I like to make this in one of two ways. The first way is I'll make it as it's intended to be; overnight. All you have to do is find a container that's an appropriate size, add your oats, non-dairy milk, cinnamon and nutmeg, stir, and let it sit in your fridge overnight. This way, the oats become softer. In the morning you can add all of the dry ingredients; cranberries, walnuts, chocolate chips, maple syrup for some sweetness, and your favorite fruit (right now apples and pears are in season, but I didn't have any, so I used blueberries and raspberries).
The other way I make this meal is for when I forget to make the oats the night before. The only real difference is I'll heat up my non-dairy milk with a tiny bit of vanilla extract in a pot on the stove and mix it together. Everything else is essentially the same! If you're looking for some extra sweetness like I sometimes do, add a pinch or two of raw sugar to your oats before adding your non-dairy milk.
Veggie Bowl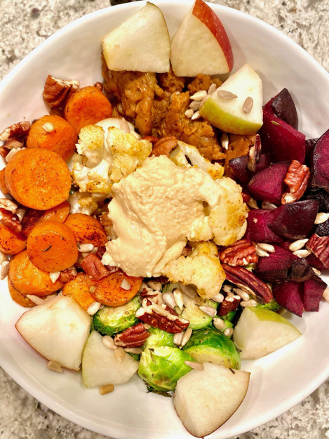 Ingredients (Feel free to use any veggies you want, this is just what I like):
Chopped Brussels sprouts, as many as you'd like

Chopped beets

Chopped carrots

Cauliflower

Optional protein (I chose my favorite vegan burger)

Pecans/cranberries

Sunflower seeds

Chopped apple

Tahini/Hummus

Your favorite oil (I chose canola)

Curry powder

Onion powder

Cinnamon

Thyme

Salt
The best part about being vegan in the fall is that root veggies are back in season! So, when you're in a rush, why not just throw them all in a bowl and make something great out of them? 
This recipe can be as easy as you'd like it to be. You can really just throw all this in a bowl with some sort of dressing and eat it, but I like to prep a little bit.
First, I'll prepare a baking sheet with tinfoil and separately drizzle some canola oil on my Brussels sprouts, beets, carrots, crumbled up protein and cauliflower. I separate them all in rows, but it doesn't really matter, this is just my preference. I'll add some thyme and salt to my Brussels, nothing to my beets because I think they have enough flavor alone, a bit of cinnamon to my carrots, and a dash of curry powder and salt to my cauliflower. Then I'll bake them for 15-20 minutes at 400 degrees.
You can either prepare your veggies beforehand and eat them cold after they've been in the fridge for a bit, or you can eat a warm bowl, which is what I like to do.
Add your protein and veggies to a big bowl in a way that's aesthetically pleasing to you, add your apple, cranberries, your choice of nuts, and sunflower seeds if you're looking for a little crunch. Then choose your pick of dressing. I like tahini or a simple hummus this time of year.
Stuffed Sweet Potato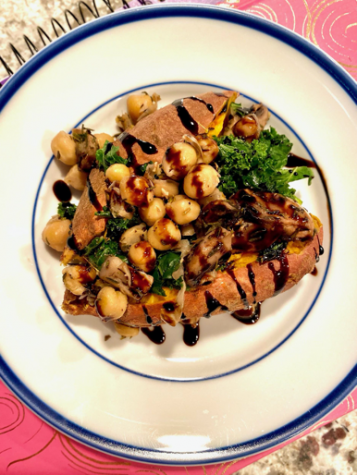 Ingredients:
Sweet potato

Mushrooms (I like baby bellas for this) and ¼ white onion

Chickpeas

Kale

Your choice of oil (I chose canola again)

Lemon juice

Vegan butter (I use Earth Balance)

Thyme

Salt

Balsamic glaze
There's nothing quite like sweet potatoes in the fall—if you do it right, they can also be savory. They're the best of both worlds. 
First, you're going to want to start baking your sweet potato right away. It's important to wash and scrub them lightly with cool water so that there's no gritty texture on the skin. Then you'll want to get a baking sheet with tin foil or parchment paper, which is important because baked sweet potatoes can get a little messy, and lightly cover it with oil and some salt. Most importantly, you have to stab the sweet potato a few times with a fork so it won't explode in your oven, and believe me, it can. Throw it in your oven at 425 degrees and let it bake for a while, which will take 45-50 minutes. You'll know when it's done when you can stick a fork or knife in it and pull it out without anything sticking. 
While your sweet potato is baking, it's time to start dicing your onion! Once you've done that you can throw it in a skillet on low/medium heat with some oil and stir them around for 2-3 minutes. Then you'll want to slice up as many baby bella mushrooms as you'd like, at whatever thickness you'd like. For this recipe, I like them to be chopped up pretty good. Throw them in with your onions and add some thyme and a pinch of salt. After a few minutes, add as many chickpeas as you'd like. I like chickpeas because I find them to be easy to add to any meal, and they can be cold, slightly heated up, or crunchy, and they're a great source of protein. Whenever your mushrooms have reached your desired texture, you can take them off the heat and set everything aside.
Next, I like to take my kale and massage it with a little oil and lemon juice. This really makes a difference in the texture of the kale and makes it easier to chew and digest. Then I'll throw it on a small skillet and cook it down just a bit, which should only take two or three minutes. You can also just add your kale to the mushrooms and chickpeas while they cook, but I like to keep them a bit separate.
Once the sweet potato is soft and cooled down a bit, you can either slice it open, add some vegan butter and your veggies, or you can cut it in half, scoop out the center, and then add your vegan butter and veggies. It really just depends on how much sweet potato you'd like! I top this recipe off with a good drizzle of balsamic glaze, adding a whole other element of flavor that really ties everything together.
Whether you're vegan, vegetarian, or just looking for some easy seasonal meals, fall in New England provides us with some great root veggies that are easy to incorporate into any meal. Stay safe and, most importantly, enjoy.
Email Elisabeth at [email protected] or follow her on Twitter @lizziewmorgan