Instagram page run by UMass students inspires change
Students behind @voicesunitedumassamherst say it's time for UMass to do more.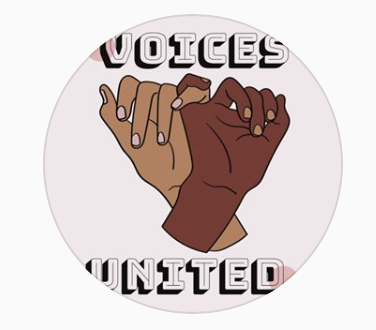 Instagram pages such as @voicesunitedumassamherst are run by students who lift up each other's voices to spread awareness about discrimination at the college level. This page provides a safe space for BIPOC (Black, Indigenous, People of Color) students to anonymously share their experiences at the University of Massachusetts Amherst. Kimberlee Moise, a junior majoring in Communication Disorders, and Caina Damestoir, a senior majoring in Psychology, are the administrators running the account, which has 422 followers. The page has grown from only sharing anonymous experiences, and it is in the process of becoming an official student organization.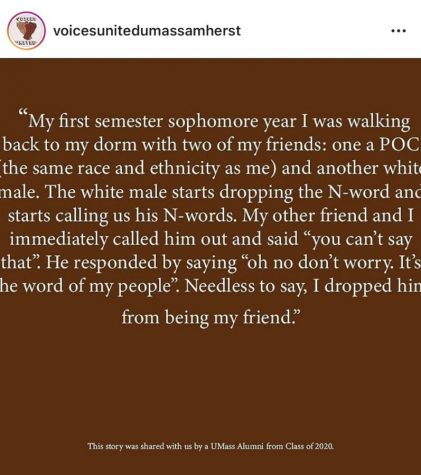 Damestoir explained that they decided to introduce more content because they want to spread a message that is more than negative experiences.
"We wanted to show so much more than [negative experiences], so we came up with the idea of 'Teacher Tuesdays' and 'Spotlight Thursdays' to highlight marginalized voices," said Damestoir. Teacher Tuesdays include posts meant to educate followers about various topics such as The Voting Rights Act of 1964, voter suppression, different English dialects and disparities in treatment for Autism. Spotlight Thursdays aim to highlight UMass students and alumni by posting their achievements and passions. Damestoir and Moise stated that change starts on the individual level and that creating big change starts with small victories; They hope their Instagram page will help in initiating these changes that are long past due.
"I still think UMass seems to be at a point where there's just a lot of talk. A lot of what the students have asked, they still don't get. Standard emails and stuff like that is just not going to be enough anymore […] I think the university still has so much room for improvement," said Moise.
Chancellor Kumble R. Subbaswamy sent an email on May 29, four days after the murder of George Floyd, recognizing the tragedy and the need to implement change at the university level. "Although we acknowledge that our community is far from perfect, we must always strive to be better, to foster a community that is grounded in the concept of dignity and respect for all," said Subbaswamy in the final lines of the email. Similar emails have been sent after repeated incidents of racism occurred at UMass, but students are still waiting for more than spirited statements admonishing hate and affirming the slogan: "Hate has no home at UMass." In a school that reports 71 percent of its undergraduate students as white, words are not enough.
Along the lines of small victories and improvements, the College of Social and Behavioral Sciences decided to create a committee to implement real change within its own school at UMass. On Aug. 5, SBS made the announcement that David Cort, associate professor of sociology, and Kathy Forde, associate professor of journalism, were appointed as Associate Deans of Equity and Inclusion. They are in charge of the DEI Coordinating Committee, which will "build listening pathways with various groups in SBS including students, faculty, and staff, to inform their work and expand understanding of racial and other diversity issues in the college," according to an email sent out Sept. 14.
The DEI Coordinating Committee includes the two associate deans, two faculty members, one undergraduate student, one graduate student and one staff member from SBS. Since Oct. 1 it meets every Thursday from 2-3 p.m. Cort calls the committee a "meeting of the minds" who come together once a week to discuss what equity and inclusion is, and how to progress these ideas. When asked about UMass' feeble responses to acts of racism, Cort explained that the DEI Committee aims to do better:
"We want the goal of diversity, equity and inclusion to be much more than just lip service. We want tangible kinds of changes." Cort also says the new committee has recently created a document containing "action items" such as hiring a full-time director of the SBS Academic Fellows Program, working with students to help faculty members make their syllabi reflect more anti-racist material, making the hiring process implement true diversity and more.
"I do think that everywhere in the university, including SBS, can do more and must do more to make the climate more inclusive and welcoming [for people of color]," said Forde, and "these school Instagram pages are [raising awareness] in our own community, and that's just so important because it helps folks in our community tell their stories of experiencing racism and bias."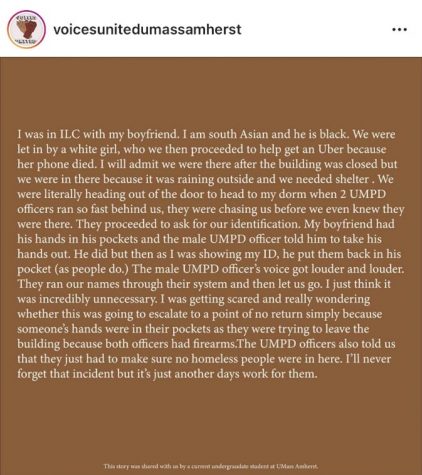 Cort says that Instagram pages like @voicesunitedumassamherst help people in his position understand what BIPOC students are going through — they can "serve as a way for giving folk like me opportunities to say: this is actually what people are talking about and this is what they need," said Cort, "I have the opportunity to help initiate change to make the things that have been 'trending' much more concrete."
Janice Obudai, a senior majoring in Communication and minoring in Women, Gender and Sexuality Studies, is the undergraduate student part of the DEI Committee. She represents all undergraduate students at SBS and provides input to the committee.
"I feel like diversity is a very important issue, especially with everything that's been going on…" said Obudai, "I feel like I have a different perspective and I can offer something valuable to the committee so they can see a different side of things, not only the student perspective but like the perspective of a black student."
When asked about Instagram pages such as @voicesunitedumassamherst, Obudai said that they are important and could play a role in the committee. Since she is a representative for the student perspective, bringing the anonymous voices and experiences to the committee would help the committee understand what needs to change.
While the DEI Committee wasn't created because of @voicesunitedumassamherst or other Instagram pages, they nevertheless provide a space for students to speak their truth and force others to consider discriminatory actions that happen within the community.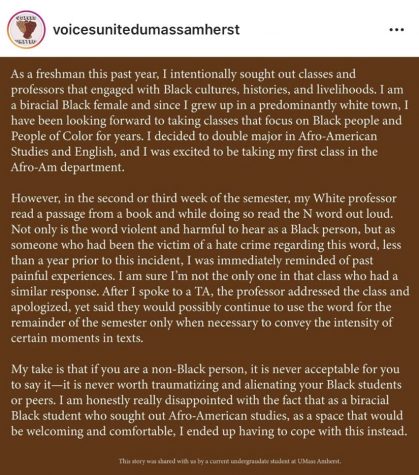 "We hope [the committee] works, but at the end of the day it's up to both the university, professors and faculty to decide how much change they want to see implemented," said Moise. It's difficult to witness what changes are being made since UMass is completely online this semester due to COVID-19, but social media still plays a powerful role when it comes to mobilizing young people towards good causes such as racial justice. Damestoir noted that change can be slow, but that doesn't mean that people should give up.
"Hopefully, you will see the impact when we're all back on campus, but it's going to take more than just one year of advocating. It's a marathon, we have to keep pressing and pushing."
Email Faith at [email protected] or follow her on Twitter @faith_doza