Colorfully flat: "I Care A Lot" fails to deliver a modern-day femme fatale
The latest Netflix film struggles to craft a contemporary femme fatale, resulting in a flat "girl boss"
Known for her groundbreaking role as Amy Dunne in the 2014 psychological thriller "Gone Girl," Rosamund Pike returns as a similarly cunning and villainous woman in the dark comedy "I Care A Lot," which made its Netflix debut on Feb. 19. With an intriguing plot and a promising cast, the film appears like another gripping adventure filled with twists and turns. However, it falls flat of its expectations. 
The film follows Marla Grayson (Rosamund Pike), a court-appointed guardian who manages the lives and finances of elderly wards in order to exploit them for their money. With the help of her business-partner and girlfriend Fran (Eiza González), they've got this system down to an art. When Marla acquires a new ward, Jennifer Peterson (Dianne Wiest), who appears to be the perfect wealthy target for their con, things take a turn. Suddenly, Marla finds herself caught in the middle of Jennifer and her son Roman Lunyov (Peter Dinklage), a former Russian mob boss.
Despite recently receiving a Golden Globe Nomination for Best Film Comedy/Musical Actress, Pike's performance feels exceptionally weak in comparison to her work in "Gone Girl," and evokes the role of the femme fatale in 1940s film noir. That is not to say that the femme fatale is always a flat character with a pretty face. 
Both classic and modern films have been able to successfully craft a multi-dimensional femme fatale like Phyllis Dietrichson (Barbara Stanwyck) in "Double Indemnity" (1944) and even, some critics argue, Ramona Vega (Jennifer Lopez) and Destiny (Constance Wu) in "Hustlers" (2019). However, the femme fatale is a beautifully delicate archetype, one that can either shine or crumble if put in the wrong hands. And in the case of "I Care A Lot," the wrong hands are writer and director J Blakeson. Marla is smart, confident, wicked and stylishly dressed, but that's all there is. Her cruelty and toughness is constantly emphasized so much that she loses any personhood, becoming nothing more but a beautiful, evil woman. Marla exemplifies just how fragile the femme fatale archetype is, particularly when in the hands of a male director. As Time Magazine writer Stephanie Zacharek points out, femme fatales are supposed to be sexy and villainous but their complexity is what attracts viewers even more. "[H]istorically," writes Zacharek, "the best of these characters—even beyond beyond their pure, joyous nastiness—are so electrically vital you can't turn away from them." But Marla Grayson is both an attempt and failure to redefine the femme fatale in 2020.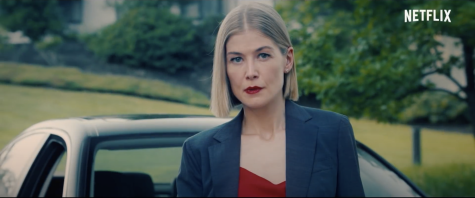 The film did manage to incorporate experiences that many women face today such as verbal harassment and gender inequality in the workforce, which not only provided a subliminal time stamp but equipped Marla with a reason for her tough exterior and cut throat business tactics that allow viewers connect with her more. This is visible after Marla restricts the son of one of her elderly wards from visiting his mother because he is causing her harm and she is verbally attacked. Just as Marla is about to enter her car the man approaches her screaming and threatening her with rape and murder, and eventually spits in her face. When Marla stands up for herself and threatens to rip off his genitals, it's hard to not sarcastically cheer for Marla who, in Blakeson's eyes at least, is clearly an evil version of "girl boss."
This "girl boss" character is further emphasized when Marla and Roman meet for the first time. Fascinated with her fearlessness and determination, Roman asks her how she's so brave. "Well, to make it in this country, you need to be brave," explains Marla. "And stupid, and ruthless, and focused, because playing fair, being scared, that gets you nowhere. That gets you beat. You know that." While their negotiation didn't end well, it remained a pivotal moment in Marla's life because Marla gained the respect of former Russian mob boss. This, as Zacharek argues, is what Blakeson seems to be arguing throughout the film. "One of Blakeson's points seems to be that women need to be this bad to get any respect from men," writes Zacharek. This theme is subtly reflected a few times through scenes that are reminiscent of the mystery films "North by Northwest" (1959) and "Goodfellas" (1990), reminding viewers of stories that are often considered to be timeless cinematic masterpieces.
But this issue of elegantly flat characters goes beyond just Marla. Almost every tastefully dressed character lacked depth, which ultimately hurt their own chances, as well as the film's chances, of creating a connection with the audience. Although Wiest's character, Jennifer, was one of the few who managed to evoke emotion with her position as a helpless old woman and intrigue viewers with her seemingly sweet demeanor and mysteriously dark connections, she had little screen time compared to her costars. Simply put, there is no side to pick, no character to root for, no one to feel for.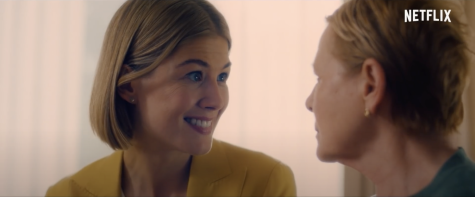 Essentially, there's nothing special about the film nor its characters. A sentiment that echoes Zacharek's point about the film. "I Care a Lot isn't clever or perverse enough to make that idea sing; its cynicism is both clean and boring." In a film with a strong cast and fresh plot filled with potential, it gives viewers great hope and excitement. Unfortunately, "I Care A Lot" is unadventurous in its characters and fails to distinguish itself, which destroys its ability to connect with its audience. 
"I Care A Lot" is currently streaming on Netflix.
Email Brianna at [email protected] or follow her on Twitter @brisilvv.