If you liked "Sky High" as a kid, you'll love "Invincible" as an adult
"The Walking Dead" creator Robert Kirkman reinvents superhero series just as brutal as his AMC hit
We live in an age of superheroes. "The Avengers," "WandaVision" and "Justice League" are just a few of the many modern superhero entries. Maybe even too many. Even "The Boys" has taken a jab at the overabundance of superheroes nowadays. At this point, is there really any reason to watch a superhero show that isn't made by Marvel or DC? 
"Invincible" is a series created by Robert Kirkman, most known for creating "The Walking Dead" graphic novel series. The story follows high schooler Mark Grayson and his father Nolan Grayson as they go about their superhero endeavors in a world where all superheroes are recognized, accepted and relied upon even more than any law enforcement authority. Nolan is the most powerful superhero in the world while Mark just starts to realize that he has superpowers. Mark bonds with his father while trying to achieve the level of power and recognition his father has in order to live up to Nolan's legacy. Although he wants to be just as strong and famous as his dad, he also needs to have a balance between schoolwork and his girlfriend. 
Does this plot sound familiar? It's a lot like the nostalgic Disney movie "Sky High" or the quirky anime "My Hero Academia" which shows an underling with budding powers taken under the wing of a mentor with superpowers. Why would anyone want to watch a superhero show that's not by Marvel or DC and is similar to "Sky High" and "My Hero Academia?" Despite the high school setting, "Invincible" is violent and tackles dark topics, but it also somehow blends in instances of lightheartedness and comic relief.
As of right now, Amazon has released four of the eight-episode season order. Episodes are slated to be released every Friday on Prime Video. Watching the first episode, I found the first 40 minutes were a little boring and were brought down by clichés typical to Marvel or DC franchises. It showcases Mark as an outcast high school student beaten up by his bully only to realize that he has superpowers to defend himself. Even with superpowers, Mark is still outcasted by other superheroes because of how he has no idea how to use his powers properly. I did like how Mark interacted with his superhero dad and his mundane mom because it blurred the line between being a hero and being an average joe, but it's been done before. However, the interactions between Mark and Nolan were quite memorable and comical. In one scene, Mark and Nolan are playing catch with a baseball just like any father and son. Unlike any father and son, they are floating mid-air and throw the ball around the globe to each other all while bickering about Mark's incompetence as a superhero.
The slow burn of a pilot didn't really stand out at first, but I was rewarded with a firework show in the end. The twist at the end of the first episode makes it different from a typical superhero franchise. If I told you what happens it would ruin everything, but if you thought this animated superhero show was made for kids, you would be dead wrong. Let's just say that the climax of the pilot switches the show's tone from witty and light-hearted like in "Ultimate Spider-Man" to dark and mature like in Amazon's "The Boys" all while maintaining a tongue-in-cheek sense of humor that isn't overbearing.
Although the superhero trope has been used repeatedly and this mentorship concept feels overdone, "Invincible" reinvents the familiar and alters it enough to make it stand out from the rest.
This series is an Image Comics property and not Disney or Marvel, meaning that they have no limit on the amount of action and violence showcased. Given that the "Invincible" creator also made "The Walking Dead," expect to see a lot of over-the-top violence and dark themes. You might be taken off guard because this is an animated TV show, but this show is cemented by its action sequences. The copious level of gore is just a cherry on top for those that like a violent series.
The animation is such a joy to look at. Looking at screenshots from the show and images from the graphic novel, they mirror one another. Characters pop out with their vibrant colors. It's refreshing to see in comparison to the eerie original black-and-white "The Walking Dead" comics. The soundtrack that goes along with the show's comic book style makes me feel like a high schooler again. I like Cage the Elephant and Vampire Weekend, but putting them in one show to go along with montages of Invincible flying around and fighting aliens is just mesmerizing.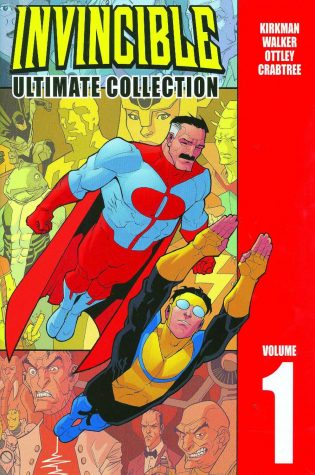 Speaking of "The Walking Dead," several cast members from the AMC series are set to voice characters. The titular Invincible or Mark as he is known in his mundane life is voiced by Steven Yeun who played Glenn in the TV adaptation of "The Walking Dead." Most recently he's gained major traction for his Oscar-nominated role in "Minari." Some other highlighted actors from "The Walking Dead" include Lauren Cohan who played Maggie, Lennie James who played Morgan and Michael Cudlitz who played Abraham. If you were never a fan of "walkers," some other phenomenal voice actors include J.K. Simmons who voices Nolan and Sandra Oh who voices Nolan's wife Debbie Grayson.
If  Kirkman's impressive "The Walking Dead" portfolio isn't enough to win you over, let it be known that Jeff Allen is the series director for "Invincible." While you might not be familiar with Allen's name, but you have without a doubt heard of his work. He was the director of shows such as "Xiaolin Showdown," "Ultimate Spider-Man" and "Avengers Assemble." All of these action-packed animated series had an optimal balance with humor. His tenure with different superhero franchises is significant. It will be interesting to see his artistic evolution from more kid-friendly programming into something much more mature.
Abundant action is complemented by Kirkman's animation style. The opening scene in the series has Omni-Man taking down two supervillains right outside the White House alongside the universe's parallel to the Avengers. I was not disappointed at all by how consistently brutal and stylistic these sequences were.
Even if the concept is similar to "Sky High," the plot being retold through the gruesome yet comical "Invincible" is refreshing. At the very least, I would give the first episode a try, but after you watch it, you will be hooked.
"Invincible" is currently streaming Prime Video.
Email Aaron at [email protected] or follow him on Twitter @WhatTheFacundo.