Second day of demonstrations continue over Theta Chi allegations at UMass
Following Sunday's protests, Monday consisted of another two peaceful protests, both bringing extremely supportive crowds.
On Monday Sept. 20, at 12 p.m , over 60 students from UMass met at the Whitmore Administration building for a sit-in at the Dean of Students office's waiting area. They gathered to protest against the Theta Chi fraternity, which has current sexual assault allegations against its members.
There was no official organizer for this sit-in. Students came to share some of their stories and their issues with fraternities with hopes that someone from the Dean of Students would come out and talk about the situation. No one from the office addressed the sit-in, but many of the faculty members walked by, shuffling through the crowd. Some peeked through the blinds from their windows to watch.
The group came up with some demands and ideas for future rallies and protests. 
Other allegations, videos, support groups, that have been seen on Reddit, Instagram, and Yik Yak were also mentioned.
At the end, the group passed a notebook and sent out a Google Doc to get each other's contact information.
At 8 p.m. about 1,000 students went to Theta Chi. It was the largest crowd seen in the past two days. Most stood on the sidewalk in front of the walkway to the house, but more students were across the street on the lawn of the Studio Arts building. 
Events were much different than Sunday night's. There was no damaging of property, no violence, a much lower police presence and much less chanting. The crowd would occasionally erupt in chanting, including: 
"F- Theta!"
"We gon' fight!"
"Abolish frats!" 
and "micropenis." 
Cars, motorcycles, and even a PVTA bus honked or revved their engines in support of the protestors. Drivers and passengers in cars would frequently shout their support of the protest out the windows.
Many survivors and activists stood upon a platform to share their stories and the experiences that they've faced. These speakers also included one of the most stigmatized groups of sexual assault survivors of childhood sexual assault and incest.
Olivia Elmstrom, an undeclared sophomore, is one of the people that spoke. She describes her experience as being overwhelming at first, but then supportive. 
"It was a little scary, but it felt good to share my story and talk about how grateful I was to have a witness in my case of sexual assault. Not many women have that privilege, and I was really proud that I was able to talk through that." 
Every time someone spoke there was overwhelming support from the crowd when they first started and ended speaking. When speakers faltered or in some instances began to cry, the crowd would encourage them to continue. 
Elmstrom said, "Words can't describe how amazing it felt to receive that much support from everyone. I felt such a sense of community that I haven't felt since I arrived on campus." 
One of the first speakers was Veronica Everett, a Clinical Social Worker and adjunct faculty for the Sociology Department at UMass. Some of her clients in the past have been UMass students. 
She felt like she had to come out to the protest to show "that faculty is taking accountability and being visible to the students." She wanted the students to know that she supports them. 
Everett said, "you guys need adults supporting you and protecting you. It's our job!"
Ari Pelletier, a sophomore psychology major, attended the rally in hopes to not only chant "F- Theta Chi," but also show support for survivors. 
Pelletier said, "I felt like it was my duty as a woman to show my support and love for those who had the courage to stand there and share their most vulnerable experiences."
This protest was very eye-opening for Pelletier. "My experience at the protest was the realization that this campus has a problem of sexual assault far more serious than I had ever imagined. I saw the pain in people's faces and heard the trauma in their voices as they shared their personal experience with sexual assault, rape, harassment and more. Despite the heaviness of the topic itself I did notice a sense of love and community that I haven't experienced yet on this campus so far."
While people were speaking, there were two things being shared in the crowd. 
First, an airdrop of a note that contained the demands of Students for a Safe Campus.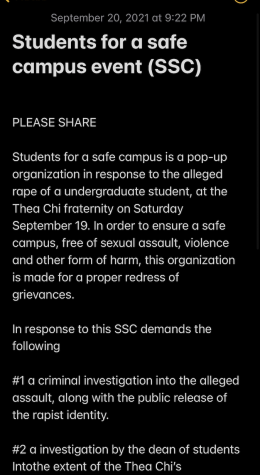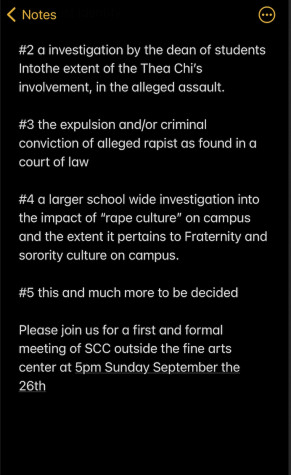 Second, a QR code that when scanned, would bring up a prewritten email that would be sent to Brandi Hephner LaBanc, the Vice Chancellor for Student Affairs and Campus Life. The email urges her to implement the Survivors Bill of Rights.