Power to the people: Northampton sees large turnout to abortion rights march
How Northampton is fighting for women's reproductive rights and how you can too
A group of over 800 people joined together the first weekend of October in Downtown Northampton to march for women's abortion rights. The Western Mass. protest was one of hundreds that took place across the country in wake of Texas' new Anti-Abortion Law, which bans all abortions after six weeks of pregnancy.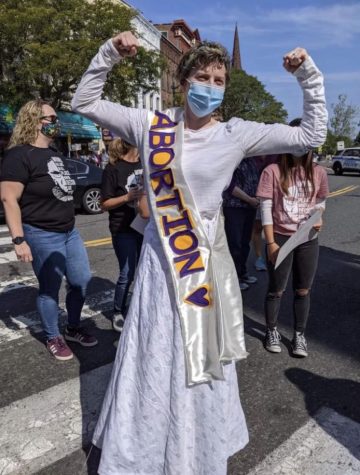 This law marks one of the most extreme threats to the landmark Roe v. Wade decision, made nearly five decades ago. For context of its extremity, half of women do not show any symptoms of pregnancy at five weeks. 
Thus, women in the Lone Star State are frantically trying to locate out-of-state alternatives with their rights being so limited – others not even having the financial means to do so. 
Texas isn't the only state to employ such restrictive measures. The Supreme Court will hear Mississippi Case, Dobbs v. Jackson's Women's Health on Dec. 1 bolstered by their District Attorney, General Lynn Fitch. Its main goal is to overrule Roe v. Wade and subsequently put in place a law that bans virtually all abortions after 15 weeks, even with nearly a thousand lawmakers from 45 of the 50 states issuing urges to uphold the precedent currently in place protecting women. 
With such measures being quickly pushed some states, including Massachusetts, are advocating for those who have been silenced.
Debby Pastrich-Klemer, a Northampton resident, is one who is spearheading action right in this very area. A longtime volunteer with the Valley Women's March, a Western Mass. organization that brings together women and allies across a multitude of races, sexualities, social classes and many other identities. Pastrich-Klemer acted in this capacity for the march, co-organizing the event with Planned Parenthood of Western Massachusetts.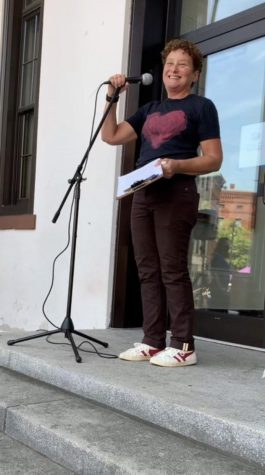 Having assembled multiple protests in the past, Pastrich-Klemer jumped at the chance to have another, especially in wake of such drastic measures being taken all throughout the country.
"This came up when the National Women's March Group put out a call to put out this event….  The Valley Women's March just spoke to them and confirmed it," she claimed. 
The crowd stretched the length of Main Street, making it one of the largest Pastrich-Klemer has seen in the area besides the annual "NoHo" Women's March, held each January, which draws out thousands. 
Pastrich-Klemer, also the vice chair of the city's Democratic City Committee, made note that the event didn't just bring out residents and allies, but public speakers from a multitude of organizations.
One was 15-year-old Marisol Pierce Bonifaz. Along with Edy Savage, the Amherst-Pelham High School freshman co-founded the Amherst chapter of Generation Ratify, a youth-led, nation-wide movement to build the new generation of equal rights amendment advocates.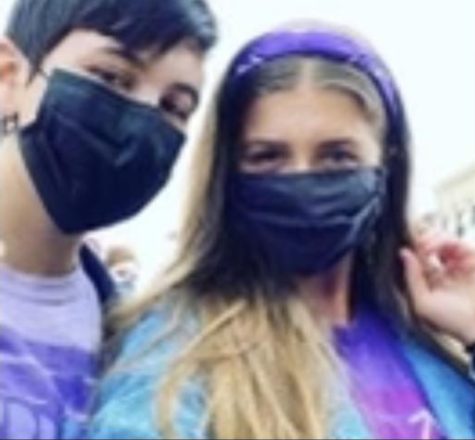 In a nearly four minute speech, Bonifaz spoke well beyond her years, to call to action for reproductive choice vitality. 
"We are standing here rallying today because we know that if this case rules in Dobbs' favor, young people will lose their rights. The BIPOC community will lose their rights. Women will lose their rights. And any person who can get pregnant will lose their rights… I am standing here, voice raw, because we have no other choice but to fight."
With a now 6:3 conservative majority in the most powerful court in the country, pro-choice advocates are aware of the poor stakes ahead.
"I am not too hopeful after the way Texas is being handled… for it is not just abortion stuff… it reduces access to healthcare and prenatal care… so many people are affected, especially low income individuals," Pastrich-Klemer stated. 
Nonetheless, there is still a chance for change. Take the substantial turnout at the recent Northampton Rally for example, a rural place with only about 30,000 residents. 
Bonifaz is acutely aware of the situation's challenges, just like Pastrich-Klemer, who exclaimed on Google Meet this past Sunday that her place as a young woman is, "being not safe in her own body."
However, she placed emphasis on this: "People power has prevailed before, and we believe it can again." 
Ensuring equality through holding the Constitution accountable is one of many key objectives in this movement. One way in which people are trying to do this is through the #Rally4Roe campaign, launched by Generation Ratify, which is a three phase, three month initiative to take action to uphold and promote this legal precedent. People of all ages are able to sign up for updates and become involved in the movement.
Pastrich-Klemer also provided a myriad of ways in which others can get involved, the biggest being voting. 
"Vote for everything. Not just national elections – little elections count just as much as the big ones do… It starts at the city level. We cannot let these things keep getting swept under the rug."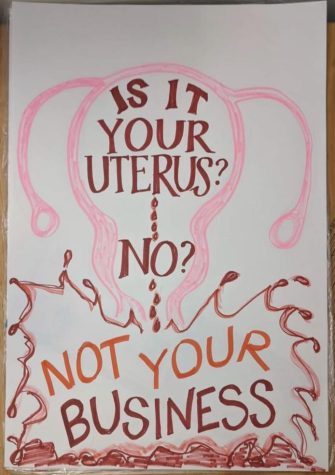 Since the rally, there have already been several new developments. The Texas law has been blocked by Federal Judge Robert Pitman on Oct. 6th. It was then overturned, to be enforced again by the U.S. Circuit Court of Appeals, just two days after Pitman's action. 
Such conflicting developments are all the more evidence to how polarizing, yet important this issue is. A topic of this magnitude will always have two sides. However, it is the validity and integrity behind these arguments that carry the extra mile.
It can be seen in the actions of Bonifaz and Pastrich-Klemer that it does not matter your age, nor experience to make change. Whether it be something as simple as signing a petition and sharing an Instagram infographic, or something as innovative as creating an initiative on campus to support, educate and act upon infractions of women's reproductive rights, (wink, wink) it is up to all of us, no matter our platform to use our voices to create change. 
What you can do:
Though UMass students cannot join the

Generation Ratify

Amherst chapter  as its members must be 12-16-years old, there are numerous beneficial resources on their

Linktree

and

Instagram

to become informed and involved within the community.

Contact UMass'

Center for Women and Community

to get involved and support in relation to women's issues.

Post on social media and talk to friends and family to bring awareness towards these issues.

Stay up to date with the latest news in regard to the legalities of the cases and movement in itself.

Call/email your local leaders and officials.
Senator Ed Markey: 
https://www.markey.senate.gov/contact
Senator Elizabeth Warren: https://www.warren.senate.gov/contact/shareyouropinion
Northampton City Council:
https://www.northamptonma.gov/1120/City-Council
Northampton Mayor, David J. Narkewicz: https://www.northamptonma.gov/720/Mayors-Office
Amherst Town Officials:
contact-your-elected-officials
https://www.amherstma.gov/3476/Community-Resources-Committee
https://www.amherstma.gov/3454/Governance-Organization-Legislation-Comm
Donate, Volunteer, Support