The Amherst Wire editors share their favorite movies
Ranging from "Grown Ups" to "Midsommar," the Amherst Wire editors talk about their favorite movies.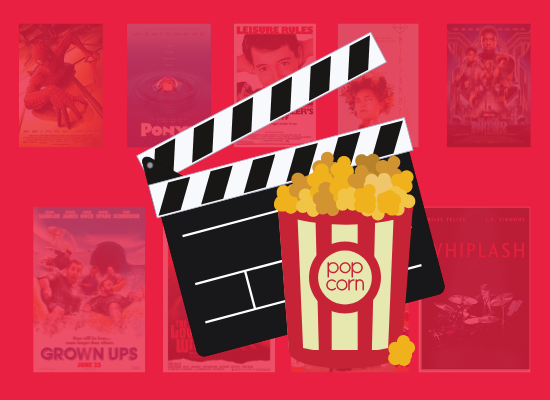 To some, movies are a great pastime; to others, movies are part of a passion. Either way, we all have our own personal favorites. The Amherst Wire editors were asked what their favorite movie is, how they describe or summarize it to others and what they love about it.
Aaron Vincent Facundo, TV/Film Editor
"Love Exposure" (2008)
It's a really weird four-hour long Japanese action-romance movie. If I told you what "Love Exposure" was about, you'd probably think to yourself "Aaron, how the h-ll is this your favorite movie of all time?" If you really want to know what this movie is about, you should probably just look it up, but trust me, it is an amazing movie that you have to watch.
Despite being a four hours long, I wish that "Love Exposure" was even longer. The main character, Yu, is a hopeless romantic that keeps trying to win over a girl that clearly has no interest in him. I hate to say that I relate to him way more than I should. Also, it's almost like every single character around him is a person I know in real life. "Love Exposure" blends action, romance and drama in ways that I would have never thought would be possible. For a movie with by far the most bizarre premise ever, I definitely laughed a lot, but I never expected to cry as much as I did during the last act. Needless to say, this movie made me feel the highs and lows of my emotional range.
Other Picks:
"Requiem for a Dream" (2000)
"One Cut of the Dead" (2017)
"Peppermint Candy" (1999)
"An Elephant Sitting Still" (2018)
"Enter the Void" (2009)
Abbie Gracie, Co-News Editors
"Grown Ups" (2010)
A comedy with some legends, like Adam Sandler, Chris Rock and Salma Hayek, about this group of old high school friends renting a lake house in New England with their families after a coach's death.
It's so lighthearted and fun that I never get sick of it. Also, New England in the summertime is picturesque and makes me feel at home.
Other Picks:
"Jaws" (1975)
"Cloudy With a Chance Meatballs" (2009)
"Mulan" (1998)
"Interstellar" (2014)
Isabelle Guilmette, Managing Editor
"Ponyo" (2008)
A little boy names Sosuke finds a goldfish, who ends up being an ocean princess named Ponyo, who's gone up to the surface to experience life for herself. Friendship ensues <3.
It's "Ponyo," what's not to love! The story is sweet and impactful, and the animation, as usual, is to die for. I have memories of watching this with my mom on sick days, it's my ultimate feel-good movie.
Other Picks:
"Eternal Sunshine of the Spotless Mind" (2004)
"Monty Python and the Holy Grail" (1975)
"My Big Fat Greek Wedding" (2002)
Emilee Klein, Podcast Editor
"Whiplash" (2014)
Aspiring drummer enters into prestigious music school and gets pushed to his limit by infamous music teacher to become the best jazz drummer in existence.
Outside of family movie nights, I'm not a big movie person. I've always been really good at predicting the plots and themes of media, and movies were always predictable no matter how beautiful the cinematography or score. Whiplash is one of the only American movies I've ever seen that doesn't force a doctrine down your throat or takes predictable turns. You get to decide whether or not to root for Andrew Neiman (Miles Teller) or Terence Fletcher (J.K. Simmons) or neither, and you get to decide whether Terrence's methods are abuse or genius. And the answer isn't at one extreme or the other. As a storyteller, that's a really beautiful thematic arc. Well, that and I like jazz.
Other Picks:
"Spirited Away" (2001)
"About Time" (2013)
"Pulp Fiction" (1994)
Tristan Smith, Social Media Manager
"Whiplash" (2014)
A verbally, physically and emotionally abusive drum teacher shows his students the mental fortitude it takes to be successful.
J.K. Simmons' character is oppression personified. His method of teaching is asphyxiating, demoralizing and at the same time successful. Simmons shows his students the drive and passion necessary to be truly successful in a cold-hearted music industry, where you can lose your entire life's-work off of one missed note. The ruthlessness displayed in the film isn't sensationalized or melodramatic, it's all based in reality. You can see the Simmons' character frustration build with each and every mistake. The verbal outbursts aren't at all unjustified if you look to the degree of competition and standards placed on the band. Substitute Simmons for the cruel realities of the professional world —the weak get weeded out and only the strong survive— and you have a compelling narrative about what it takes to succeed in an industry with limited positions. As a jazz lover, the music becomes more and more delightful with each and every watch.
Other Picks:
"Eternal Sunshine of the Spotless Mind" (2004)
"A Clockwork Orange" (1971)
"Reservoir Dogs" (1992)
"Logan" (2017)
Celina Rivernider, Creative Writing and Podcast Editor
"Midsommar" (2019)
Trippy horror movie/cult stuff/exploration of grief. Fun stuff.
In my opinion the best kind of horror movies don't rely on jump scares but instead focus on very real very scary things that everyone experiences (like how "Midsommar" explores grief in a very uncomfortable way)
Other Picks:
"Dead Poets Society" (1989)
"Harry Potter and the Prisoner of Azkaban" (2004)
"Borat: Cultural Learnings of America for Make Benefit Glorious Nation of Kazakhstan" (2006)
"Borat Subsequent Moviefilm" (2020)
Faith Cardoza, Editor in Chief
"Spider-Man" (2002)
With great power comes great responsibility. Based off of the Marvel Comics character, this movie tells the origin story of Peter Parker and how he becomes Spider-Man. Peter is a high school outcast who lives with his elderly aunt and uncle, and he holds a big crush on Mary Jane. One day, he is bit by a radioactive spider that gives him superpowers. With this newfound power and responsibility, he learns how to become a hero as he fights crime in New York and faces a great foe: the Green Goblin.
It may not be the greatest cinematic masterpiece, but it has held a special place in my heart ever since my childhood. Spider-Man was my favorite superhero, and I remember watching this movie over and over again until my parents would beg me to choose something else.
I especially like how Peter Parker is an ordinary person given heroic responsibility. He doesn't have much money, struggles in school, can't hold a job, is ridiculed and yet he still selflessly saves people without asking for anything in return. I find Peter Parker a much more interesting character than one like Tony Stark, but that's just my opinion.
Other Picks:
"Sound of Music" (1965)
"A Christmas Carol" (1984)
"Hunger Games" Trilogy
Sean Dunham, Music Editor
"Ferris Bueller's Day Off"
Known for skipping class and creating chaos, Ferris Bueller strives to have one last free day before graduating from high school. Pretending to be sick then "borrowing" a sports car, Ferris embarks upon a journey around Chicago with his friends, while trying to avoid getting caught by his biggest enemy, Principal Rooney.
I absolutely love movies from the 80s! This film is so nostalgic and makes me want to go back in time to live during this decade. Ferris is so enthusiastic and relaxed under pressure, which makes the movie more enjoyable to watch. Living in the moment is such a huge theme in "Ferris Bueller's Day Off," as well as having fun without worry.
Other Picks:
"The Greatest Showman" (2017)
"Hush" (2016)
"Divergent" (2014)
"Black Panther" (2018)
 Zach Steward, Politics & Op-Ed Editor
"Black Panther"
This is about a man that does what he can to write the wrongs of his father while taking on the mantle of a superhero, becoming a symbol that's bigger than him.
It's my favorite because of how well done it is, how it shows Black people as more than the stereotypes that are given to us. It shows a full range to which Black people are able to express themselves and what they are able to do when given agency. It's also personal in the sense that I can deeply relate to it and feel a connection to each character.
Other Picks:
"Avengers: Endgame" (2019)
"No Time to Die" (2021)
"Avengers: Infinity War" (2018)
"Black Widow" (2021)
"The Dark Knight Rises" (2012)
Chelsea Staub, Lifestyle Editor
Favorite movie of all time? Impossible to tell. Favorite right now? "The Love Witch"
"The Love Witch" is a visually stunning film with technicolor 70's vibes that centers around a woman who works with witchcraft to find a man to love her. It sounds outdated, but its actually a hidden gem full of camp and feminism.
I love campy films and this one nails it. The costumes, set designs, and cinematography positively overwhelms the viewer, and while the aesthetics are strong, the message of the film is what ultimately dominates (but manages to do so subtly). The beauty of this film goes deeper than its glittery shots and camp hilarity, making it a must watch.
Other Picks:
"Death Proof" (2007)
"True Romance" (1993)
"Vertigo" (1958)
"The Godfather" (1972)
"Salem's Lot" (1979)
Nicole Biagoni, Co-News Editor
"Goodfellas" (1990)
A classic mob movie based off the actual life of Henry Hill. Got all the thrills and twists and turns that makes a mob movie a mob movie. Watching this movie you almost feel like you are watching a car speed up faster and faster and you are just waiting for the crash but you don't know when, and when it does you can't look away from the accident.
Oddly enough, Italians, at least in my case, won't watch Christmas movies, we'll watch mob movies instead. "The Godfather" (all of them), "A Bronx Tale," "The Irishman" and "Goodfellas" was the one mob movie we watched as a family during COVID and it brought me back to life before covid and all the good memories with my family during Christmas. Besides the fact that it is just SUCH A GOOD MOVIE.
Other Picks:
"Dirty Dancing" (1987)
"Top Gun" (1986)
"Uncut Gems" (2019)
"Sound of Music" (1965)
"Back to the Future" (1985)
View a list of all our favorite movies on Letterboxd.
Follow the Amherst Wire on Twitter @AmherstWire.