UMass Terrible Design Contest: Students create the worst designs imaginable
This terrible design contest invited people of all artistic capabilities to create the worst and most useless designs they could.
A juice box that contains no juice, a calculator that requires you to climb 84 stories to use and a transparent calendar that makes it nearly impossible to know what day of the week it is. 
These are just a portion of the impractical blueprints drawn Tuesday, Nov. 2, at the UMass Terrible Design Contest.
Hosted by the University of Massachusetts Amherst Design Club, over a dozen students were separated into teams and tasked with creating the most undesirable inventions possible. 
UMass Design Club E-Board members judged the submissions off creativity, composition and "effectiveness." 
Students competed for a chance to win a $100 Amazon gift card; the runner-up team received a promotional shoutout on the UMass Design Club Instagram page.
Design Club President, Dhruv Vikram, said the competition was a way to introduce more students to the club, regardless of artistic ability.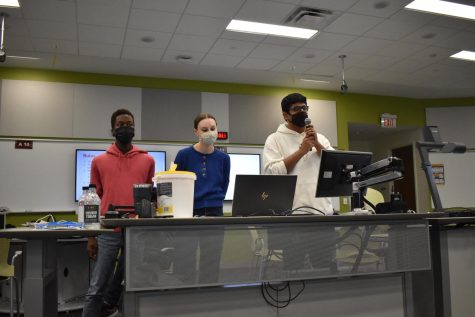 "People seeing how to make regular things impractical is a great way to get people introduced into design," Vikram said.
E-Board member, Jarius Kidd, saw the competition as a way to break down the barrier between the club and students interested in design.
"We want to make design accessible to all different skill groups," said Kidd. "You don't need any special skills or talents just to design something." 
In the first round, competitors were tasked with creating a calendar interface app for smartphone devices. 
Chris Adams, sophomore computer science major, and Ariana Lyonski-Phillips, sophomore microbiology major, decided to draw a calendar where the months were organized in alphabetical order.
For round two, freshman psychology major, Mica Heater, and her group, "Team Excel Word," had to design a juice box. 
The group took a geometrically minded approach to this challenge, choosing to design the box in the shape of a triangle. 
"You can only get the straw into the very top, and because of the way triangles work, it's gonna be really hard getting the straw in," said Heater.
For the third terrible design round, sophomore computer science major, Dylan Landman, and his team, "Team Name," thought an 84-foot-tall calculator would satisfy anyone's arithmetic needs. 
"The buttons are also randomized throughout," Landman said.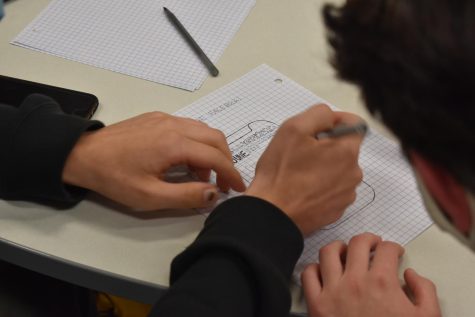 Segmented into floors, "Team Name" decided to incorporate the calculator's enter button on the top floor while arduously leaving the machine's answer box on the bottom level. 
After dozens of terrible, frustrating and impractical camera, calendar, juice box and calculator designs were submitted, UMass Design E-Board members had to determine which team had the most dreadful inventions.
Jarius Kidd and club Vice President, Gabriella Nugent, thought long and hard about each and every invention before choosing a winner.
Ultimately, "The Facebook," a group consisting of freshman communication majors, Jonah Slaghekke and Rudy Lucier, took home first place on Tuesday night.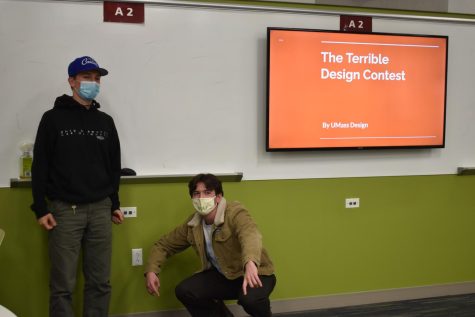 Their illogical "Cow" juice box wowed the judges. Not only was the design absurd and unfeasible, but the thought of drinking juice from a cow's udder turned most on-lookers' stomachs. 
The group stated that Andy Warhol and Mark Zuckerberg inspired them the most throughout the competition. 
Design Club President Vikram plans to host another "Terrible Design Contest" next semester. The club will also host a User Interface design workshop later this semester. Check their Instagram page for the up-and-coming date.
UMass Design Club meets every other Tuesday at 5:30 p.m. on the S120 floor of the Integrated Learning Center. Vikram emphasized that all students are welcome regardless of artistic capability.