Astroworld Festival ends in disaster, killing eight and injuring hundreds
Investigators are desperate to understand how a crowd surge resulted in one of the deadliest events at a concert in U.S. history
Sean Dunham, Music Entertainment Editor
November 10, 2021
Eight people were killed at Travis Scott's annual "Astroworld Festival" on Friday, Nov. 5 at NRG Park in Houston, Texas. With hundreds of spectators injured and some still in critical condition, the search for answers is on, as police and the FBI have initiated investigations into what is being declared a "mass casualty event".
Taking place over two consecutive nights, the 2021 festival had an astonishing 50,000 attendees at the first showing on Friday night. Houston Police expected the event to require additional security due to both Scott's soaring popularity and his homage to the hosting city. Almost 500 police officers from the Houston Police Department were on duty, as well as several hundred more provided by the event organizer, "Live Nation". Anticipating a lively, exciting performance, preparations seemed to be in order and ready to be used if necessary, but the tragic events that followed were anything but predictable. 
After Scott took the stage at 9:06 pm, the massive crowd began to push its way closer to the platform, resulting in many fans getting crushed and unable to breathe. Unaware of what was happening, attendees began to panic while witnessing victims fall to the ground. Fans began to climb over barriers to escape the nightmarish scene in order to get the attention of medical workers to help those who were injured and unconscious in the packed venue. Reported by CNN, the rapper quickly paused during his performance as the chaos unfolded, then proceeded to continue despite overwhelming chants from the crowd to stop the show. The festival was ended early by request of Houston Police Executive Assistant Chief Larry Satterwhite, as efforts to ensure public safety became a top priority. 
The identities of all eight victims have been confirmed by their families, ranging in age from 14 to 27. John Hilgert, a high school freshman, was the youngest who died at the festival and an avid Travis Scott fan. Simply, he arrived at the concert extremely early "to get a good view" and to admire his beloved role model (Houston Chronicle). With a majority of those killed being high school and college students, the victims' families and the entire country begin mourning as this tragedy slowly moves along.
While the causes of death are still under investigation, Harris County Police are speculating that drug overdose could be a leading factor, especially since many of the attendees affected at the festival went into cardiac arrest. Troy Finner, the Houston Police Chief, shared at a news conference that an officer "felt a prick in his neck" when reaching down to help an injured attendee, causing him to lose consciousness, but was later revived. It has been theorized that forced injection by an unknown person could be a possible explanation, but Houston Police have yet to confirm if that is true.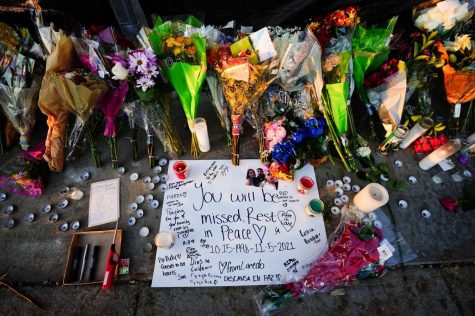 A few days after the event, Houston Fire Chief Sam Peña was interviewed by The New York Times, in which he criticized Scott for failing to stop the show when people started to realize what was happening. "The one person who can really call for and get a tactical pause when something goes wrong is that performer," said Peña. It has been debated that Scott did not hold the ability to pause the performance, which was solely in the hands of the festival's production team. 
According to the Houston Chronicle, lawsuits have already been filed with "cases that would stretch out in court for years". Logically, the primary defendants would include Travis Scott, "Live Nation Entertainment Inc.", and the venue holders where the events played out. "Live Nation" has offered its condolences to the victims and their families, while also offering full refunds for tickets, mental health counseling, and coverage of medical bills, but such compensation and resources will not ease the pain from the lives that were lost over the weekend. MSNBC covers the latest updates.
On Saturday afternoon, Scott posted to Twitter by providing his support to the city of Houston and those involved in working the investigations. However, multiple reports have shown that Scott's level of concern was quite minimal, as he said while on stage, "y'all know what you came to do," urging the crowd to make even more commotion as motionless bodies were crowd-surfed to first responders. Another video documents Scott asking, "I want to see some rages. Who wants to rage?," foreshadowing the inevitable horrors. Scott's girlfriend, Kylie Jenner, backed up the artist by denying that they had any knowledge of the fatalities until after the show, potentially as a way to hide the truth. 
As we impatiently wait for more information to be released, it is clearly an urgent matter to address the unsafe conditions that are present at music festivals. Although COVID-19 restrictions have been lifted in some parts of the country, excessively large crowds such as the one at NRG Park on Friday impose great dangers for both public health and safety. "Rage culture" found throughout the music industry has led to similar incidents in the past, and this will continue to occur if proper adjustments are not completed. 
Scott has since canceled his next appearance at the "Day N Vegas Festival" on Nov. 13 in Las Vegas, Nevada, as there appears to be no way out of this wreckage for the 30-year-old rap legend.
Email Sean at [email protected] or follow him on Twitter @seanpdunham.