UMass sheep arrive on campus to promote environmental conservation
Students got to watch sheep graze the lawn between Isenberg and the Bromery Center
On April 26 and 27, from 10 a.m. to 3 p.m., students were able to watch sheep graze the lawn between the Isenberg School of Management building and the Bromery Center for the arts.
This event was held by EweMass, a student group from an environmental education class taught by Britt Crow-Miller, a Department of Environmental Conservation Professor who was the primary organizer of the event. Its purpose was to  promote sustainable land management practices of the UMass campus.
It comes on the 200 birthday of Frederick Law Olmstead, the designer of Central Park, which used to have a sheep meadow which they were able to graze upon freely.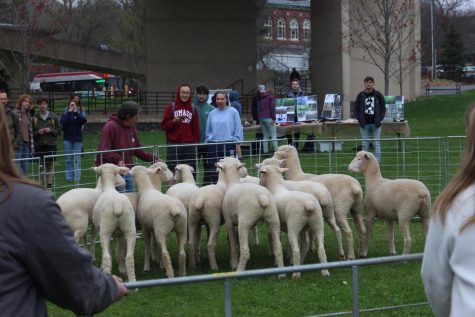 Crow-Miller said that sheep grazing offers a natural and more environmentally safe way of trimming lawns. 
"Sheep grazing is a practice of managing different landscapes in different ways. It's one example of an alternative of land management practice that is alternative to mowing or maintaining grass lawns with pesticides or chemical fertilizers. Carbon heavy mowers, blowers, and cutters," said Crow-Miller.
EweMass worked with the facilities staff and physical plant staff to reserve the lawn in between the Bromery Center and Isenberg. EweMass needed land that wasn't going to be cut or treated upon for several weeks so that the sheep could graze on it and be safe.
The sheep were not the only attraction during these two days. They were joined by the students of the environmental education class who had pop up stands surrounding the main attraction.
Some of the booths included a sensory station which let students feel dirt, leaves, wool, rock, and enjoy and really connect with nature.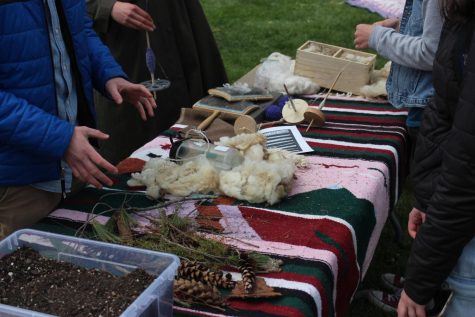 Another was about Olmstead and his connection to sheep and how sheep have been part of our history and the history of land management for thousands of years.
A different station was about the use of lawnmowers and pesticides on lawns and how they negatively affect our land. It offered new changes of ways to take care of our lawns like cutting it less frequently and planting native wildflower seeds.
Other stations had herbal tea, native wildflower seeds, animal pictures and fossils found on campus, sheep's wool materials and the community that we have on campus, not just us but all the animals and life we share with it as well.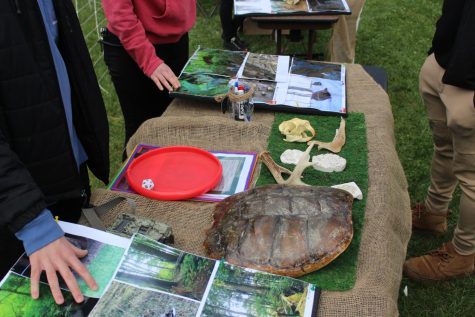 The final station prompted the land of UMass and how the campus could do better at how it manages the land.
Crow-Miller wishes that when students walk away from this event, having a "broader campus-wide and community-wide conversation about how we use our outdoor spaces on campus to support the wellbeing of our students, staff and broader community. The broader community includes plants, animals, insects and local waterways and more.
Most students wanted to just go and see some sheep. Like Peter Wyatt, a freshman Management major. 
"It's pretty mesmerizing, incredible, euphoric even, it's pretty awesome to watch the sheep. I've been enamored by them," said Wyatt.
To find out more about EweMass, visit their website and instagram.
To contact the writer, please email [email protected]