UMPD and APD give the 'all clear' after sighting of armed man is reported
A witness sent APD a photo of a man holding a gun while sitting on a swing. APD and UMPD reported and found out it was a pellet gun.
Monday at around 1:50 pm an image was taken and later reported to the Amherst Police Department of a man with his back turned to the camera, with a gun lying across his lap. 
The first email sent out by the UMPD said he was seen "in the field at the Renaissance Center located on East Pleasant St. between the Sylvan residential complex and the UMPD." 
The police originally thought the gun was a shotgun or rifle.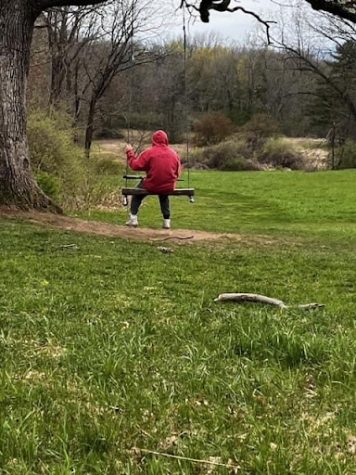 UMPD described the individual as a "light skinned male, stocky/strong build, wearing a red hooded sweatshirt (possibly with 'the Black Dog' written on the back), dark grey sweatpants and white high top sneakers."
At around 4:40 pm a second email was sent out to the UMass Amherst community, "Police remain in the wooded area north of Sylvan conducting a search." No other information was found until twenty minutes later when another email came out to say the suspect may be at an off-campus residence.
18 minutes later, the UMPD and APD gave the all-clear. "UMPD and APD have identified and interviewed the individual in the photo. A pellet gun was recovered and the appropriate enforcement action is being assessed. There is no longer any risk to the campus community."