Finding strength through Kate Bush
Our obsession with the hit track "Running Up That Hill" reveals our collapsing society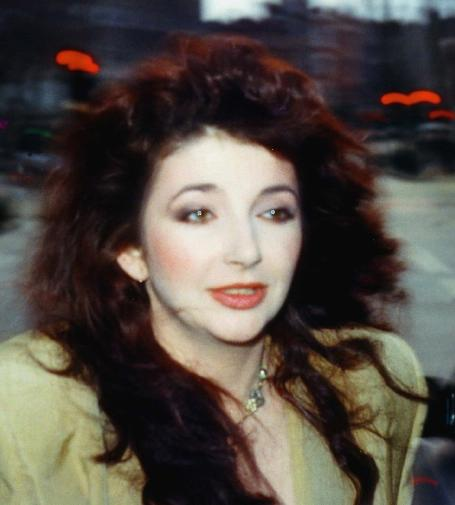 With sweat beading down my forehead, I walked home on a hot June afternoon, quickly trying to escape the summer heat. A car surged past me with speakers blaring this season's most favored song: Kate Bush's "Running Up That Hill (A Deal with God)." It was the fourth time I heard the song within the span of an hour, so regrettably, my initial reaction was one of minor annoyance. "If I hear this song one more time…," I thought. 
Don't get me wrong – I love Kate Bush. About 10 years ago, a friend turned me on to "Wuthering Heights," and I haven't stopped listening since. "She wrote the song when she was only 18!" exclaimed my friend as she turned up the volume on her iPod back in 2010.
Alongside "Babooshka" and "Army Dreamers," I played "Wuthering Heights" on repeat, singing at the top of my lungs alone in my apartment, making feeble attempts to match Bush's hauntingly exquisite high notes. However, besides my one Kate Bush-obsessed friend, my peers during that time didn't seem to care much about Bush.
Now, after almost 40 years of the song's initial release, Bush has taken over the charts along with the hearts of nearly every passerby, all thanks to Netflix's recent season of "Stranger Things." Yet, the rise in newfound admirers stretches deeper than the series.
A quick Google search will show that the song has taken a new generation by storm, spawning several articles on Gen Z's new musical obsession, the steep increase in streaming sales, and quotes from Bush herself on her own surprise in the song's recent surge of popularity. 
Countless TikTok videos have caused the song to spread like wildfire into mainstream culture. Even some small businesses have made the song into tangible objects, such as embossed T-Shirts with Bush's lyrics. As of last week, Bush has broken three Guinness World Records because of the hit.
Despite my brief annoyance of a beloved song becoming overplayed and "trending," I quickly caved in and bought a T-Shirt, unable to resist my squealing, inner fan girl. I succumbed to the season of Kate Bush.
It shouldn't be much of a surprise that the song has spun into a cultural obsession due to the loyal cult following of "Stranger Things." Faithful viewers of the show spawned from its initial release in 2016 and they've been patiently waiting since the last season aired during the pre-pandemic days of 2019. I daresay that the enraptured audience was ready and willing for anything to be thrown at them. 
However, while any song could have been picked for season 4 (and would have likely seen an increase in popularity), I don't believe any other song would have held the same impact as the one chosen. 
Besides Kate Bush being pure magic, both the series and song unite harmoniously, acting in tandem to create a whimsical looking glass; this season of "Stranger Things" and its accompaniment of "Running Up That Hill" reflect our current cataclysmic society. 
This past year, we have been picking up the pieces of our broken society after fighting our own metaphorical Demogorgon. After the COVID-19 pandemic, racist police brutality, the Jan. 6 insurrection and four long years of a disruptive presidency, we have been trying to rebuild our world. 
Vaccinations, protests and the Jan. 6 hearings have become steppingstones in attempts at saving our civilization. 
Yet, even with our attempts to restore, we're falling faster into a warped reality, striking comparisons to this season's depiction of the "upside-down." The fabric of the world as we knew it is ripping. 
Within the past two weeks, we have watched our rights disappear through the recent rulings made by our U.S. Supreme Court justices, most notably through the horrifying overturning of Roe V. Wade. In addition to this basic human right being stripped away, we are also entering a horrific reality where we will likely lose our rights to contraception, same-sex marriage and the privacy of our sex lives.
And yet, this isn't the only war we are undergoing. We've watched more attacks of gun violence in both Buffalo, NY, and Uvalde, TX (horrifically surreal events that sparked this season of "Stranger Things" to open with a content warning). In addition to targeting Roe, the Supreme Court ruled that firearms can be carried without a license, essentially giving more rights to inanimate metal objects than to 50% of the population. Additionally, SCOTUS ruled that police can no longer be sued for not reading citizens their Miranda Rights. Another ruling has limited the Environmental Protection Agency from regulating carbon emissions from power plants, further impacting fights against climate change. A case involving the future of presidential and congressional elections is lined up next for Supreme Court review, promising another threat to our democracy.
In other is-this-really-2022 news, LGBTQ youth and their parents continue to be targeted by lawmakers, white supremacists still make headlines, censorship and book burnings are happening in our country, and Russia's cruel invasion of Ukraine continues.  
With every news event, I feel like my body jerks and my mouth stretches into a scream as my eyes sink in, absorbing the information. The imagery of the attacked victims in "Stranger Things" feels remarkably similar to the experience of reading each new headline. Although it seems we have defeated one monster, another one has risen, ready to demolish us all over again.
The only moment of escapism comes from Kate Bush as she transports us to an internalized refuge of hope. It's hard not to feel a surge of passion as Bush croons, "Unaware, I'm tearing you asunder (ye-yeah, yeah, yo), Oh, there is thunder in our hearts."
The original title of the 1985 song was named "Deal with God," but out of fear of religious backlash with concerns that countries with strong religious affiliations wouldn't play the song, the title changed to "Running Up That Hill." Although minor, the title change reveals the power of forbiddance, and with our current Supreme Court justices, I'm reminded of that power and how quickly it manifests. 
The meaning of the song centers around a relationship where two people wish they could make a deal with God to swap lives with the other person. As reported on Smooth Radio, Bush stated, "they'd understand what it's like to be the other person and perhaps it would clear up misunderstandings." In a rapidly divided country, the notion of swapping places with each other could prove helpful.
 "Running Up That Hill" initially appears in an earlier episode of this season's "Stranger Things," but its power shines through when the character Max Mayfield transports to the "upside-down," held captive by this season's big bad, Vecna. A break in between the two worlds shows Max a reality worth fighting for: the darkness and isolation of the upside-down contrasts drastically with the colorful, physical world where her friends encircle her catatonic body, making frantic attempts to revive her while shouting for her return. Kate Bush begins to play in the background as characters Dustin, Lucas and Steve find the cassette tape of Bush's "Hounds of Love," and quickly put headphones to Max's ears. 
The song opens a gateway to escape the treacherous world, enacting Kate Bush as a siren. Max pushes through realms, running to safety, and lands hard in the physical world. While Lucas wraps his arms around her and cries, "I thought we lost you," she responds with, "I'm still here, I'm still here."
Her friends, working together, provide support while the song itself acts as a bridge, offering a shimmer of hope to flood through and helping Max to fight for her life. 
I've noticed these moments of hope among the turmoil of our crumbling nation. They've felt rare, but they're there, carving a hole in our bleak reality. The best and brightest moment was Ketanji Brown Jackson officially joining the Supreme Court on June 30. Hope prevails. 
While we had the empowerment of punk music in the 80's and Riot Grrrl bands of the 90s, we now have the revival of Kate Bush to act as our musical savior, just as she became for Max. 
"Running Up That Hill" plays on repeat because we need it to. Whether it be in shopping malls, at cafés, on TikTok or in passing cars, its constancy grounds us in an uncertain world. It stirs our inner strength when we thought we had none left. 
Our recent obsession reveals a hopeful beacon: Kate Bush acts as a guiding light, reminding us that we're still here, and together, we must fight against our real-world Vecna.