UMass student-run organization, Local Mojo is hip hopping and popping out as one of UMass' main music hot spots
Local Mojo, a new organization created in the last year by students, promotes UMass student musicians through on and off campus events and concerts.
Saturday, September 17, STASHBASH, a hip hop/rap show is being put on by Local Mojo.
Local Mojo is an organization that promotes UMass Amherst musicians, photographers, videographers, graphic designers and other types of artists. 
Junior marketing major, Charley Blacker, the co-creator of LocalMojo, said that their goal is to "put umass's creative side on display, and promote it in any way we can through events, interviews, music videos, photoshoots(and) journalistic pieces." 
Local Mojo promotes their bands through hosting events at houses and the Drake , a live music bar in downtown Amherst, Massachusetts. Their music encompasses alternative music, indie music, rock music and rap. 
One way they do this is through their UMass Top 25. Every month, the Local Mojo instagram posts polls on their story and followers rank the songs produced by local UMass artists. The songs  are then posted to their spotify and apple music playlist. 
Saturday the 17, Local Mojo is put on a hip hop and rap show called StashBash with the Drake. They are collaborating once again with the Drake on October 7, with 'Senior Year',, 'The Upstairs District' and 'The East Core Oracles'.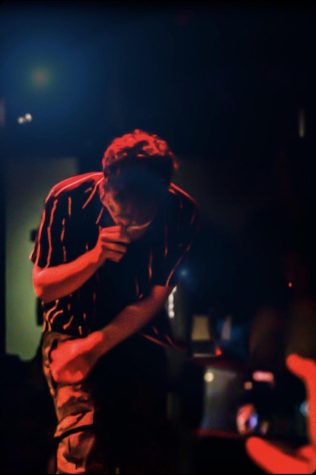 "Any shows at the Drake are all ages, which is good because you don't have to be 21 plus to watch live music, because everyone loves live music," said Blacker. " It gives anyone, even a freshman in college, the opportunity to go to a real venue where they can feel safe and enjoy live music."
Local Mojo is also collaborating with the Ski and Board club at UMass to create Rocktoberfest, which is open to all ages, as well as partnering with Oktoberfest. "We're ticket ambassadors for it so if people buy tickets through us then they'll get a $5 discount because they won't have to pay for site fees," said Blacker. 
"We're open to any kind of collaboration with any clubs or anything like that," said Blacker. 
"We've been lucky to have a lot of people reach out to us and collaborate whether it's UMass based clubs…or if it's other people in the western mass area that are doing music."
Blacker created the organization with his co-manager Cashel Davis in November of 2021. Since then, they have gained a following of 637 on Instagram. 
Blacker explained that this has been in his mind since his sophomore year of high school. He said he tried doing it solo, but did not go as planned. 
He said that by making the project a team effort instead of an individual project that "it became a lot more successful because you get so many more people involved with so many ideas. We're all motivating each other to go through with everything. It has really flourished because we have a big team around us."
Local Mojo has many future plans, such as a musician awards similar to the GRAMMYs and a "Mojofest" which would be a festival with many UMass bands that would take place in the spring.
"We knew that UMass has a lot of creative people at it. We just thought that not everyone knows about everything going on, but if we could be the hub for every UMass creative person, that could be really cool."
Contact Cate at [email protected]