Travel to the "Scenter" of the Universe at the Yankee Candle Village
Hang on for a minute...we're trying to find some more stories you might like.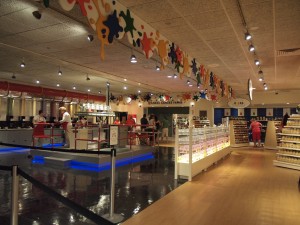 by Colleen Jones
No matter which of the half-dozen entrances you use to make your way into the Yankee Candle Village, there's no escaping the tidal wave of scents that will make your nostrils instantly flare with excitement.
The village, which can be found just off of Route 116 in South Deerfield, brings together scents from all over the world and all walks of life ranging from exotic Black Coconut, to fall candles like Apple Pumpkin, Christmas favorites like Gingerbread House, and some of their newest additions like Bacon. This flagship store carries every scent and all of their seasonal favorites all year round.
For any child who used to enjoy the simple pleasures of sand art or dipping their fingers in wax, Yankee Candle's Wax Works Factory is guaranteed fun.This kid-friendly activity center allows families to make their own jar candles and wax hand molds from different scents and colored wax beads. Families, couples and students alike line up to create their very own wax molds and personalized candle. It's activities like this that make the village perfect for a first date.
The Yankee Candle Village is huge, with various rooms to wander, each room teases your nose ever so slightly with a different assortment of candles. However, some rooms hold more than just candles. Every corner holds something different. One room held a charming country store filled with jams and other held knick-knacks, kids candle factory, and a toy store- complete with a moat.
In another room is the famous Bavarian Christmas Village. Between the trees, the snow, and the toy train chugging up above, the Christmas Village will make anyone feel like a small child again, running through the small labyrinth of decorations. With snow falling in the room every few minutes, you can walk around, take in the flashy miniature village and even enjoy a cup of coffee or hot chocolate from its snack counter to make it really feel like Christmas at any time of year. To add an extra hint of of enchantment that the village already holds, Chandeliers Restaurant offers romantic candle lit lunches and dinners. With its rustic New England charm, Chandeliers has an ever changing menu, notable wine cellar and craft beer from local brewers.
The village complex is a Pioneer Valley staple and has been welcoming visitors for over 20 years. But don't be fooled, even though it's become a tradition for many, the village is constantly changing and bringing in new scents to ensure that no two visits are ever alike.
The Yankee Candle Village is located at 25 Greenfield Road, South Deerfield Mass and is open daily from 10 a.m. to 6 p.m. For more information on call 887-636-7707
Colleen Jones is currently taking Shaheen Pasha's Travel Writing course and can be reached at [email protected]