Black Sheep Deli: Mixing local food with local politics
Say 'goodbye' to picket signs, and 'hello' politically-charged food.
Just a few doors down from Amherst Town Hall, The Black Sheep Deli stands camouflaged by its brick exterior. Yet, as hidden as the storefront is, it's impossible to walk by without noticing the signs that plaster those glass windows.
Refugees are welcome here; Black Lives Matter; We support local agriculture; We want Bernie for president in 2016.
These signs offer only a slight glimmer of the political atmosphere awaiting customers behind the rustic, wooden door.
Most business owners avoid expressing their political views in fear of stirring up controversy. But Black Sheep owner Nick Seamon said he does not mind offending some customers with his passionate political views and, instead of biting his tongue, expresses his thoughts through what he knows best — food.
In anticipation of the March 1 presidential primary in Massachusetts, Seamon has encouraged his customers to vote for Democratic candidate Bernie Sanders. He currently honors Sanders with a sandwich that captures what he said believes is his fiery passion, kind heart and unconventionality. The first bite is jarring, as a plethora of spicy and sweet flavors hit all senses at once. Tangy, grainy country mustard tops maple-glazed turkey, Vermont cheddar, lettuce and tomato. A McIntosh apple hides at the core, adding a pleasant sweetness that challenges the spice.
This isn't the first time Seamon has expressed his political views with his sandwich craft. He once titled his specialty menu "Electile Dysfunction," jeering Bush, Rumsfeld and Cheney with selective ingredients.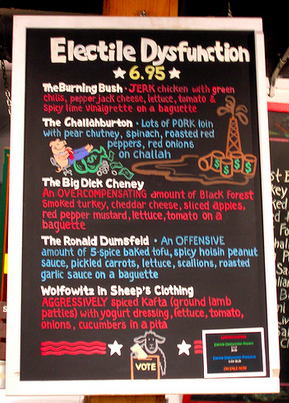 Even in a town as seemingly open-minded as Amherst, sharing political views does not come without controversy. Seamon supports the change from town meeting to mayor-council in Amherst government. For years he has advocated for a charter vote to address the issue, and recalls hanging a pro-charter poster on the deli's windows during a vote about a decade ago. One of his customers said he would no longer shop at Black Sheep because of Seamon's stance. Even so, the resilient business owner said he does not let disagreeable customers stop him from sharing his beliefs.
"If someone doesn't want to shop at my restaurant because of my political views, then that's their problem, not mine," Seamon said with a chuckle.
The gentle-eyed, liberal owner has been passionate about politics since he was a teenager in the late 1960s, during the Vietnam War.
"If you weren't political back then, you were asleep," he said.
In his early years, Seamon worked as a political organizer for the United Farm Workers, advocating for fair wages and benefits. He said that eye-opening experience pushed him to become more active in politics and societal issues.
Seamon considers his restaurant a community intersection, and strives to create a comfortable atmosphere. On a typical day, Black Sheep welcomes an eclectic mix of students and locals of all ages. In the main room: a large, semicircular counter surrounds the room in a welcoming hug, flaunting delectable desserts, fresh coffee and bread. At lunchtime on a Saturday, a sea of people flood into the yellow-walled dining room and gather around small square tables. Strangers sit next to each other and enjoy their meals together.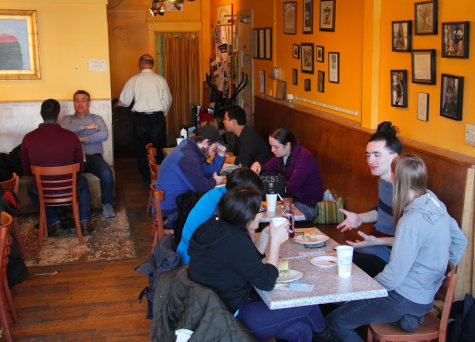 While most restaurants discourage loitering, patrons of the Black Sheep are free to stay as long as they want to enjoy free Wi-Fi, live music and socializing. Seamon said he has dedicated himself to high-quality food service and bakes all bread and pastries in the morning before opening. Likewise, he said he only buys the best ingredients and sells Dean's Beans coffee because it is organic, free trade and affordable.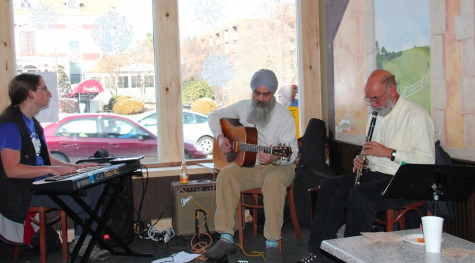 Seamon uses the same, careful deliberation when hiring his staff.
"I was intent on owning a place that people liked working at and felt like they were given a lot of responsibility and authority," he said.
The dedicated businessman said he values maturity and wants his employees to share the feeling of ownership in his business. He also prides himself on paying above minimum wage and treating his employees with the utmost respect.
Seamon said his work ethic comes with his belief that businesses have an active role in the community. That said, he hosts fundraisers, events and public forums at his restaurant. Elizabeth Warren once spoke at the Black Sheep during her campaign for senator; Stephanie O'Keefe, former Amherst select board member, once held weekly open forums for locals; now-congressman Jim McGovern sets up his own forum twice a year to address town issues.
What's next on Black Sheep's agenda? Seamon said that all depends on which candidate wins the Democratic presidential nomination this Tuesday. Should Sanders come out on top, he said he plans to kick things into "high gear."
Perhaps that means some new sandwiches on the politically-charged menu.
Email Haley Bucelewicz at [email protected] or follow her on Twitter @hbucelew.