Beauty dwells in an old place at the Montague Bookmill
Former mill converted into popular used bookstore.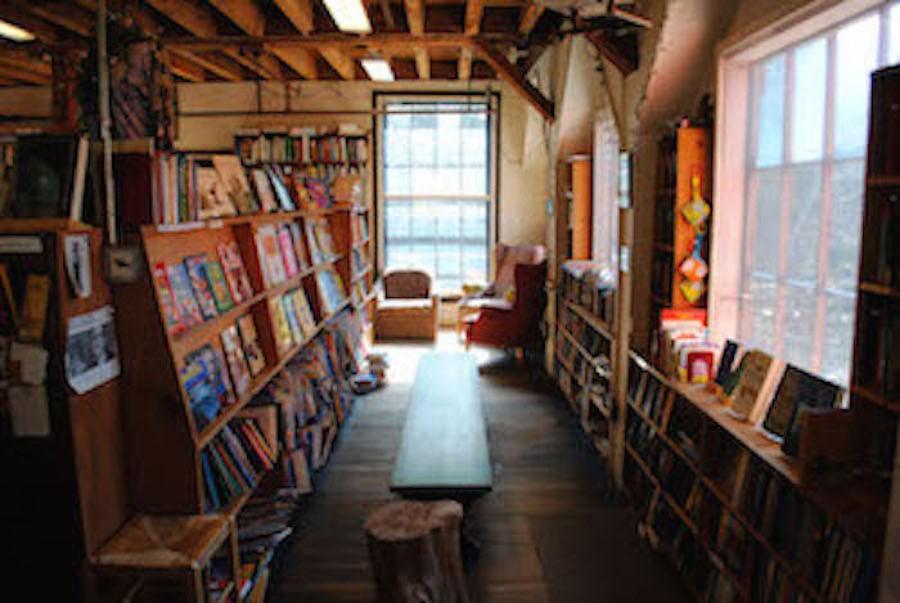 The sound of rushing water fills the air upon reaching the Montague Bookmill. Customers enter the Mill by crossing a narrow wooden bridge that connects to its bright red façade. Large windows pour natural light into the rooms inside, and cramped, creaky staircases are used to move between the building's two levels. Dust-covered typewriters sit in the alcove of the stairwell, reminiscent of the old-fashioned theme of the Bookmill.
Naked plumbing traverses through the beamed ceilings overhead. Chairs are sun-faded and tattered from the many visitors who have worn them in. Students slump into comfortable worn cushions and gaze out the windows to procrastinate from studying.
Other rooms are snug with angular ceilings; the walls are lined with books and the floors with vintage furniture. A painted wooden sign that states "Arts" sits above the entrance to this room. A middle-aged man sits comfortably, book in hand, light shining across his pages. Around the corner, a petite elderly woman in a bluish-grey knit sweater crouches to peruse a bookshelf. Her small hands clasp the spine of a large book from a shelf labeled "Memoirs."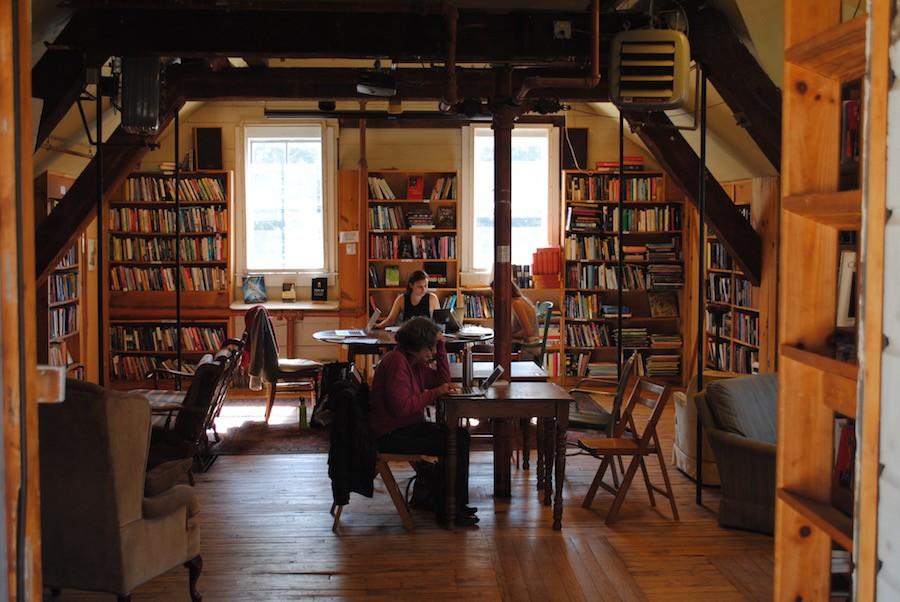 "The store is the perfect combination between books and a beautiful view," said Susan Shilliday, the owner of the Bookmill since 2007.
Located at 440 Greenfield Rd. in Montague, Mass., the Bookmill has stood along the Sawmill River for the past 184 years. Formally known as Stone's Gristmill, the building originally housed a business that sold grains to families in Montague. By the 1930's, the Mill was purchased by Martin Machine Co. and transformed into a manufacturing site. Hydraulic machines were used to mark serial numbers onto wood, steel and sporting equipment, like the Louisville Slugger bat. In 1987, Martin Machine Co. relocated to Turners Falls Industrial Park; in 1992, a bookstore opened.
Alex Tuazon, a junior operations and info. management major at the University of Massachusetts Amherst, heads to the Mill for its serenity. 
"I find the scenery and overall environment there wicked refreshing," said Tuazon. "They have a funky selection of books, too." 
The Bookmill's slogan conveys exactly what Tuazon enjoys about it: "Books you don't need in a place you can't find."
"The store doesn't have a conscious theme, but it's old school," Shilliday said. "There is no database, just a lot of books. We are devoted to books and we want people to enjoy them as much as we do."
The stately structure now also encompasses The Bookmill Shop, along with a café, restaurant, record store and two art studios, all with different owners. The Bookmill hosts concerts during the spring, summer and fall months in an open room upstairs that holds roughly 40 people. Bands vary from solo acoustic performances to string quartets. Last year, young Appalachian singer, Elizabeth LaPrelle, performed at the Bookmill.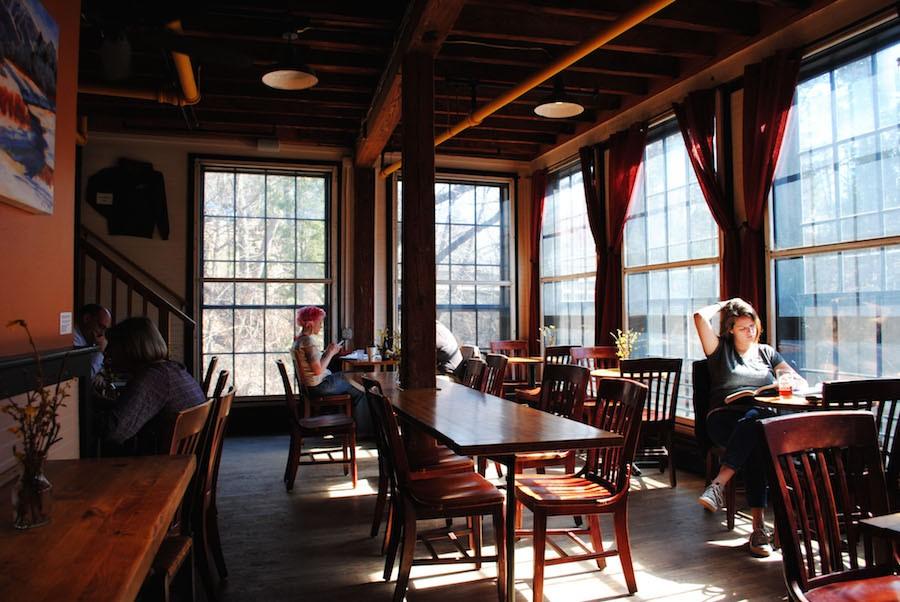 The warm and bright Lady Killigrew Café is attached to the Mill and draws in a hungry crowd serving breakfast and lunch. Ashley Like, 30, sits along the large windows with views of the river. Like enjoys the café's good beer, coffee, tea and great sandwiches. Growing up in Greenfield, Like has come here frequently for a quiet place to read.
"The Bookmill is a gem in our community," Like said. "It's a unique place, so when friends visit I always make sure to bring them."
Below the café is the Alvah Stone Restaurant and Bar, named after the first owner of the mill. Music enthusiasts browse music and movies next door at Turn It Up! CDs and More! while others walk through the Sawmill River Arts fine art gallery.
According to Shilliday, business is going well even though many readers are now shifting towards tablets or computers.
"We're doing fine. I know that surprises people, but people still love books," Shilliday said. "We keep our prices as low as possible and have a very loyal following because of it."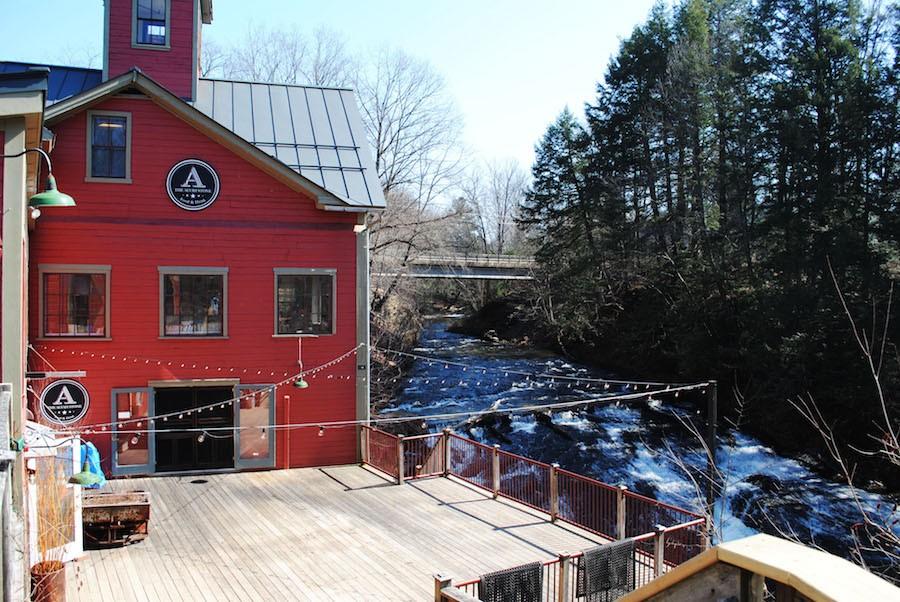 There are many regulars at the Bookmill. People come to the Pioneer Valley from as far as New York. Christopher Villante, 22, is another happy customer.
"This place is amazing. I literally just bought three books for $14," said Villante. 
It's recommended to follow a map to the Bookmill because GPS does not always find its location. It is open seven days a week from 10 a.m. to 6 p.m.
Connor can be reached at [email protected].