Stand Against Racism at UMass
On Friday, April 8, a crowd of roughly 100 people marched through the University of Massachusetts Amherst for a Stand Against Racism at UMass rally and panel, organized by the Racial Justice Coalition and the Center for Multicultural Advancement and Student Success.

Maija Hall, a junior sociology major at the university, led marchers from the Student Union to Blue Wall in the Campus Center, chanting, "We have nothing to lose but our chains."
Protestors dressed in black T-shirts held handmade posters and chanted: "I believe that we will win… No justice, no peace." Multiple onlookers high-fived the passing protestors, showing solidarity and support.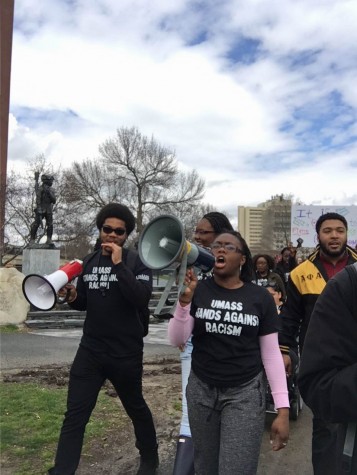 The march continued past the Integrative Learning Center to the Whitmore Administration Building, the destination of a similar march last semester. Rather than going inside, protestors stopped for a few minutes and continued their march towards the Commonwealth Honors College for a two-hour long panel.
The panel featured students from UMass, Amherst College and the University of Missouri, and was moderated by Zulay Holland, UMass junior and BDIC major. Panelists shared personal experiences with racism and a list of demands for administrators and peers at their respective universities.

Although organizing and protesting takes time away from schoolwork, the student said that they feel it is their duty to make an impact.
"No matter who I am or what I'm going to be… I'm still going to be a black person and a black man and I have to do something about being a black man so I can be free… and liberated… and other people can be liberated, too," said Zareb Noel, a UMass sophomore mechanical engineering major.
Ellanjé Ferguson, a senior journalism and communication major, said transferring to UMass from American University inspired her to get involved with this kind of work.
"I'm Jamaican… for a very long time I was sheltered from African American and black issues because they weren't 'my issues,'" she explained.
When Ferguson transferred to UMass in 2013, that feeling changed. She observed the campus culture, wrote about her experiences and became involved in the African American Studies department.
"That's what sparked a flame in me to try and help somehow," she said.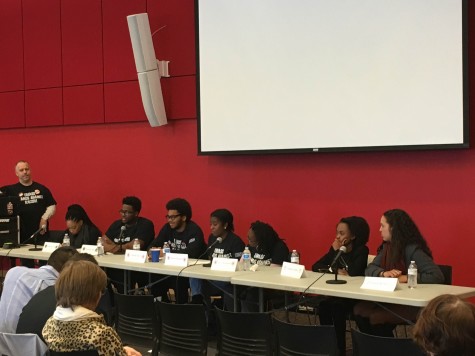 The panel included two members of Concerned Student 1950, the group whose protests at Mizzou made national news and led to the resignation of university president Tim Wolfe in November 2015.  
According to Mizzou student Marshall Allen, protests against racism existed on campus long before catching national attention.
"Activism has been part of a historical centerpiece for Mizzou, it's not really talked about though," he said. Administration, students explained, often fails to take action.
Recently UMass has been a target of racism and hateful messages. Stacy Tchouanguem, a senior microbiology major, expressed her discontent for the way the university handled these situations. Each week, she explained, there are problems at UMass and instead of fixing them, administration simply sends emails to students, which isn't going to help, she said.
DeShaunya Ware, a Mizzou student, said that the "first few steps" to create a more inclusive campus are "consequences" for those who perpetuate racism, starting with the removal of a Thomas Jefferson statue from the Mizzou campus. Jefferson, she explained, was a slave owner.
"We have these statues on our campus that perpetuate oppression and racism daily," said Ware, saying that the statue is especially problematic for black women, who played a central role in the fight against racism. According to Amherst College student Lerato Teffo, black women are historically at the forefront of black liberation movements.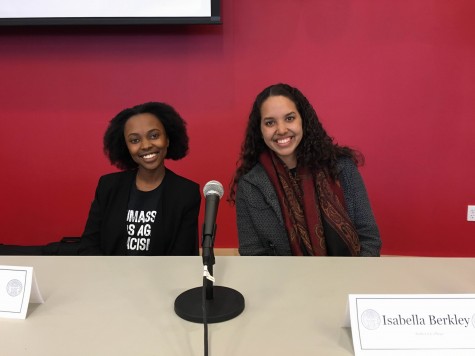 In November 2015, there was a sit-in at the Robert Frost Library at Amherst College, organized by Amherst Uprising, a student group on campus. Students demanded that the college remove the mascot, "Lord Jeff," who is alleged to have  advocated germ warfare to wipe out Native American populations in the 1700s. They also demanded that administration hold students accountable for posting "All Lives Matter" posters and apologize for institutional racism.
"There was this atmosphere of anger, sadness, and complete exhaustion that was… also quite beautiful," said Amherst College student Isabella Berkley.
Teffo said that though black women often face challenges in their activism, they were the ones to start conversations at the sit-in.
"[In the library] it was silent for a while, but black women just started talking about how we're just so frustrated," she said.
Ware, an active member of Concerned Student 1950, said that these women don't get enough credit for their actions.
"Recognize women on your campus that are doing the work," said Ware, audience members snapping in agreement.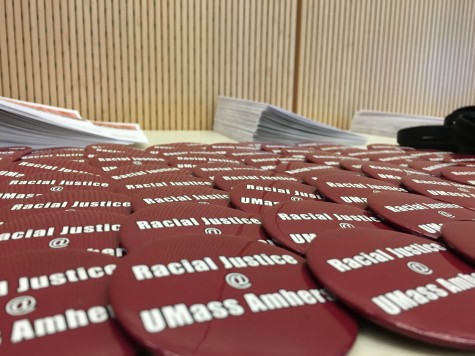 The panel then opened up to a question-and-answer session.
When an attendee asked about statistics about institutionalized racism, Berkley suggested he read The New Jim Crow by Michelle Alexander. Ro Sigle, the co-chair of the Racial Justice Coalition, reiterated that she invited the panelists to share personal stories rather than data.
Moving forward, Ferguson said that although she hopes to see attendance grow for events like Stand Against Racism at UMass, even small displays of solidarity are valuable.
"If you can change the language of your best friend who sometimes says racist things, you're making an impact," said Ferguson.
After the panel, attendees split into race-based affinity groups including "Racism 101" for white people and "Racism 101" for people of the global majority.

Stephanie Murray can be reached at [email protected], or follow her on Twitter @StephMurr_Jour.
About the Contributor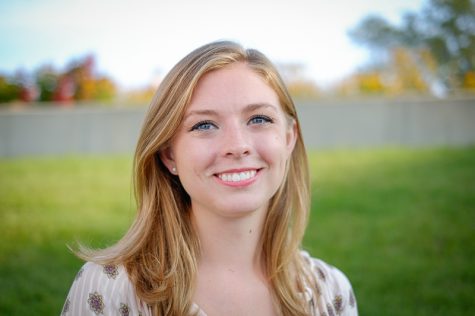 Stephanie Murray, Editor in Chief
"Never give up, for that is just the place and time that the tide will turn."

[email protected]