Giovanna Dell'Orto sheds light on refugee crisis
The immigration system is broken, Dell'Orto says.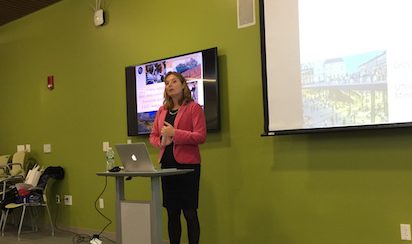 AMHERST — Giovanna Dell'Orto, esteemed journalist and professor at the University of Minnesota, gave a talk called, "Illegals Here, Refugees There, Crisis Everywhere: Journalism Tackles Immigration into the U.S. and E.U." in the Integrative Learning Center at the University of Massachusetts Amherst on Thursday evening.
Dell'Orto is an Italian-born woman who became a naturalized American citizen. After going through what she calls a broken immigration system, she took her talent and decided to tell the stories of those who are going through it as well. Dell'Orto has done extensive work for the Associated Press and has used her platform to spread the word about the realities of immigration.
She began her hour-long presentation by showing pictures of stories that have involved immigration and refugee crises in the media — including the famous photo of young Turkish refugee Alan Kurdi, who washed up on a beach after trying to escape.
"This will be, I think, disturbing and thought provoking," said Dell'Orto.
Dell'Orto spent much of the time explaining how the immigration system works. In order to obtain a green card, one must either have a job lined up that has a visa waiting, or a family sponsor. The visa application is different for each type of entrance, and the length of time depends on which country someone travels. For example, if someone is a brother or sister of someone in the U.S., and were born in the Philippines, they could have been waiting since April of 1993 for their visa application to be approved. If an immigrant got a job here and they're from India, it will take 11 years for their visa approval.
Exceptions to this rule are given if you're a celebrity, a millionaire or extremely talented in a desirable field.
If you are given a visa, you need to know English and correctly answer 100 questions on U.S. history in order to naturalize.
The purpose of Dell'Orto's talk, which is part of the UMass College of Social and Behavioral Sciences: "Social Science Matters Lecture Series 'Perspectives on Migration,'" is what journalists can do to help this process and to help those who have fallen victim to this grueling process.
"It's almost never in the news," said Dell'Orto, citing the difficulty of explaining the immigration process in America. She went on to say that it takes almost an entire semester for students studying law to understand the immigration process. It is because of this that no journalists are willing to tackle the subject.
Dell'Orto made a point to mention the slight difference between the words refugee and asylum seeker, which she seemingly used interchangeably. She explained that if you show up at the border and ask for asylum, you are granted a court date. The biggest problem at hand is that there are over 500,000 court cases pending in the United States.
Outside of America, the refugee crisis is impacting many other countries. The problem is that the media is only willing to cover stories that are 'visible' to people. Audiences are given a visualization of people in boats or people jumping fences and are automatically made to assume that immigrants are all Eastern Muslims or Latinos. The fact of the matter is that these assumptions are entirely false.
These dramaticized perceptions are only further ignited by "inflammatory comments from a political figure," said Dell'Orto.
"Journalism is commercial," said Dell'Orto. She urged journalists to do their best in showing the true nature of immigration.
"What can we ask of journalism, and what should we ask of ourselves?" Dell'Orto asked.
Editor's note: This story was corrected to remove a quote wrongly attributed to Dell'Orto regarding the way the media presents stories of immigration.
Email Elissa at [email protected], or follow her on Twitter @ElissaB_Journo.