University conducts campus climate survey for first time in a decade
To take the survey, check your UMass email for an individualized link
More stories from Wei Cai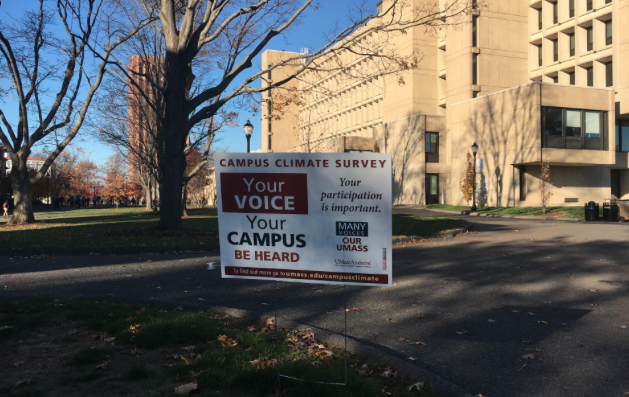 AMHERST — For the first time in about a decade, the University of Massachusetts Amherst is conducting a campus climate survey. Students, faculty and staff are invited to share their observations and input on various aspects of campus life.
Earlier this week, UMass community members received an email containing an individualized link to take the campus climate survey. The survey, which is expected to take 15 to 20 minutes, is anonymous.
The survey is entirely optional, but various members of the campus community — ranging from the chancellor to the head of grounds — are encouraging everyone to participate.
UMass spokesman Ed Blaguszewski said Wednesday the survey results will provide administrators a great deal of insight into day-to-day life at the university and help the university strategize for the future.
"We believe that it's important to get an assessment from the members of our community to assess what it's like to live and work here so we have good data to allocate resources," Blaguszewski said.
In a video statement, Chancellor Kumble R. Subbaswamy said that the survey will only be effective if there is enough participation.
"The survey results will give us a lot of information to work with in building our caring community, but only if we hear from a great many of you. We're a campus of nearly 30,000 people and this survey applies to all — regardless of race, gender identity, age or occupation," Subbaswamy said in the video.
Leading up to the survey, banners, posters and fliers promoting the survey were seen around the campus and within residence halls.
"We really want people to participate. As we said, your voice is important and we want to hear you," Blaguszewski said.
The administration is hoping to spread the word and increase participation by taking advantage of social media.
"We're in the process of creating a system on the Twitter feed where you could log in using your traditional credentials," Blaguszewski said.
While this is the first campus climate survey in about a decade, there have been other climate surveys administered to select groups of the UMass community in the past.
In spring 2012, there was a campus climate survey administered only to undergraduate students that focused on similar topics. In that survey, the response rate was 18.26 percent.
Martin Meehan, president of the five-campus University of Massachusetts system, emphasized in a press release earlier this week there is a "commitment to diversity and inclusion" in the UMass system.
The university administration hopes that participation could be higher for this survey. The survey comes at a critical time in the university's atmosphere for many.
Post-election, there have been protests, a vigil, walkouts and rallies for unity around the country and locally. At these public demonstrations, protesters wanted to make their voices heard.
This week, Gender Liberation UMass (GLU), a student organization that advocates for transgender, gender non-binary and gender-queer students, held a protest inside the Whitmore Administration Building restrooms calling for more gender-neutral bathrooms throughout the campus.
Email Wei Cai at [email protected] or follow him on Twitter @weicaiumass.