An Out of Body Experience
Behind the works of the "A/E: Body in Flux" exhibition in Herter Art Gallery.
First-time curator and director, Jessica Scott was setting up her artist piece "Bloom" in her exhibition A/E: Body in Flux. The A stood for "an affected state, which is the state upon which you already exist and you are acted upon by an outside force," and E was in "which an action brings you into being."
Seven visual artists showcased their own personal pieces that represented the purpose of the exhibition. Their combined works in the gallery were first presented on February 20 at Herter Art Gallery and continued until March 24.  
The inspiration behind the meaning came from a universal aphorism every individual encounters throughout their lives.
"Sometimes we experience a lack of control where things are acted upon us, and we go through either a process of discovery, transformation, or trauma depending on what has happened to us," Scott said.  
As an artist presenting her work in the gallery, however, she chose to display a moment that was "one of the most intrusive and disruptive experiences that [she] had in [her] adult life."
Her best friend of sixteen-years, Lindsay Abromaitis-Smith, was diagnosed with a terminal illness that "completed her relationship with the physical world and her artistic practice."
Scott's piece "Bloom" is dedicated to her beloved friend, Abromaitis-Smith, and was presented at the exhibition as a little section of the wall taken from the original installation.
The original installation "Bloom" was made in 2014 over the span of two to three months. By her side, numerous interns and friends helped her execute what she wanted to externalize from her mind.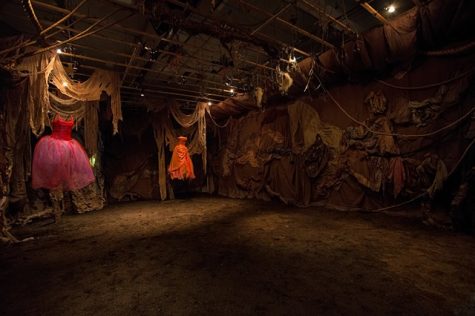 Abromaitis-Smith acted as the source material for Scott's project. The headless marionettes wore her prom and wedding dress. Pieces of her life—bones and hair, soil and dried plants, her clothing and makeup, her mother's ceramics—fit the 800 square foot environment it was first displayed in. Moving through the space, Abromaitis-Smith danced in the image her friend had built for her.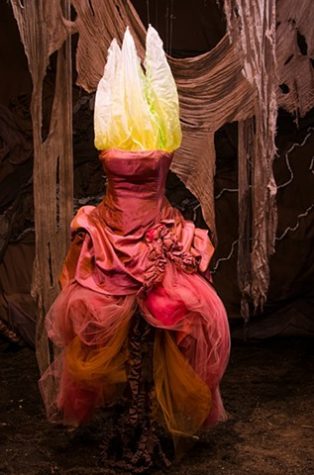 "If Lindsay wanted to do it again, we would have to do a lot, the performance would be very different," Scott said.
Although new to the area, Jessica was immediately given the task to curate a show alongside Chaehee Yoon, another student receiving her MFA at UMass Amherst. With no sense of community, she relied on the artistic relations she had from New York City and asked around the school. The seven visual artists who put up their work in the A/E: Body in Flux exhibition were friends, connections, and new artists combined.
"I remember before we curated the show, she [Jessica] wants[sic] to make art that is communicating with people who [don't] know about art in the gallery, like outside in the street," Yoon said. "They come in the gallery and they will understand, they will feel something about it… I thought that was really really provoking thinking that we as artists need to think about."
"I think if your art can imagine a possibility for people and model it, something that they wouldn't be able to think on their own—model solutions, model different ways of thinking, and put it in 3D, put it on its feet, then that is effective art—but the art that has been most important for me is the art that has done that, has externalized a way of thinking that I can use," said Jessica.  
Co-curator of A/E: Body in Flux, Chaehee Yoon was born in South Korea, but raised in Minnesota. She came to Amherst as well to study Studio Arts and receive her MFA.
Like Scott, the piece she presented at the exhibition was only a part of her original piece, "Giving you a Bob." Originally, it was shown as a video but changed to another form of interactive media due to time constraints.
"Giving you a Bob" was originally performed live and them documented in video. The video shows Yoon offering her native food with audience members to share her "cultural identity of being a Korean woman in this country." Yoon also added a voice-over the live performance in Korean and put English subtitles in place of the original sound to create a visual paradox.
In her video demonstration, she wanted to explore how cultures create boundaries and the physical relationship between such entities.
During the exhibition, Yoon chose a new method to discover her own vulnerability and see it portrayed in public space in comparison to her personal space.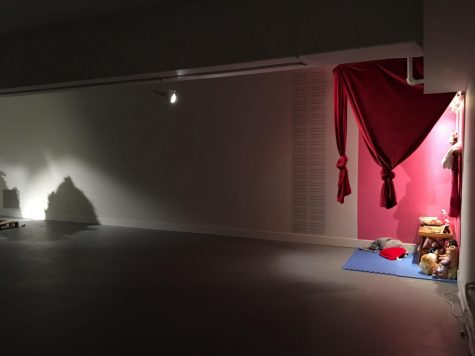 The work she displayed incorporated remnants of her childhood, such as pictures of her in her younger days, plush dolls that she collected, a sitting area within the setting for guests, and a sign that said "Take off your shoes." With these objects, she had the intention of breaking boundaries between cultures. However, after she was done setting up and looked at it from an audience member's point of view, she came to a realization:
"I learned that I am creating the boundaries, I am the one who created the boundary, not the others," Yoon said.
So what's next for Yoon after this revelation? She was hesitant to respond, but eventually, she found the words to express her thoughts.
"I'm not sure because the boundary is such a sensitive topic, because we do have [our] own boundary as a human being, it's personal level," Yoon said. "You do have your own boundaries, and I do have my own boundaries.
"I think it's just a matter of vulnerability, like how you want to expose yourself in the society. I'm not sure, maybe I want to break this boundary but somehow I want to keep some level of boundaries myself."
"From the distance, when I look at my work, I think I definitely would go back and revise and do something with it more," Yoon added. "But I feel confident enough that I discovered myself that the definition of boundaries is [what] I've been looking for throughout the piece."
Email Shannon at [email protected]