Kyoto Hanami: The blooming cherry blossoms of Kyoto, Japan
Amherst Wire photographer Justin Risley captures the timeless beauty of Japan's blooming cherry blossoms and the modern world that appreciates them.
The first weekend of April is typically when the yearly bloom of the Japanese cherry blossom is at its peak in Kyoto, Japan. People from across the country and around the globe flock to cultural and metropolitan centers to view the precious flowers known as "sakura." The purity of the pink and white blooms enchant urban landscapes across Japan. Kyoto, the epicenter of Japanese culture, experiences one of the largest rushes of tourism during this relatively short period.
The blooming season lasts roughly two weeks in favorable climates. However, the bloom of the sakura occurs at different periods throughout the country.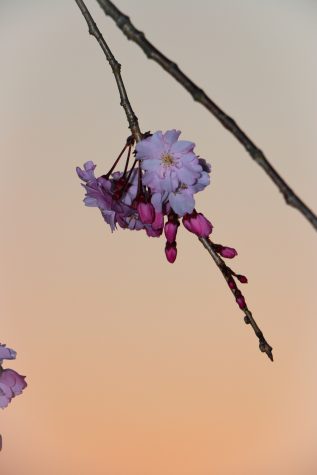 Japan is situated on a widespread change of longitude, similarly to the United States' east coast. Therefore, blooming season begins in late March in Kyushu,  the most southern region of the main island of Japan, and then in early May for the country's most northern region, Hokkaido. Avid sakura viewers and photographers follow the bloom as it rushes up through the nation every spring.
The cherry blossom is deeply ingrained in Japanese culture. The precious and short-lived bloom of the sakura is a symbol of life itself. Throughout the many centuries of Japanese history, the cherry blossom can be found in art, poetry, paintings, and performances. Today, it can even be found on the 100 yen coin.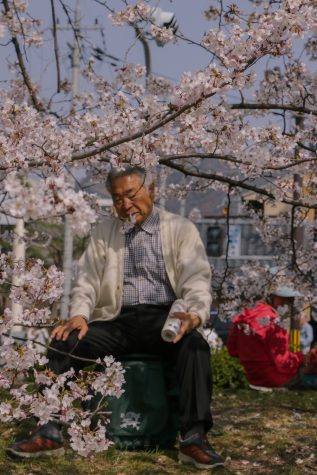 "Hanami" is a sacred part of the bloom season. The word – meaning "flower viewing" in Japanese – is known to have been a major part of the blooming season for centuries. This practice involves gathering with others under the blooming trees with food and drink. It is a time of leisure, connectivity, and observance.
The following images capture the harmony between the sakura and those who choose to indulge in its beauty.
The full series can be viewed here.
Email Justin at [email protected]