UMass students walk out for climate change, presents a list of demands to the Chancellor
AMHERST—On Friday, Sept. 20, 2019 chants from adults, children and college students were heard across the 1,450-acre University of Massachusetts Amherst campus during Extinction Rebellion and Sunrise Movement's "Walk Out for Climate" campaign.  
More than 300 participants gathered on the north quad by the campus pond, closest to the Fine Arts Center, as UMass pedestrians and the campus geese gazed upon the colorful banners, homemade flags that soared up to the clouds and makeshift environmental houses left in the grass. 
Banners that exclaimed 'the earth isn't dying, it's being killed and the people responsible have names and addresses,' spurred the importance of systemic change needed to battle climate change endangering our ecosystem. 
The two-hourlong climate walk-out, supported by more than 20 campus and community groups, was a call to action by Greta Thunberg. Thunberg, a 16-year-old Swedish climate activist, called on thousands across the globe for a national global youth climate strike as the movement prepares for the United Nations Climate Action Summitt. 
The walk-out was initially planned between two groups that had been introduced to the Pioneer Valley within the last year: Extinction Rebellion and the Sunrise Movement. Both groups are dedicated to raising awareness and implementing institutional change for the state of climate emergency the country is in.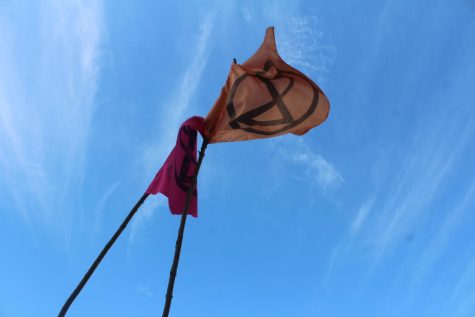 As these groups popularized on the UMass campus, various campus clubs and organizations such as the Center for Education, Policy & Advocacy, Toast Improv Show, UMass Amherst Students for Justice in Palestine, UMass YDSA and UMass Democrats joined the bandwagon to fight for a cause that benefits everyone. 
Nadia L'Bahy, a hub-coordinator for UMass' chapter of the international climate-justice organization, the Sunrise Movement, was the first to speak.
"Our country's use of fossil fuels is hurtling us towards run-away climate change, the point of no return, by the time I'm 30, by the time my little sister is 20, but my generation is hard-working. Our generation is resilient. Our generation has reason to be hopeful," she said. "We have the solutions and all we need to do is join in large numbers and demand that our politicians enact them."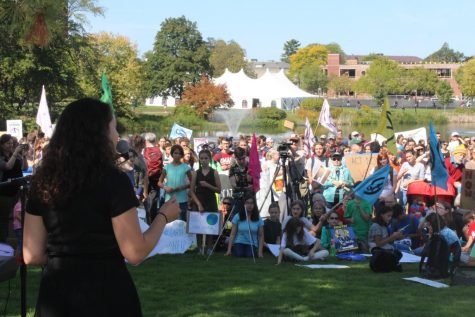 Extinction Rebellion coordinator Emmalie Dropkin also said that the movement began acting in the United Kingdom last year that called the government to declare a state of climate emergency, to act as if we were in a state of emergency and to end fossil fuel emissions by 2025.
"In the United States, they started a fourth demand that essentially is about the idea of a just transition," Dropkin said. "If we are going to create a world that is more sustainable and different than the one we have now, we have to take into account the histories of environmental racism: the rights of indigenous peoples, low-income communities, communities of color and other communities that have been historically targeted by environmental racism."
As Dropkin appeared to UMass on Friday, the energy of concerned environmentalists and allies was cranked up by five notches. 
Glen Ayers, Dropkin's media contact for Extinction Rebellion, stressed that walk-outs for climate change are the starting points to fundamentally change our society. 
"We have never had this kind of climate change while humans have been here…we're driving ourselves off that cliff that we are already speeding towards. At some point, we'll already be over the cliff and there will be nothing underneath us but air," he said as he expressed that the public can not continue living in denial of possible extinction. 
When asked what the goal was for these various global movements inspired by Thunberg, Ayers said, "we want the universities, the towns, and the government to declare a climate emergency – and take it seriously, take this situation seriously because it's life or death." 
Ayers and Dropkin aren't alone in their opinions on the dangers of climate change. UMass students are just as concerned, some even fearful of the future to come if action is not implemented. 
Allison Gaines, a UMass senior Painting and Arts Marketing dual major, is fearful but also hopeful for the future. 
"I hope that there is inspired change from higher up," she said, adding that she believes that UMass students can inspire change from those who can allow for it to occur. 
By detailing her anecdote of witnessing the Great Barrier Reef deteriorate, Gaines expresses that there is no more room for denial. 
"Eventually our resources will diminish, and our equilibrium is going to fall apart."
It is clear to the Amherst community that the UMass walk-out event was an organizing event, as organizers presented a list of demands to 5 college political decision-makers. Several organizers said they hope to persuade them to create policies that will help our environment by reversing negative climate change and the possible extinction of all. The demands are as follows: 
Tell the truth.

Declare a state of climate emergency. 

Act now.

Develop comprehensive plans with community input for complete divestment and carbon neutrality by 2025 and provide transparent communication and reporting on progress towards these goals. 

Community Leadership.

A Five College body composed of students, staff, faculty and community stakeholders will develop and oversee plans for responding to the climate emergency.

Pursue a just transition.

Mitigation and adaptation efforts should prioritize the people on campuses and in communities who are most vulnerable to the immediate and long-term impacts of the climate crisis, including youth, people of color, indigenous peoples, and poor communities. 

Prepare your students for the future.

All students must be educated on environmental science and how the climate emergency will affect their careers, their lives, and the lives of other people on the planet.  
In response to the global climate strike, Chancellor Subbaswamy wrote that while the campus "must undoubtedly do more," it's complex system that in many ways operates as a substantial city. 
"We provide invaluable services to our students and the Commonwealth, but we are an energy-intensive enterprise. So, I encourage your engagement so that we can chart a path together to create a sustainable campus," he explained in a press release.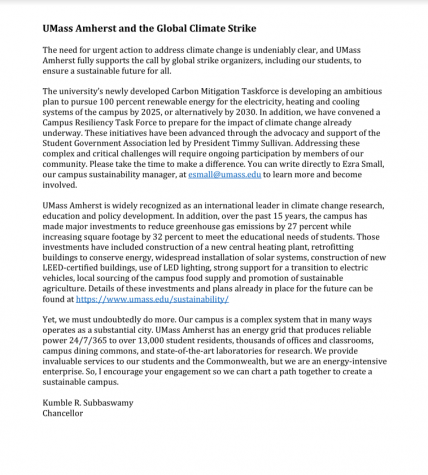 About the Contributors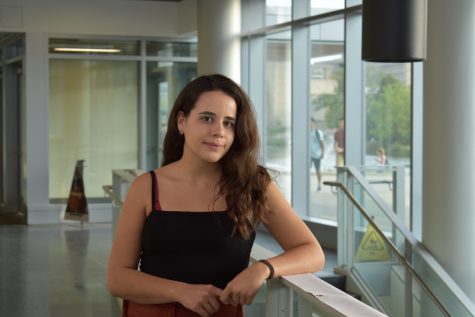 Caeli Chesin, Campus News Editor
"Anyone lived in a pretty how town" - E.E. Cummings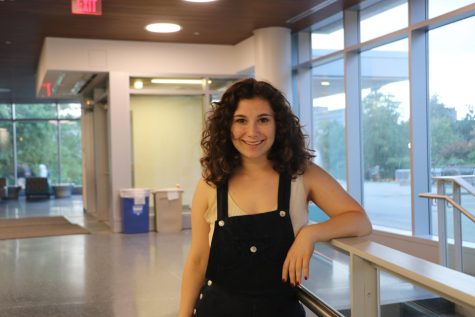 Emilee Klein, Podcast Editor
"Our job as journalist is not to provide balance, it's to provide truth." - Nikole Hannah-Jones.