Stone the Druggist; a small-town band with big dreams
The band talks discusses their upcoming success, aspirations and experiences.
On Sept. 27, up-and-coming band Stone the Druggist played a joint gig at the Amherst Veterans of Foreign Wars (VFW) post with fellow band Skylight Traveler.
The intimate venue attracted loyal followers of the band as well as old school rock fans and neo-psychedelic music lovers alike.  Before all of this, I had the opportunity to sit down with the band to discuss how they got their start, their plans for the future and where their inspiration comes from. 
The four members:  Jasper Forrest, Austin Manning, Andrew Ford and Liam Buttrick, got their start back in high school. Forrest and Manning originally started a band called False Paradise but soon formed Stone the Druggist after finding their remaining members. They classify themselves as neo-psychedelia, a new wave of psychedelia music influenced and inspired by the likes of Pink Floyd and a plethora of other genres.
"We all have our own personal taste and the psychedelic umbrella is used to accumulate that," Forrest explains.
The wide range of different genres and artists they listen to help give them ideas and inspiration for how to move forward with their own music. 
Since their start, they have been able to find their own pockets of success. Their first serious gig was at The Middle East restaurant and nightclub venue in Boston.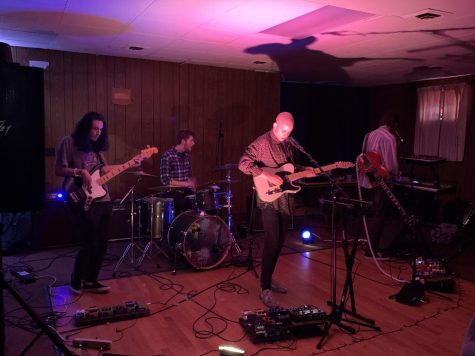 "It was a surreal experience," Buttrick remarks, "we got to open up for Mozes and the firstborns."
The club usually features other rock bands well established in their field. They also competed in WMUA's Battle of the Bands last year. The winner of which gets to play in UMass Amherst's Springfest.
Unfortunately, they didn't win but Buttrick recalls "we played our hearts out for three songs."
They also had to opportunity to meet local band Raspberry jam at Battle of the Bands and went on to play with them at several different venues including Hawks and reeds. 
When they're not performing or practicing, they're usually busy recording other artists. Manning works at Guitar Center where he gets a discount on all equipment needed to record and produce his own music. 
They make the money back by servicing other bands. "When you have a ridiculous amount of equipment you have to make some sort of profit," says Buttrick. 
Tuesdays and Thursdays are dedicated to band matters. Whether that be practicing, recording, writing, or producing other bands, those days are set aside for the betterment of the band. 
Having their own recording equipment makes the songwriting and recording process more liberating as they aren't constrained by costly sessions or producers' busy schedules. It makes it more musically liberating as well as they're on their own time and can take the time to sit on a song and tweak it until it reaches its full potential.
"It makes the writing process a little more fluid and easy," stated Manning.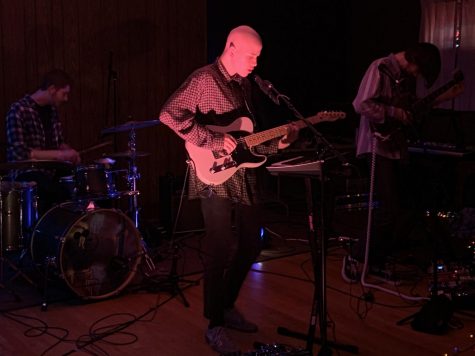 It's a good thing too as the band is currently in the midst of writing an album. "It's taking a while but we're trying to get it right," remarks Forrest "It's a fun project but it takes a long time."
They've already released a self-titled EP on all streaming services which includes five songs written and produced by themselves. 
Their plans for the future of the band remain clear, they want to keep going and strive for success and growth after college as well. Their dream venues for the future would be the likes of The Royale in Boston or The Iron Horse, located in North Hampton. Maybe even one day Madison Square Garden.
"Red Rocks would be cool, every band who plays their plays their best show because the venue is so cool," Buttrick reflects.
For now, however, they're working out the full-time responsibilities of being in a band. It's marketing, outreach, promotion and a creative outlet that takes a lot of passion and commitment. 
When asked what the best parts of being in a band, Ford simply says "friendship and camaraderie." Making music is a job that helps you fulfill the creative outlet in your life.
"Getting out their and making music is a very rewarding job," said Forrest. 
You can find Stone the Druggist at upcoming performances at Great Scott in Boston Oct. 2nd and MAGMA in Gloucester Oct. 12. Future performances can be found on their Facebook page and keep tuned for their upcoming album at their website.
Email Chloe at [email protected]