UMass students share their sounds to connect a community
How three students bring unity to campus through their music.
Amherst, MA – It's Thursday night at the Pub and DJ Laflamme stands in the back corner spinning "One More Time" x "This Girl" mashup on the turntables. This year's #1 remix blasts through the 7-foot-tall speakers bouncing off the walls of the tight-knit space. Neon laser lights dart across the dancefloor where students are packed tight, dancing and sweating to the beats. 
Nearly everybody loves music. What's more fun than cutting loose to great songs surrounded by your close friends? Listening to music relieves stress and allows listeners to get lost in the moment. Chris Focus, Cam Randall and DJ Laflamme are three must-know student artists who cater their music to the college lifestyle, tying the UMass community together.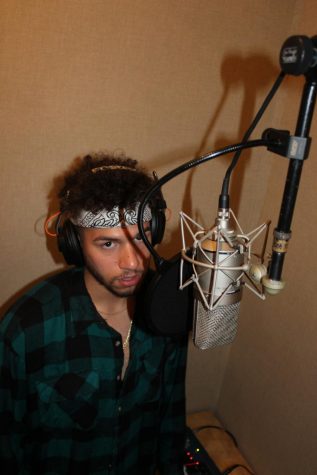 An Amherst native and avid performer around the Pioneer Valley, Focus pursued rapping his freshman year at UMass. The 21-year-old artists loves the creative freedom rap allows him, perfecting tracks that can accompany people while they go through their daily lives.
"When people are receptive to [my music] it's a very liberating feeling," said Focus.
Focus has taken the stage at a handful of venues including the Mullins Center, Sonia Middle East,Once Ballroom in Boston, the Hawks & Reed Performing Arts Center in Greenfield anda few Amherst house parties. The energy from the audience at each show exceeded Focus's expectations, despite the small size of the local music scene.
"The independent rap scene is growing, but everyone who has gone to my shows have been glad they went and left in a good mood," said Focus.
The rapper shares his music on Spotify, Soundcloud and Apple Music, occasionally giving fans sneak peeks of new songs on his Instagram; @chrisfocusmusic.
As a UMass student, Focus feels his life revolves around partying and trying to capture the essence of fun. These themes are his biggest inspiration when it comes to making music, in hopes to attract college-aged listeners.
"I want to always have my music be about something that a lot of people know about. No matter who they are they can relate to something and one thing everyone wants to do is have fun," said Focus.
"Nobody's like 'damn I hope I'm f*cking miserable today', everyone wants to have a good time and so I try to make my music as centered around that vibe as much as possible."
Influenced by J. Cole, Joey Bada$$ and Lil Wayne, Focus's material includes upbeat songs promoting themes surrounding partying and hookup culture, connecting himself to a mainstream college lifestyle. 
"If a bunch of different people are vibing to it altogether, whether they're at a show or in a car, if they're listening to it, I would say my music definitely brings people together," said Focus.
In the future, Focus hopes his rap career takes off, with his music becoming well-known everywhere. He is taking steps to make this happen by getting his music more exposure and monetizing it through online social and music platforms. Focus plans to get his next released songs on popular Spotify playlists, getting his music into a heavier rotation. 
"I just want to be someone who does something and hopefully bring some people joy," said Focus. "I want success for me and my friends and people just partying wide to Chris Focus."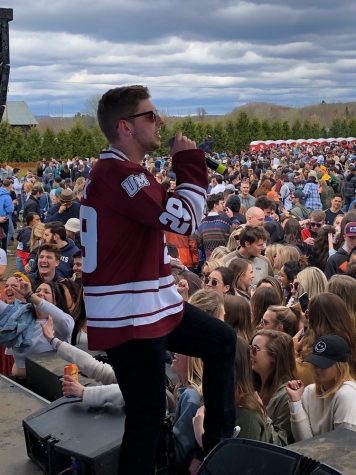 With his debut EP, "Talking to Myself" reaching #127 on the Hip-Hop/Rap charts ranking just below Lil Mosey and four spots from Wiz Khalifa, Randall's music speaks to many young people's emotions. Randall began rapping at 14 but started taking his talent seriously by 18. 
The 22-year-old's lyrics, often dealing with relationships, allow listeners to connect over the matter. Whether singing about bouncing back from a tough break up or dealing with a crazy ex, the artist hopes his music can take these difficult situations and flip them around.
"I have a lot of lovey-dovey songs but not all of it is sentimental, a lot is upbeat. I enjoy making light out of bad relationship experiences, that's the message I want my music to portray," said Randall.
The artist can easily bang out relationship-themed songs in 30 minutes or less when other ideas can take him up to a few days to configure.
Randall's favorite song he's dropped, "Move On," with over 60K listens on Spotify, has received positive reactions, according to the artist, regarding the track's strong relatability aspect in dealing with a break-up.
"From feedback alone, I noticed my music has impacted people. I'll have people hit me up and say 'Oh that lyric you said in 'Move On' or 'Pink Moscato'  I can actually relate to that.'"
Tthese encouraging responses have motivated Randall to keep creating more music so his fans have access to songs they can easily reside with.
"You don't plan to get that feedback, you just put the song out hoping for the best," he said.
"Everybody has had some sort of relationship issue, so to know that my songs can help people through it is a really cool feeling." 
Randall's music targets a specific audience of teenagers and young adults, effortlessly bringing UMass students together as we recognize each other's crazy past relationship experiences.
"When you come across people that share the same musical interests as you, you can connect on a different level," he said. 
"It doesn't matter what your story is, music makes you feel like you're a part of something special. Jamming to music with friends provides a different kind of high. It brings out the best in people."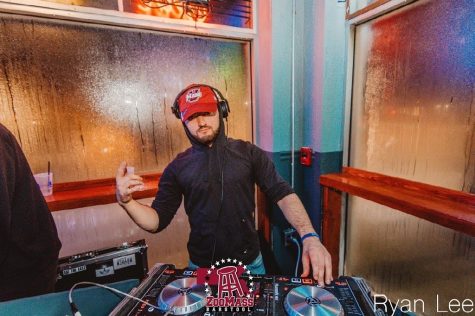 Before he began hosting a full house at the downtown Pub, Laflamme once sat in the corner of his freshman dorm room on a Friday night, as his friends pre-gamed around him. His DJ set sat in front of him as he remixed beats to popular songs. This became his weekend routine, taking his friend's favorite songs, revamping them, and studying their reactions after playing the mix aloud.
Soon after becoming a member of the Kappa Sigma fraternity, he became the fraternity's's designated DJ for weekend house parties. Hours before a party, Laflamme stood in the empty frat house basement, practicing beats and creating different remixes and mash-ups, improving his work each week.
Laflamme is now a UMass senior and his DJ passion has nearly turned into full-time job, working at some of Amherst's most popular college bars. Through advertising on his Instagram, Laflamme transformed the Spoke, located in the center of Amherst, into a local dive bar without music, into a packed place with dancing dominating the room.
"My goal was always to try to turn Spoke into a place where people don't have to be scared to get up and dance," said Laflamme. 
"What I hate the most is playing music and people not reacting to it." 
With his electronic dance mixes, Laflamme drives people from their dorm rooms in the middle of the week to Amhert's downtown, for an entertaining night filled with close friends, wild dancing and priceless moments.
"I like bringing people together if I can get random people who don't know each other dancing together in a group just not caring what's going on, that's a great feeling."
Now, the head DJ at the Pub, LaFlamme continues to use his social media to get a doorbusting crowd to the bar. LaFlamme can also be spotted spinning jams at The Monkey Bar, located downtown as well.
"For me, if I can get a good reaction from a song I make that's probably the one thing that will keep me going, just making people happy and smile with anything I make."
Email Samantha at [email protected] or follow her on Twitter @samcroteau_jour.