Local smoke shops struggle to survive Massachusetts' vape ban
Smoke and vapes shops have lost huge sums of profit due to Charlie Baker's quickly enacted ban.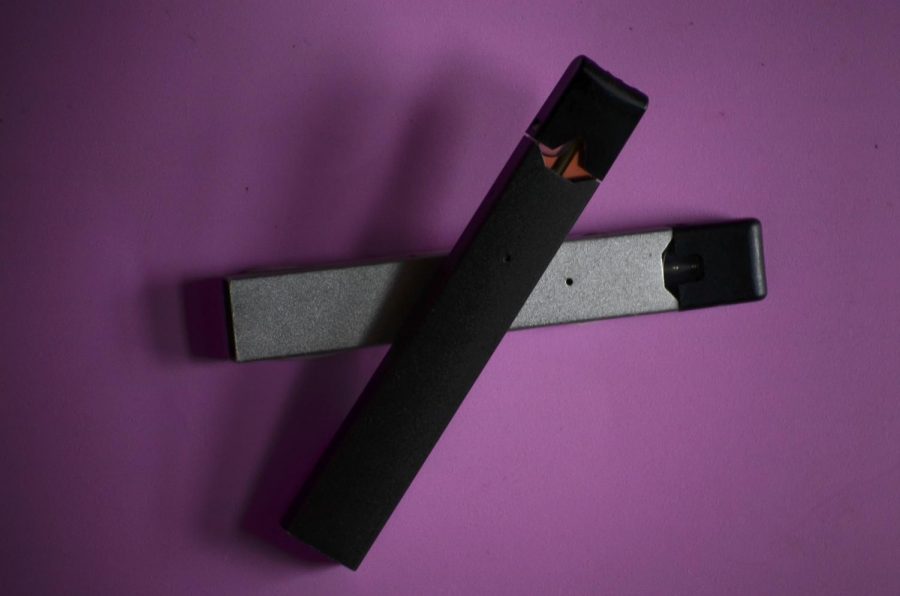 AMHERST —  As Massachusetts Governor Charlie Baker's 4-month ban on all vape products in Massachusetts from September 24th may come to an end early next week, the future for many smoke shops remains uncertain.
In the last decade, people all around the world have begun to ditch cigarettes and have instead moved over to vaping e-cigarette products. Since 2011, the number of people in the world who vape has increased by 800 %, according to a Euromonitor International study.  
The shift forced smoke shops to adjust, including Exscape Smoke Shop in Amherst. "We made a pretty decent profit off of vaping with more people quitting cigarettes in favor of vaping, in addition to how popular the Juul became amongst college kids," says Kim Hunt, an employee at Exscape.
As vaping became more popular over the years, its influence in the income of smoke shops grew. Now, the Food and Drug Administration is aiming to crack down on vaping, and seven states have already produced legislation that bans the sale and e-cigarette products. The ban comes in the wake of an increase in lung injuries that have been linked to vaping. At this point, more than 1,400 illnesses and 30 deaths have been attributed to vaping e-cigarette products as well as THC cartridges, according to the Center for Disease Prevention and Control.
In a study conducted by the Mayo Clinic, 17 sample lungs showed that vaping-related illness revealed that each sample showed patterns that resembled those of chemical burns.
These findings led Massachusetts Governor Charlie Baker to declare a 4-month ban on vaping products that went into effect the following day it was announced, creating panic in the smoke shop community across the state. When the ban was announced, shop owners had very little notice before many of the products in their store would become illegal for sale.
"I heard about it on Facebook, not from any government official or anything," recalls Anthony Cutaia, the owner of Good Vibes Smoke Shop in Orange. "I had just bought over $3,000-worth of vape equipment when I found out, and I couldn't return any of it. I lost all of that, along with the $15,000-worth of products I had in inventory all in a few hours," he continued. Kim Hunt and the rest of the staff at Exscape Smoke Shop in Amherst experienced a similar issue with the lack of communication with business owners affected by the ban. 
"We really had no definitive idea that it was coming," she said.  "I was working the day it happened and was called by the Hampshire Gazette asking for an interview about the vape ban, and I was like, 'What vape ban? What is this person talking about?'"
In addition to the initial challenge the ban presented when it was announced, more problems have begun to present themselves in many shops. At Exscape Smoke Shop, "Morale is not great," Hunt said. "This is usually the time of year where we start boosting our hours with students coming back to school, but since we're getting less customers, employees shifts are decreasing instead," she continued.
For Cutaia at Good Vibes, the ban has been the shop's death sentence. 
"I don't have enough business to run this store the way I want to anymore," he explained. "I can't afford to have a full staff, and it's not sustainable for me to be here every day of the week from open to close. At the end of the year, this place will be closed. I'm done with it," he said.
Despite operating as a smoke shop with other legal products for sale, Cutaia still has not been able to maintain enough income to keep the store going. 
"I lost all of my regular customers who would come here for juices and coils a few times a week. I sell glass products for smoking, too, but people don't come in several times a week to buy a new glass piece. It's the disposable stuff that they come back for," Cutaia said.
After ceasing operations at Good Vibes, Cutaia tells me he plans to operate a CBD-delivery service in his next business venture. A concern of many after the ban was announced was that people would just switch over to cigarettes to get their fix of nicotine instead. Justine Carrillo, a long-time employee at City Line Smoke Shop in Lunenburg, believes there is validity to this fear.
"People will come in for vape products, and once we tell them we no longer sell them, they'll just buy a pack of cigarettes instead," she said. "It's not just the older crowd either — it's both old and young people switching over to cigarettes," she continued.
A common issue shop employees have with Massachusetts' ban is how minimally they have addressed the fact that, as confirmed by the CDC, a majority of the cases involving vaping-related illnesses are linked to the use of THC cartridges, which are highly accessible from unregulated sources.
"They keep finding links with use of THC cartridges in many of these cases, and by banning those as well it just lets an unregulated market become even more unregulated," explained Carrillo.
"I get the purpose of the ban, but based on what my siblings who are in high school have told me, kids are still vaping just as much as they were before," said  Hunt. "The only difference now is that it's practically guaranteed that the products kids are using are unsafe," she continued.
On October 1, the Vapor Technology Association filed a lawsuit against Charlie Baker on behalf of retailers, primarily focused on the loss of profits and labor cuts that have come consequently with the ban, to which a judge ruled in their favor.
The ruling called for Governor Baker to update certain details of the ban by October 28, which gave shop owners a glimmer of optimism that would soon be gone. As the legislature changed, the path to stability for smoke shops gained additional obstacles. 
As a result, Baker and his staff introduced an even more restrictive ban on e-cigarette products that even includes menthol. On November 13, the House ruled in favor of the ban, as well as implementing an excise tax on e-cigarette products for vendors who sell them. 
Over 3 months since the ban went into effect, Baker has opted to lift the ban early on December 4th — but with restrictions. Flavored vape and tobacco products will not return to shelves and juices will be less potent than they were allowed to be before. The prices will also almost double, with a 75% income tax on all vape products coming in as well. 
The regulations will remain subject to change, as Baker and staff await updated regulations that will be announced on December 11th by the Department of Public Health
As other states prepare to draft legislation regarding vaping, Massachusetts continues to update its regulations of the e-cigarette market while smoke shops around the state continue to feel the impact in ways that are forcing them to make changes to their businesses in order to survive.
Email John Burke at [email protected]