Rep. Neal denies signature to strikers demanding climate change reform
Grey skies blew a flurry of snow over a crowd of about one hundred strikers who gathered outside the Springfield, Mass. courthouse on Friday. The group raised their voices in song, gave speeches and held signs while a few representatives entered to state their demand that Representative Richard Neal signs both the Green New Deal and the No Fossil Fuel Money Pledge. 
The Green New Deal, a collaborative plan introduced by Senator Ed Markey and Representative Alexandria Ocasio-Cortez, is a non-binding congressional plan meant to address climate change and sustainability in the U.S. Currently, Representative Neal is the only member of the Massachusetts Congressional Delegation not to endorse the Green New Deal. 
Neal also stands in opposition to at least 100 fellow Massachusetts political candidates in regard to the No Fossil Fuel Money Pledge. The pledge is a promise that candidates will not, "take contributions over $200 from oil, gas, and coal industry executives, lobbyists and PACs." Neal has been criticized in the past for engaging in 'pay to play' politics, hosting lavish fundraisers and accepting large donations from PACs. 
Even under increased public pressure, however, Representative Neal would not change his mind. 
About 30 minutes after the strike representatives entered the courthouse, they returned with a verdict. Neal had refused to sign on to either request, saying, instead, that he wanted to know how else he could show the strikers that he stood with them. This was not enough for strikers.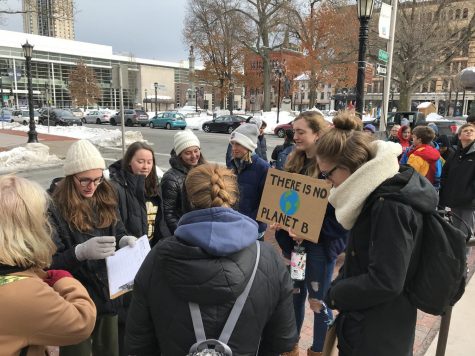 "We think it's inadequate for him to just give lip service to the Green New Deal and the work that we're doing without actually signing on and agreeing to actually support…these actions," said Nadia L'Bahy, co-founder of the University of Massachusetts chapter of the Sunrise Movement.
The Sunrise Movement is a national advocacy group led by young people with the goal of tackling climate change. L'Bahy also helped organize a bus from Amherst center to the strike so that UMass students could attend the event. 
L'Bahy became interested in advocacy because she fears climate change, describing it as, "the scariest thing I'm facing in my future." She has mainly seen evidence of climate change through the news and her studies. Hearing about weather changes, mass extinction and other climate change side effects has made her believe that she and those she cares about will be directly impacted.
"Feeling powerless about that sucks," she says, "so I think it's really important to have a group dedicated to the cause solely of fighting climate change."
Molly Hale, a North Hampton resident, shared L'Bahy's frustration. She was at the strike with a friend and held a sign that read, "Rep. Neal say no to fossil fuel dirty money." 
"I'm here because I'm just so upset…that climate change isn't being taken seriously. It's a catastrophe in the making and nothing is happening and it's just so scary," she said.
Hale would like to see some specific changes such as a federal carbon tax rebate, the re-entry of the U.S. into the Paris Climate Accord, people making individual lifestyle changes and politicians to reject funds from large corporations.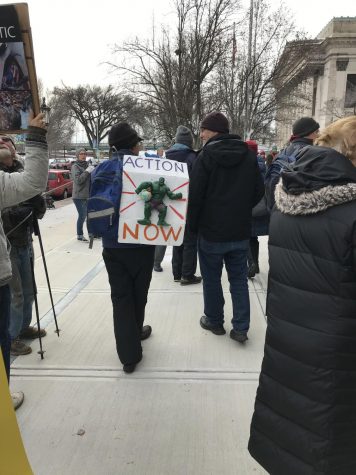 The age range of the strikers was diverse with middle and high school students skipping class, college students streaming off buses and older attendees drawn in from surrounding communities. Hale pointed this out as she joked that she and her friend were the Sunset Movement.
 "All the young people are the sunrise, we're the sunset!" she laughed.
Though the strikers left without a signature for either the Green New Deal or the No Fossil Fuel Money Pledge, they were not disheartened. 
"We're not satisfied with Richard Neal's response and we're not done," said L'Bahy.
L'Bahy says that UMass members of the Sunrise Movement will regroup next semester to reapply the pressure on Representative Neal.
 "We're gonna keep showing up to his office, we're gonna escalate our actions…and this won't be the last time he's hearing from us."
Email Lily Robinson at [email protected].