Men's Basketball: UMass loses another starter
The team faces open scholarship spots and holes to fill in their lineup.
Following in the footsteps of Keon Clergeot and Sean East, UMass Forward Samba Diallo has officially announced his intentions to leave the team and enter the transfer portal. This decision came on Monday, March 30th via a statement on Twitter to the surprise of many UMass fans. 
Samba announced on his Twitter, "I thank all the coaching staff, the athletic director, my teammates and the fans. I learned, I grew and I offered everything I could to allow the team to go as far as possible. Now I'm preparing for a new challenge. By leaving my country Senegal, nothing has been easy, I know that the challenges that await me will be immense but I think I will be up to it. Thank you all." Read Diallo's full statement here.
Samba comes from Rufisque, Senegal and has spent two years with the Minutemen, growing into a major role player for the team, starting in 30 of his 31 games played this season. Diallo doubled his stats from his freshman year in both offensive and defensive rebounds, assists, steals, blocks and points and improved his field goal percentage from 47.1% to 67.4%. 
Samba's intensity and athletic ability will certainly be missed during the upcoming season. That being said, now there are two empty scholarship spots open on the team.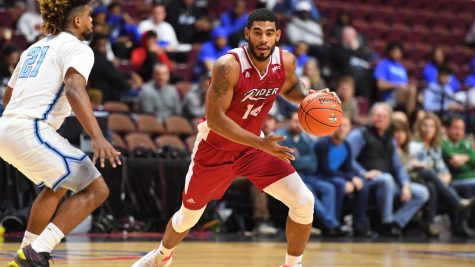 One possible transfer Head Coach Matt McCall and company could land is Dimencio Vaughn, a guard from Rider who has recently entered the transfer portal. UMass has shown interest in Vaughn along with Dayton, UConn, Illinois and Georgia. Dimencio, a redshirt junior, averaged 14.8 points per game and 6.6 rebounds per game. Vaughn's near 40 percent from behind the arc would make a nice shooting addition alongside T.J. Weeks and Carl Pierre. 
Any further news on transfers will continue to be covered here on Amherst Wire.
Email Liam at [email protected] or follow him on Twitter @liamhshea.