UMass student Ava Capodanno turns her passion for art into a side hustle
Over Thanksgiving break, University of Massachusetts Amherst marketing major, Ava Capodanno, sat on a couch in the red barn behind her home in Scituate, MA. Unemployed with not much to do, she had a lot of time to think about ways to make money. She had some success painting sneakers in the past, but she was on the hunt for something more.
Sitting on the couch, she recalls a conversation with a friend's mom. A woman from another South Shore town had sold hand-painted ornaments that holiday season. "You could do so much better and charge even less because your target market is college students," she said.
On Nov. 26, last year, she shared her first hand-painted ornament with her Instagram followers. The @ava_and_art ornament sale had begun. The round, silver ornament was now adorned with two golden-colored dogs, Belle and Grace, with a snowy backdrop. This was for her friend's mom, who inspired her to start.
Her Instagram account started out as a way to catalog her artwork, which began about two years ago. Her feed includes paintings, drawings, tattoo ideas and her favorite doodles.
"I had a ton of art I didn't know what to do with," Capodanno explained.
In the beginning, her friends and family were her primary followers. But one day, it was no longer just her personal gallery.
Back in May of 2018, her friend Tyler was about to throw away a pair of beat-up Vans. "Give them to me!" she said as she snatched the shoes. Capodanno decided to cover the dirt-stained canvas with a green camouflage pattern. She posted a picture of the shoes on Instagram, and within 24 hours she had a new customer.
Capodanno is an example of a growing trend among artists on Instagram. Internet entrepreneurs now use this platform to sell their homemade crafts worldwide. With sites like Etsy, Handmade at Amazon and ArtFire, it's easy to get lost in the sea of unique artists. Etsy's total merchandise sales rose to 3.93 billion dollars in 2018 alone, according to statista.com. The challenge to make money online involves skill, but also strategy. As her Isenberg cohorts mull over lecture slides, Capodanno figures out the markup on the '90s themed set of Air Force One's she made.
In her second-grade classroom, Capodanno had always been a little bit better at arts and crafts than her classmates. "I get it from my mom," she said. Capodanno spent an abundant amount of time in her mother's studio on the second floor of their red barn as a child. She practiced her whole life and eventually leveled up from penciled doodles to elaborate portraits.
Art was just a hobby, something she did in her free time up until she created her account. It has been a part of her life for as long as she can remember until it became a social aspect for her.
"I decided to commit," she said, "I wanted people to have a reason to follow my account." More people inquired for their own customized pair of sneakers. After a few posts, she was getting inquiries for all types of things. Denim jackets, drinking game tables and even living room décor.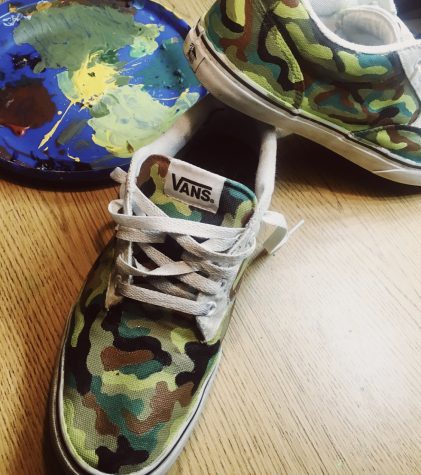 After the first ornament post, the direct messages started to pile up. People sent in pictures they wished to appear on their very own ornaments. Before she knew it, she had 75 orders. Customers wanted ornaments with their pets and homes on them. She even had a Patriots theme order placed. She had customers from Maine, New Jersey and elsewhere, all from mutual followers on Instagram.
"I didn't know these people, but I ended up learning about their lives," Capodanno said. "It was this really sentimental thing, it just made me feel good."
Her worries surrounding money were settled. Before the season was over, she'd earn $1,500 selling the ornaments at $20 apiece.
Soon, her follower count grew. People would share their new purchase, tag @ava_and_art, and thousands had the potential to see her work. While her follower count began to grow, so did the number of special requests. "People just started asking me," Capodanno said.
The idea of asking for money scared her. She didn't accept money for the first pair of sneakers she painted. A price didn't cross her mind until someone offered one. This gave her the confidence to ask for money in return for her services. The very first thing she sold was a painting on her account, not intentional for sale. She doesn't look for customers, they find her. "I felt awkward," Capodanno admitted when she experienced her first monetary exchange. "Even though I'm a business student, I wasn't shoving it in people's faces to buy my art."
A friend from Scituate and UMass student, Melanie Stewart, asked Capodanno to paint her beloved dog, Buster, who had become sick. Capodanno painted Buster during finals week of her junior year. "The painting exceeded my expectations and still to this day provides comfort and puts a smile on my dad's face every time he looks at it," Stewart said.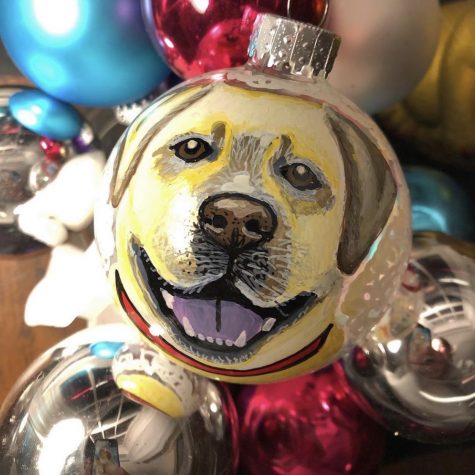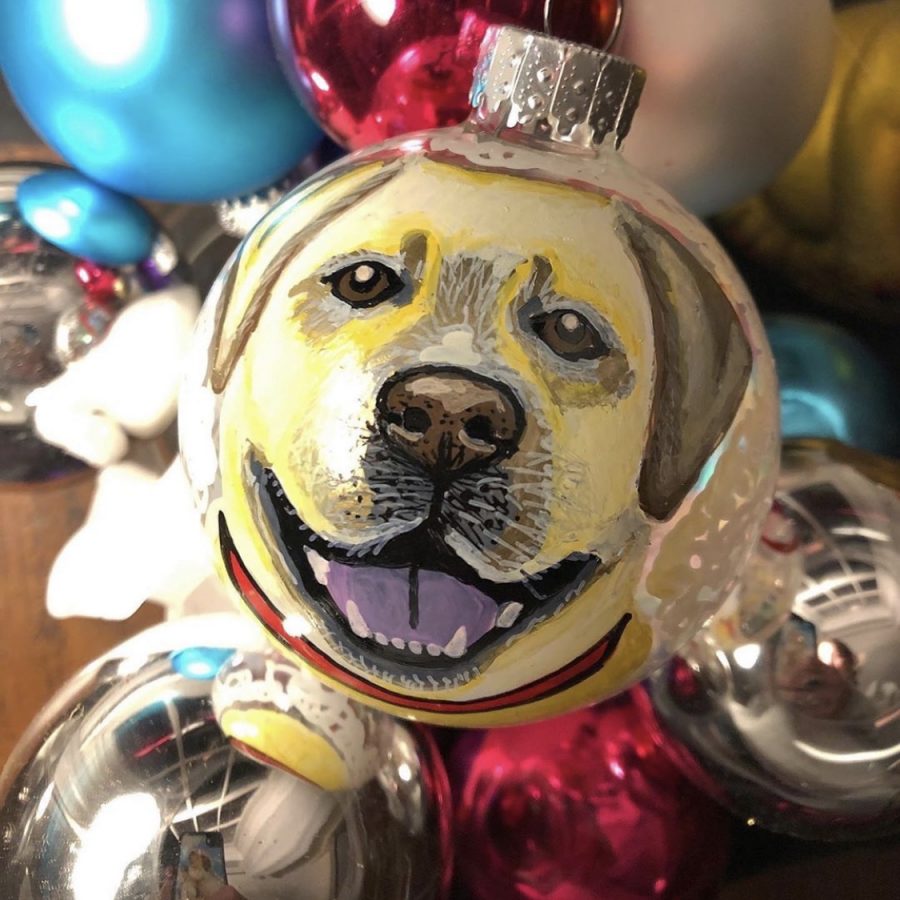 Another big project Capodanno took on was a drinking game table for a group of fellow UMass students. They gave her a list of ideas: music, beer, mountains and fishing. Little things they enjoy. She took all these ideas and designed an entire layout for a large piece of plywood that would make for a table. It took two weeks during September of her senior year. "Is it done yet?" they asked. All she could think was, "You can't rush art!" Over those two weeks, she painted every day under the September sun and wound up with a sunburnt back.
The ornaments were a seasonal business strategy. When the holidays came to an end, so did her continuous profits. People will ask for birthday presents or housewarming gifts on occasion. She said she'll paint anything people ask, no matter how strange.
One of her more recent, and unique, projects was a glass-panel painting. She set out to Michael's Arts and Crafts and bought a large picture frame with glass.
"It was the weirdest thing I had ever done," Capodanno said with a laugh.
When it comes to the price of projects such as this, she accounts for time, supplies and transportation. She completed the glass-paneled painting in five hours, charging $20 an hour. Her profit totaled $175 for this project alone.
Art is not only Capodanno's business, but it has also become her therapy. She looks for ways to incorporate it into her everyday life. As the only senior among the 20 or so freshman and sophomores in her Painting II class, she tends to overthink less.
"The only time I'm not stressed or not thinking about something work-related is when I'm doing art," Capodanno said. Art grounds her between her job-hunt, graduation preparation and busy class schedule.
While Capodanno plans to keep up with her art, she plans to pursue a career in marketing where she can let her creativity run wild. She hopes to keep selling shoes, ornaments or whatever else people request in the future. It's less about the money and more about making others happy while doing something she loves.
"The monetary value of making art for people is the least important thing," Capodanno said.
Email Danika at [email protected]