Rally hosted in Boston to stop evictions and foreclosures across Massachusetts
End of statewide eviction moratorium jeopardizes housing for 60,000 residents
Chants of "do your job" erupted around the Boston Common fountain two weekends ago to the rhythmic tolling of the Park Street Church bells and the beating of makeshift bucket drums on the ground. 
Community organizers, donning neon green t-shirts emblazoned with "we shall not be moved" and distributing pamphlets and flyers to an ever-growing crowd, unfurled a seven-feet tall banner with orange letters suspended on a safety fence that read "eviction free zone." 
Advocates for measures of statewide housing justice joined City Life Vida Urbana's (CLVU) Rally to Stop Evictions and Foreclosures to call on Beacon Hill to pass the Housing Stability Act, bill H5018, to prevent a wave of mass evictions from sweeping the Commonwealth. The bill had been approved out of the Joint Committee on Housing and signs displayed across the park called on state legislators to schedule a formal legislative session to deliberate on the bill before it was too late. 
"We already had a housing crisis. Next week will be like pouring lighting fluid on the smoldering embers of a crisis that isn't even over," said Somerville City Councilor Ben Ewen-Campen. He received groans of agreement from the crowd when he pointed toward the statehouse overhead and asked "who does the law work for?"
Governor Charlie Baker released a $171 million plan days later to mitigate the housing instability brought on by the coronavirus pandemic. It allocated funds to rapid rehousing and residential assistance programs but fell short of demonstrators' primary demand: extending the eviction moratorium.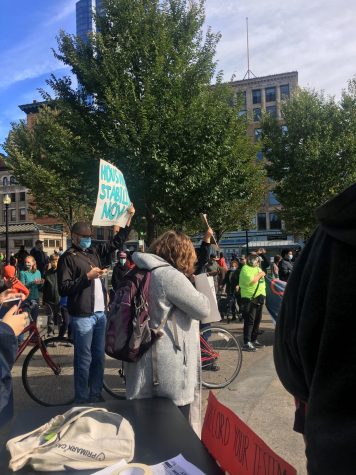 The state moratorium expired Saturday, October 17, and the Centers for Disease Control and Prevention moratorium has gone into effect in its place, but demonstrators and Democratic legislators alike maintain that the provisions of the federal moratorium are insufficient. 
The Center for Disease Control and Prevention (CDC) moratorium prevents landlords from evicting tenants who've submitted written declarations through December and who meet certain income and vulnerability criteria. And, while judges cannot issue eviction orders until the expiration of the CDC moratorium, Massachusetts courts can now review summary process complaints or eviction cases. 
Attorney General Maura Healey assured tenants in a graphic released to social media Tuesday that "only a judge can evict you," but, for many families, the lifting of the statewide moratorium has cast a shadow of uncertainty on an already fraught future.
Organizer with City Life Vida Urban Alejandra de la Cruz faced eviction last year when her building was bought by a new property management company. Her only recourse became City Life's legal services.
"I was so nervous when I found out about [the eviction notice], I cried all day and all night not knowing where I would go," said de la Cruz, who spoke at the Sunday rally in both English and Spanish. She led the crowd in cries of "todos tenemos el derecho de vivir," or "everyone has the right to live." 
De la Cruz is 30 years old and the mother to a three-year-old toddler. She lives in East Boston, where income-eligible tenants can apply for rental relief with the City of Boston's Housing Stability Office. Although she has never been behind on rent payments, she says she has feared displacement. 
"CLVU helped me when I needed help," De la Cruz said. "They're the only reason why I am here and able to speak today. I don't want to see my people out on the street." 
According to De la Cruz, language barriers and immigration status are the "biggest hindrances" for Spanish-speaking tenants seeking legal help when navigating eviction proceedings. Bilingual services are scant even in Boston.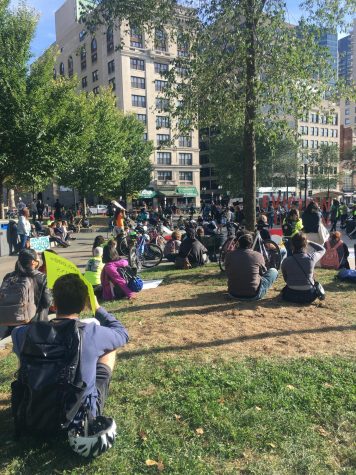 At the rally, representatives from Greater Boston Legal Services and United Way publicized free, one-time Massachusetts Defense for Eviction trainings. These trainings, one Harvard Law representative said, "are critical and often the only way tenants can protect themselves from eviction."
Baker's Eviction Diversion Initiative announced last week in coordination with the Massachusetts Trial Court that it will deploy $171 million in assistance to tenants and landlords across the state. Only $65 million will go towards the Residential Assistance for Families in Transition program (RAFT) under half of what protestors demanded. 
RAFT allows tenants to apply for money to be sent directly to the landlord. The governor's initiative, which the state website notes will not be fully operational for at least "several weeks," includes bolstered RAFT provisions, allowing tenants to apply for up to $10,000 in assistance, an increase from the previous $4,000 cap. 
Tenants with backlogged pre-pandemic cases will not have access to bolstered RAFT relief.  Attorney General Maura Healey says that despite expanded assistance measures, the Baker-Polito administration's refusal to extend the eviction moratorium has failed to provide "the time to do [crisis prevention] right." 
"Improvements to the RAFT program, increased availability of legal counsel for landlords and tenants, and expanded mediation both in and out of court will not be complete by next week, and we are concerned that this moment – as the temperature gets colder and COVID-19 infection rates are increasing — is not the right time for evictions to resume if the protections we need are not yet in place," Healey said. "Too much is at stake when it comes to the health and safety of our residents.
State Representative Mike Connolly expressed similar concerns at Sunday's rally.
"I can tell you that Governor Baker has been working on his own plan behind closed doors, but it won't be enough," Connolly said. "We're expecting an uptick in evictions and foreclosures, and so we're here to let Beacon Hill hear. Eviction equals death, but it doesn't have to be that way. We have to guarantee housing stability." 
The Metropolitan Area Planning Council reports that as many as 60,000 Massachusetts residents fear eviction following the dissolution of the state moratorium.
Email Rebeca at [email protected]