UMass Amherst begins administering the COVID-19 vaccine at it's new clinic
Clinic planner explains the process of vaccination and clinic procedures
Amherst, MA – Throughout the fall semester many of the University of Massachusetts Amherst's buildings were structured to accommodate crowds, having been repurposed to create a more COVID-aware campus.
For example, the Mullins Center has gone from a massive sports center to administering asymptomatic testing to both UMass and Pioneer Valley communities. Additionally, UMass Amherst Campus Center, which houses UMass' COVID vaccine clinic, administers shots. It opened on Jan. 14 and will continue throughout the spring semester. UMass Amherst's vaccine clinic is one of 49 other vaccination sites across Massachusetts, which has been administering a two-dose Moderna vaccine.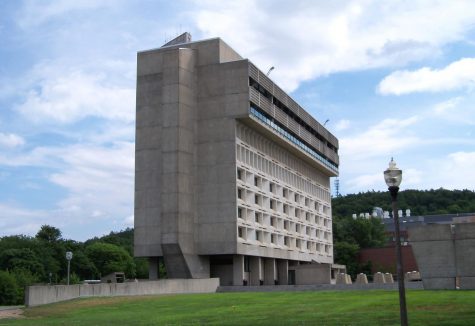 During this current phase, first responders will receive the vaccine in addition to university health care staff, shelter workers, home health care workers and special-ed teachers. This extends to UMass student nurses and student EMTs. Many of these student nurses, who were responsible for testing students this past fall at the Mullins Center, are now administering the vaccine and were vaccinated Thursday before the clinic's opening. In comparison to other vaccination sites, which will only provide the vaccine to workers working in specific towns, the clinic is open to registration from all of Western Massachusetts. 
As everyday aspects of "normality" lives are erased and what's left feels unusual or permanently changed, planning this clinic was one of familiarity for its planners. UMass Amherst's annual flu shot campaign greatly influenced how this clinic functions.
Over a Zoom interview, Ann Becker, a planner for UMass COVID-19 vaccine clinic and co-director of UMass Amherst Public Health Promotion Center Ann Becker, explained their process. " [At] UMass, we have a long record of working with vaccines and doing large scale vaccinations. That's always been a partnership between the University Health Services and the College of Nursing, and what that gives us is a constant state of readiness to be able to now pivot to COVID vaccines," Becker said.
According to Becker, the School of Nursing first trained for a COVID vaccine clinic during the fall semester where she, along with other faculty members from the School of Nursing were able to "train a couple 100 nursing students on how to do these vaccines, and so, when the state reached out to us and asked us if we would be a vaccination site, for first responders, we were ready to be able to say yes, right away because this is just so important."
Despite UMass' history of vaccinations, the clinic is still impacted by limitations created by the threat of potential infection. For Becker,  previous vaccination clinics "didn't need to do the social distancing [and resulting] long wait [where] it's 15 minutes to 30 minutes post-vaccination [and it's] sort of decreas[ing] the amount of volume we can do, but we're learning through that process- what we need  and how to make it so it's safe for everybody who works here and who comes through here." 
By the end of its first week, the clinic had already administered around 900 doses of vaccine. 
Unusually, a majority of the clinic was planned out in-person, besides "working with state health departments on some of the planning meetings." Since Becker and other members of the clinic had to "have been here on campus and doing work [for contact tracing or asymptomatic testing]. We're using staff from [ Mullins Center] to do this clinic here. So we've been putting it together, in-person setting it up [and] practicing." 
Commonplace methods for preventing the spread of COVID-19, including keeping UMass shut down for much of 2020, are reflected in practices behind vaccinations. 
"When it comes to a virus, there [are] no borders. So, if we keep our campus community safe, if we help keep our faculty and staff safe, we're just helping [to be] part of the solution to try to [end] this pandemic. I feel like I'm at the beginning of the end, I hope to get us through, [though] we have a long way to go. My goal is to get the vaccine into every person that we possibly can. I'm just preparing to be able to do that, week by week, increasing it as the vaccine becomes more available and the priorities open up even more." Becker said.
Email Talia at [email protected] or follow her on Twitter @HeiseyTalia