Package delivery limit lifted to acommodate on-campus students during self-sequester
Previous package delivery limit left students waiting for textbooks and necessities
AMHERST – An email sent from Residential Service Desk Staff to on-campus students today confirmed a change in package delivery guidelines from one package per week to "only what [students] need in a given week." However, students were asked to "make efforts to reduce and combine shipping into single packages" whenever they are able.
Previously, the guideline implemented by Residential Life allowing only one package to be delivered per week per student, caused students to go without textbooks and other necessities while in lockdown.
With the campus COVID-19 risk level raised from "Elevated" to "High Risk" on Feb. 7, students are self-sequestering. This means that students, both on and off-campus, can only leave their residences to get meals, undergo twice-weekly COVID testing or attend medical appointments. Students were also asked to refrain from traveling off-campus.
Deputy Director of UMass News and Media Relations, Mary Dettloff, said that "it [was] necessary to limit packages to one package, per student, per week." According to Dettloff, the limitation was to be able to enforce social distancing during package pick-ups and for staff to keep up with package processing at the Residential Service Desks. 
There are four Residential Service Desks open this semester. Each serves around 1,400 students.
One junior living in North Apartments ordered textbooks and face masks, but had to wait to receive them due to the one package per week restriction. They would not be able to complete multiple assignments for their classes without having access to the textbooks they ordered.
"I am in a course that has… readings three times a week with associated quizzes and without the supplementary information, I would be falling behind at an alarming rate," the North Apartments junior said.
Due to the fact that they needed to order school supplies from different stores, and that unforeseen shipment splittings occurred, their online order was delivered in three separate packages. They received an email from Residential Life on Feb. 9 saying they were not following campus COVID-19 guidelines that limit students to one package delivered to campus per week. The email also said, "Your continued non-compliance with this guideline will result in suspension of your ability to receive packages shipped to campus."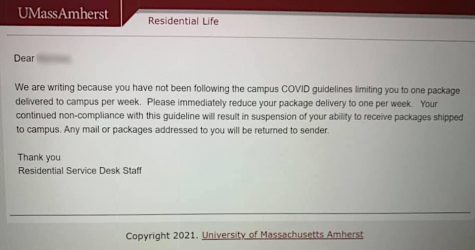 "Is this not a highly illegal process? Interference with one's mail?" the North Apartments junior asked.
They are also expecting a perishable package for a food science-related group project, but they would not be able to obtain it if  Residential Life withholds or returns their package to the sender.
"This package is essential to my work and research for the product… there is a fear that we may not be able to access our supplies," said the North Apartments junior.
A UMass history professor thinks the university should allow students to obtain necessary supplies through more deliveries than one per week due to the self-sequester.
"If the campus is asking the student population to self-sequester, it makes sense to give them the opportunity to obtain necessary supplies through deliveries," the professor said. "[The one package per week] policy was not simply inconvenient; limiting deliveries during the add/drop period makes it difficult for students to receive required course material in a timely fashion."
The one package rule affected students in other parts of the campus as well. One junior living in Brett Hall spent their birthday in their dorm room. Their parents sent them two small packages as presents and their grandmother sent them a homemade cake to make their birthday special. They received the same email saying they were not following campus COVID-19 guidelines.
"My heart sank when I received the email," the Brett Hall junior said. "My dorm has not had security in days, going to the dining hall seems unsafe because there is little social distancing occurring and they are severely understaffed, and people are partying with no consequence, yet I get an email threatening to suspend my 'privilege' to receive packages because I got two in one week."
Before the email that notified students about the change in guidelines was sent out, Dettloff said, "We granted flexibility to the package limitations during opening and the week following opening… so students could order textbooks and essentials. We also communicated before opening to recommend ordering textbooks and shipping to the student's permanent address, rather than shipping to campus due to the lack of a textbook pick up point."
The email from Residential Service Desk Staff says they will try their best to process orders in a timely fashion and ask for students' patience and understanding as they work through periods of higher volume.
Email Rebecca at [email protected] or follow her on Twitter @Rebecca_Duffy_.