UMass student Milou redefines repetition in his "Groundhog's Day"-like album
The Greenfield native creates a powerful album, "The Colorblind & The Painter" that plays perfectly day or night
Supported by an oak wood bench in a well-lit room, Milou Rigollaud, 21, beams as bright as his background. Best known by his mononym "Milou," the University of Massachusetts Amherst student pursues francophile studies but his passions lie elsewhere. With his solo release last month, Miou bets on subdued success in the indie-pop genre. 
Like many youngest children before him, Milou was deeply inspired by his older brother Frederic Rigollaud. An avid drummer, Rigollaud performed in various heavy metal bands throughout Greenfield, Massachusetts during his high school career. At the same time, Milou was only an eager middle schooler jamming to MGMT and early Mac DeMarco. "I'm inspired largely by that era," Milou says. Yet, when Rigollaud headed off to college, Milou found his hockey team disbanded. Without a team, Milou started teaching himself drums. Quickly he started Raspberry Jam, a Greenfield band, with his high school friends. 
Yet as the band developed, Milou struggled to write with the group. "It was really fun but difficult. Like it's harder for me to write music with a bunch of people… the compromising that happens in a band, which isn't a bad thing, necessarily, because then you get like a bunch of different points of view but sometimes I just was really frustrated with compromising. I started working on my own stuff when I went to college."
His college experience emotionally tracks Milou's personal and creative peaks and valleys. Briefly, Milou attended university in Montreal before taking time off in 2019. Most of his friends enrolled in classes, but Milou felt like "a complete failure" for his decision to leave. Despite his dissatisfaction, Milou dove headfirst into songwriting. "It might sound really narcissistic to say, but I got like, way, way better at writing music when that was all I was focusing on." Without classes to distract and a bakery job to build savings, Milou "harnessed" his craft. "It's not the right word. It's basically like just teaching myself how to get better at songwriting and how to write music that felt authentic." Milou says.
That authenticity led Milou back to Montreal, in whatever way possible. In describing his songwriting process during this time, Milou feels less like a current UMass Amherst student and more like an electronic Elliott Smith who also abided his time at one of the Five Colleges, Hampshire. He's engaging, independent and interesting as he is interested in dissecting life through music. Headed back to Montreal, Milou moved into a friend's closet, dedicating his days to songwriting. At noon he'd wake up and have a coffee and a cigarette before heading back to his "tiny closet room." "'Alright, I'm writing something,' and just like sit down and write to the point that for October that was basically all I did. It was from like 12 until it got dark, which I guess isn't that long, because it's Montreal, so it gets dark at like 3:30 in the afternoon. But like, it was like all day, I would write and then I would like, leave it." Milou says.
Folding back the pages of an old scrapbook, to reminisce about people, places and things that have long gone by is exactly how Milou opens "The Colorblind & The Painter." There is an emptiness in the lyrics "memory boycott," the first track on his album. Lush synth fills the entire space until Milou's voice breaks through like an invasive thought of a long-lost love.
Moments once idolized yet familiar have drifted into the obscurities of Milou's mind as he echoes in the chorus "I'm sitting all alone again/Now I'm on my own again/I know you gotta go again." A melancholy start to the album about the repetitive cycle of life. 
Despite the melancholy, Milou never falls into monotony. "all these people" introduces a hypnotic beat that reminds the listener of an intensity that lies dormant behind obsessive thought patterns and isolation. "Friends, left me be, I'd like to think it's just cause I'm not fun/ They said 'What's the point when all you do is use us till you're done?'" His paranoia about abandonment, from friends, lovers and anyone else, bleeds into a heap of head-spinning drums and guitar. 
MGMT's influence is impossible to avoid is "i wanna know, did you crash your car?" Out of every track, this one bears great experimental energy, something like how Foo Fighters' "White Limo" sits on their 2011 "Wasting Light." It's a little shocking but well-paced. After set expectations of "powerful-chill," as Milou and his friends like to refer to his sound, this track reeks of MGMT and electronic sound. It may be an outlier on the album but it perfectly sets up the heart of this piece, "restless youth."
"restless youth" opens with a mesmeric melody that can't quite be understood. Close listening will reveal that a reversed version of the chorus welcomes listeners to the most repeated song on the album. " So the album focuses on repetitive, repetitive it is definitely not a word, but like repetitiveness, and the repetitive nature of life, and about everything really. And humans, or at least a lot of people, like having some sense of security and stability and, like, routine to a degree in their life." Milou reflects.
This repetition is in abundance on the following tracks, "DX7 (feat Mac Almedia)" and "new year's @ kenny's." Every day we wake up and things are stunning the same, Milou laments. "So you have songs like 'new years @ kenny's,' it's just, I'm going to my friend's house. I know what it's gonna be. Like, we do this every year." He stops for a moment "And I guess not this year, right." 
Where Milou's precise but relaxed energy comes through is in his simple but addictive choruses. "I wish you could see all my thoughts/I think you'd like them/I wish I never forgot, but my brain's just filled up/I think you loved me," he chimes on the first track. These simple lyrics ingratiated repeatedly express how stuck someone can find themselves in their own life. That chorus construction shimmers on most tracks. It follows the progress of the pandemic, for those who are abiding by the rules, waking up and every day is the same. "And like, obviously, everybody knows that, like COVID has really, you know, it has exposed what you take for granted," Milou reminisces.
Growing as a human through an unusual but unwavering pension for observation transformed Milou into the artist he is today. With each experience he details throughout our conversation, it's clear that every moment molds him. Whether it's the cross-country road trips with his friends or the one to Mexico with his girlfriend, he's shaped by their presence and their absence. Most notably, the long drive from Mexico and Greenfield left an impression on his creative soul. He compares the 36 hours alone on the road to 2019's isolation psychological-thriller "The Lighthouse."
"It's an insane movie. Like literally, it's about people going crazy. But it obviously wasn't that bad. It was 36 hours on a highway. It's not that bad. At a certain point after like you can't like listen to music or podcasts. So like, everything would be silent, it would just be the road. And then I would start talking to myself." Milou reminisces fondly of the deeply unplugged experience. "I really liked that feeling of no stimulation whatsoever other than the highway, and like what was on the side of the highway," Milou says. 
"Even though I try to get back home again, I hit the road again," Milou repeats over and over in his penultimate track "road tripping." He is endlessly captured in the torturous position of craving home but not being able to stay there. "Especially now more than ever, like our country is very divided, and people just don't understand how other parts of the country are or how they live or like, really what it looks like."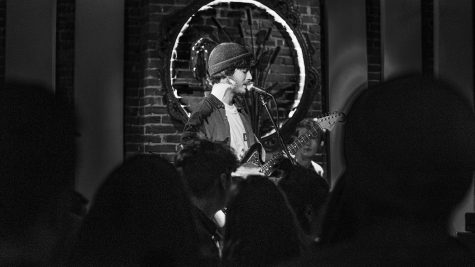 Before Milou can quell his excitement about this album, he never forgets his roots. There are those featured on his album like Mac Almedia, or Rufus Seward, the head of Black Outline Records in Greenfield. Yet the most crucial piece to this project is that older brother that kickstarted Milou's passion and, turns out, mixed and mastered this record. Milou might sonically manifest his songs, his brother reminds him that at some point the work must stop. While Milou pushes his limits crafting every piece of this album, Rigollaud stills remain his inspiration. Rigollaud owns Fredcording Studio in their hometown of Greenfield, making this album a family affair.
The album is an art form that Milou begins to master on "The Colorblind & The Painter." While singles have been popularized by Tik Tok sounds and shuffle playlists, the album sits on a pedestal where only the most precise can capture their sound and tell an effective story through a series of songs strung together perfectly. It's "Sgt. Pepper's Lonely Hearts Club." It's "To Pimp A Butterfly." It's "The Miseducation of Lauryn Hill." It's "Punisher." While Milou has miles to go before he catches up to these legends, his ability to create a sound that recreates the distinct feeling of loss and continue that progress throughout this solo work is a hopeful sign of what's to come for the budding artist.
Milou can be found on Bandcamp and Instagram at @milour
Email Julia at [email protected] or follow her on Twitter @toomanyjulias
About the Writer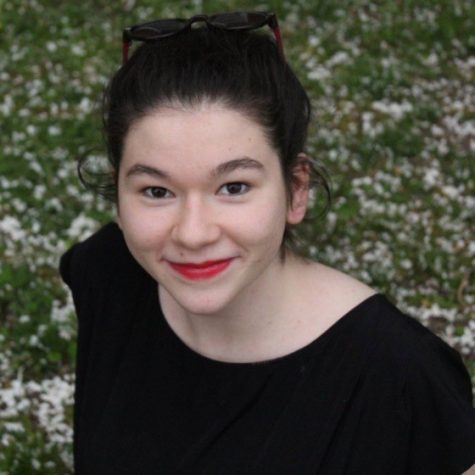 Julia Donohue, Managing Editor