"The World's a Little Blurry": Billie Eilish's world of her own
The 19-year-old superstar's rise-to-fame documentary proves dreams can become a reality
Sean Dunham, Music Entertainment Editor
February 28, 2021
Billie Eilish, known for her lime green, baggy-clothed and gothic appearance, hits the big screen as her documentary "The World's a Little Blurry" released on Feb. 26. Telling the enriching story of her musically-centered upbringing, Eilish invites viewers to catch a glimpse of everyday family life in the O'Connell household, while also traveling across the world on sold-out tours. Written and directed by R.J. Cutler, the film takes a closer look at how superstardom can truly change life's dynamics, for better and for worse.
At the age of thirteen, Eilish posted an original song on SoundCloud called "Ocean Eyes," a dreamy, floating tune, not knowing the immense buzz it would later create. Nearly six years later, she has millions of monthly listeners on Spotify. The documentary encompasses Eilish's close, loving relationship with her brother, Finneas O'Connell, who writes and produces every song and album alongside her. Eilish's most recent album "When We All Fall Asleep, Where Do We Go?" was written entirely in her small yet comfortable bedroom, with the walls covered in dark drawings from Eilish's journal. Interestingly, the siblings credited their parents' early investment in them learning music, saying "that made us feel like we could just do and be whatever we wanted." 
"Blurry" succeeds in depicting Eilish as trying to live a somewhat normal teenage life, by observing her hanging out with her joke-loving family, getting her license and dream car and worrying about her look, which actually takes a toll on her. Eilish reveals her struggles with her body image, as well as other health issues which make her usual routines and performing at shows more difficult. 
Living with Tourette's Syndrome, Eilish frequently goes through uncontrollable "tic attacks" when her eyes are sensitive to surrounding fluorescent lights, causing discomfort and anxiety. As an avid dancer during her younger years, she suffered from a serious injury that altered her hip growth plate, forcing her to quit permanently. "Most depressing year of my life," Eilish shared, signaling a missing piece of her identity. Most recently, shin splints require Eilish to accommodate the physical barriers thrown at her, such as wearing leg braces during shows to ease the pain. Throughout "Blurry," Eilish apologized often for her schedule changes, as she would rather not perform if she wasn't at her very best.
Unknown to many, Eilish has idolized singer Justin Bieber since she was twelve years old, expressing her utmost respect and love for him. Eilish's mom, Maggie Baird, looked back on her daughter's "childhood crush," comically saying, "[Billie] was afraid she wouldn't love anyone more than him in the future." "Blurry" triumphantly documented the reunion of the two pop stars, with segments of the duo's remix of "Bad Guy" and the pair meeting in-person for the first time. Completely frozen in that moment, Eilish tearfully embraced herself in Bieber's arms once she composed herself, with fans gathered around them to share the beauty of Eilish finally meeting her life-long inspiration.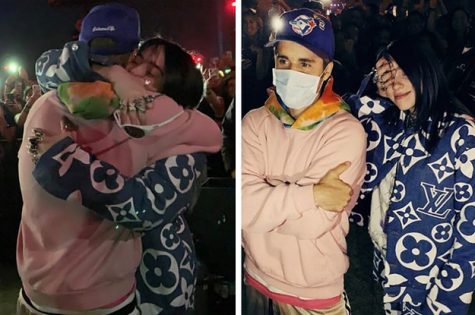 With her place secured at the top level of the music industry, world tours are nothing new for Eilish, as she recently hopped from plane to plane to entertain fans in Boston, Houston, Coachella, Milan and Australia (just to name a few). Despite her gloomy, shadowy songwriting, Eilish has the ability to light up concert stages, with colorful flashes, distracting screens with eerie visuals and seas of fans jumping to the beat nonstop. Particularly, "Blurry" includes footage from various shows during which Eilish brings the crowds to life with songs like the infamous "Bad Guy," "Copycat," and "Bellyache." However, Eilish is extremely special compared to other artists with her range of vocals, going from soft-spoken and whispering, to passionate and igniting. 
The film lacked dialogue and typical story-telling at points, which led to the documentary not being as informative about Eilish's main inspirations and life goals. Oddly, there are multiple included scenes of Eilish arguing with her family and managing teams, which suggested her frustration and anger towards the process of songwriting, meet-and-greets and certain expectations of the artist. When told her work was amazing and "so, so good," Eilish would shrug off any compliments or sulk over any miscues she made, inflicting tension in any room. Also, "Blurry" jumps from event to event randomly without much of a timeline. The documentary's simplicity lifts it from this mistake, but a better layout would have evoked more heartfelt emotions and personal attachment.
Eilish's music embodies true emotion and grace, as each lyric means something to the young artist, especially given her history of mental health issues. Her connection with the music allows all listeners to understand what she has gone through, as well as how she feels. The documentary shows fans crying at the concerts, overwhelmed with Eilish's breathtaking voice and incredible instrumentals to pair with it. Following a breakup with her boyfriend, Eilish took the stage, accompanied by her beloved brother, to sing "i love you," a hit about failing to move on from love, during which Eilish broke down yet finished strong. Her talent is beyond exceptional and "Blurry" allows her audience to place themselves as if they are in the front row with Eilish. 
The documentary ends on a high note, as Eilish is shown winning six Grammys, sweeping the board for Best New Artist, Song of the Year, Record of the Year, Album of the Year, Best Pop Vocal Album of the Year and Producer of the Year for O'Connell. Eilish shows no signs of slowing down, serving as a real inspiration in music. "Blurry" digs into an amateur teenager evolving into an iconic legend, spotlighting Eilish and allowing that shine to come through. 
"The World's a Little Blurry" is now playing in theaters and streaming on Apple TV+.
Email Sean at [email protected] or follow him on Twitter @seanpdunham.