Up-and-coming artist Phoenix Rios turns heads in Amherst
UMass theater major opens Paper City Studios in Holyoke
Authentic, dedicated and driven artist Phoenix Rios is changing the music scene in Hampshire County. Growing up in a musical household, Rios knew he would one day create music himself. In March 2020, Rios finally took the leap, dreaming with his eyes open. Producing lo-fi and groovy melodies paired with upbeat lyrical flows, Rios combines a variety of musical genres, creating his own space in the music world. 
Influenced by artists like Kendrick Lamar, Tupac and Kid Cudi, Rios' style features lengthy and meaningful lyrical verses with tranquilizing beats. Rios describes his style as incorporating both "bedroom" and "backpack" rap. Whether you want an upbeat or somber vibe, Rios has a wide array of versatile tracks to immerse yourself in.
Born and raised in Holyoke, Massachusetts, Phoenix Rios always knew he had the musical bug. Constantly surrounded by hip-hop melodies, Rios was inspired to write songs ever since he can remember. With a talented DJ for a father and a musically-supportive mother, Rios was destined to become an artist.
Outside of his love for music, Rios wants to keep working on his talent to push a positive message and create a moment of unification for people. What inspires him the most is trying to create art that deeply touches people. 
"I want to create music that impacts the world in a positive way, stuff that speaks to injustices, or just stuff that brings people together on a nice day out. That's what inspires me- having music that creates those kinds of connections," said Rios. 
His first debut as a star occurred when he was in second grade, performing a rap he wrote for his talent show. Listening to music on repeat, alone, with his parents and with friends, Rios couldn't help but feel compelled to write more and more songs of his own. However, it wasn't until late high school and early college that Rios decided to showcase his talent.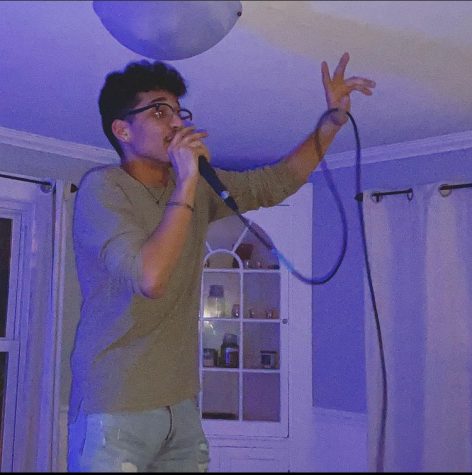 Rios first began his true journey to artistry when he released two singles on Soundcloud. Privately, disclosed his musical presence only to those closest to him. It wasn't until March 6, 2020, with the release of his EP "Take the Leap" on Spotify when his music spread worldwide. In his 2020 Artist Wrapped by Spotify, he received 3,000 streams across 12 countries.
"Ideally what I want to do is have a nice legacy after I die but what I tell myself is I'm going to change the world, I'm going to do something world-changing. But the kind of message I want to put out with my music is not being scared to be yourself and to be the best person you can be. That really aligns with me as a person," said Rios.
Before the release of his two EP's, Rios performed here and there at events for friends and clubs while studying theater at UMass. When given the opportunity to perform one of his drafted songs on the weekends or in between studies, Rios always took the chance. Down-to-earth with a benevolent aura, UMass crowds always welcomed Rios' performances with a smile. 
Perfecting his art with the release of his second EP, "Nocturnal," Rios dropped one of his now hit singles, "How I Rock," presenting a carefree and unforgettable vibe. Also featured on the tape is "Speed of Sound," embodying a more mellow and positive mood. Each song highlights a different side of Rios; both guide you through a day in his life. 
Although Rios has come a long way as an artist, his journey has not been easy. When the pandemic hit, Rios was unable to use UMass Amherst's studios that he had taken advantage of previously. Without the help of university-supplied materials, Rios found himself struggling to create music in the Amherst area. Determined to continue recording music, Rios scraped enough money together to buy enough audio equipment to persevere during the pandemic. 
Sadly, performing in his home audio setup could not produce the same enlightening feeling of the studio. Motivated to dive completely back in the game and create a musical home for himself, Rios gathered his close friends and opened up a new studio called Paper City Studios in Holyoke. Two of Rios' close friends that create music with him frequently, known by the artist names of Joenis and Freek, started the musical endeavor. With the additional help of a few supportive members in his close circle, Rios manifested his vision into a physical reality.
"Shout out to Paper City Studios. It's a little venture me and my friends are starting- a little group from Holyoke. Some of us rap, some of us don't, some of us are in love with music, some have nothing to do with music but we all decided to kind of chip in for this studio spot in Holyoke. Now we are getting a lot of different people coming in, whether we are helping them record or it's some of our friends or just local artists in Western Mass," said Rios.
Despite all of the curveballs COVID-19 has thrown him, Rios is still persisting to create music. For the next upcoming months, he plans to release a single track on the first of each month. You can find his music on Spotify, Apple Music and SoundCloud under his given name, Phoenix Rios. Stay tuned for his up-and-coming contagious tracks that will only leave you lingering for more.
Phoenix Rios can be found on Instagram and Twitter @thephoenixrios. His music is available here
Email Caroline @[email protected]