UMass Amherst Now Requiring Indoor Mask Wearing Starting Aug. 11
In an email to the campus community, UMass Amherst will require community members to wear masks indoors starting Aug. 11 as well as faculty and staff to be vaccinated.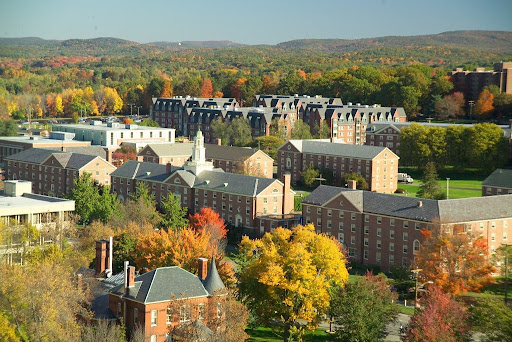 Amherst — With COVID-19 infections rising due to the Delta variant, UMass Amherst will require members of the campus community to wear masks inside public campus facilities effective Aug. 11. Chancellor Kumble Subbaswamy announced this policy change in an email on Monday, Aug. 9. The decision follows the Center for Disease Control's recent guidelines of masking indoors to reduce transmission of the COVID-19 Delta variant on July 28. The email states that these guidelines will be reviewed in mid September. 
Face masks are not required outdoors, when eating in the dining halls or other campus eateries, in residence halls when alone or with a roommate, in personal offices or research spaces when alone, for children under the age of two, or anyone who cannot wear a facial covering due to a medical condition.   
The email notes that currently 96 percent of domestic undergraduates and graduate students have been vaccinated; a key factor in preventing the transmission of COVID-19. 
Faculty and staff are also now required to be vaccinated after the university's labor unions and the administration came to an agreement regarding vaccination requirements in the past few days.  
According to the email,  a majority of  international students are vaccinated, but some are unable to access vaccines. The school is currently in communication with the CDC for unvaccinated international students' proper entry into the U.S. as well as receiving vaccinations upon arriving in Amherst.  
According to the university's FAQ page on face coverings for the Fall 2021 semester, students who have a medical condition preventing the use of a face mask must request accommodation through the Disability Services Office. Staff who also have a medical condition preventing the use of a face mask must request accommodation through the Accessible Workplace Office. 
The Chancellor recognized that the efforts of staff and students have helped prevent the transmission of COVID-19:"This rate is truly impressive, and I thank our students for doing their part to advance a safe and healthy campus," the Chancellor wrote in the email regarding the high rate of students already vaccinated. Additionally, "[unions]have prioritized the health and safety of their members throughout the pandemic, and we know a significant number of employees have already received shots," he said.
For those near Amherst seeking vaccinations or testing, the UMass Amherst Vaccine Clinic is currently offering walk-in vaccinations and asymptomatic testing is available at the Mullins Center.