100 Gecs: an alternative duo dedicated to hyper-pop
Dylan Brady and Laura Les formed the group back in 2015 in their hometown of St. Louis.
On Tuesday, October 26, 2021, my friend somehow convinced me to go to a concert three hours away during midterms — but the most questionable part of my decision to say yes wasn't that we were going to a concert. It was that we were going to a 100 Gecs concert. When you search for the band online, Google suggests the query, "what's the deal with 100 Gecs?" Despite the fact that my friend and I have gone to a countless number of shows, we had no idea what to expect from this one.
You might recognize the two piece, hyper-pop band and their electronic beats, auto-tuned voices, and bizarre lyrics. The duo sings, "Stupid horse, I just fell out of the Porsche, Lost the money in my bank account, oh no" from the song "Stupid Horse" and "Hey, you little p*ss baby, You think you're so f*cking cool? Huh? You think you're so f*cking tough? You talk a lotta big game for someone with such a small truck" from the song "Money Machine". Both of these songs blew up on TikTok and have over 20,000 videos under the sounds. 100 Gecs has been compared to acts such as Dorian Electra and SOPHIE. The band has collaborated with artists such as Rico Nasty, Fallout Boy, and Charlie XCX.
100 Gecs is a band that you'll either love or hate, and everyone at the concert seemed to be in the first category. The show was in Burlington, Vermont at the Higher Ground Ballroom. The concert was completely sold out and held around 600 people. Fans held up signs sharing their devotion with messages like "I love you Laura Les," who is one half of the band. She sings, plays guitar, writes and produces. Anticipating the show to start, fans chanted "gecs.. gecs.. gecs" until the duo came on stage. Dressed in wizard robes, they opened up with a new song "Hey Big Man." Fans went wild as the band jumped around on stage. The hyper energy from the band and the audience continued throughout the show. The crowd fed off the band's electric energy. Aggressive beats, guitar riffs, high pitched voices, and guttural screams filled the room.  
To promote their new album "10000 Gecs," the duo performed several new unreleased songs such as "Hey Big Man," "Hollywood Baby," and many more. Hardcore fans still knew the words from watching videos of the tour on social media platforms such as TikTok and Youtube. A lot of people were dressed up in rave attire such as tutus, fishnets, crop tops, and bright colors. Some wore wizard hats as homage to Dylan Brady, the other member of the band who wore one as well. Along with Laura Les, Brady sings, writes, and produces the music.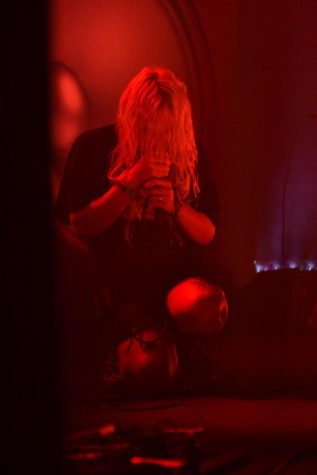 Recently, a popular TikTok went around saying "in case you were wondering what a 100 Gecs concert is like" over a video of the band smashing on a xylophone while the crowd chants "gecs!" That viral moment was recreated live on stage. To play their "Acoustic Interlude," Les and Brady brought out a xylophone, set it on the floor, and absolutely went ham on it until the mallets broke and flew into the audience. One fan nearby said longingly, "if I caught that, it would be my prized possession."
Although the band's music can be very abrasive, seeing them live is a lot of fun. 100 Gecs is not the type of music most people would put on in the car because it is loud and uses a lot of repetition and changing beats that people might find annoying. The concert was an energetic space where you could jump around, dance, or mosh to upbeat music. The electronic bass hit deep and you could feel it in your chest. The band played a fairly short set that was only about an hour long. They played the whole way through with no encore.  
You might think 100 Gecs is not for you, but you could be surprised. They mix genres and sounds, so there's something for everyone. You can find their music on Spotify, Apple Music, and Youtube. 
Email Juliet at [email protected].