Students and parents petition for safer campus following crash on Mass. Ave.
UMass addresses pedestrian safety concerns
Two online petitions are calling on UMass to make pedestrian safety a higher priority after a student was struck and killed crossing Massachusetts Avenue.

The first petition, titled "Make UMass Amherst protect pedestrians," was posted on change.org last week by sophomore Caitlyn Fair. 
The second, a MoveOn petition titled "Create and implement a pedestrian safety plan for the UMass Amherst Campus" was created by Eileen McMahon, a UMass parent. In total, the petitions have garnered the signatures of over 1000 people.

On Tuesday, Feb. 22, Elena Lucore, a freshman business major, died after being struck by a driver on Massachusetts Avenue.

Both petitions suggest that poor lighting and a lack of protective measures contributed to the crash. They each call on the university to take actions including installing raised crosswalks and speed bumps to create a safer campus for pedestrians.

"As a parent, you're always worried about your kids. When I heard about the accident, I was worried it could have happened to anyone," said Eileen McMahon, creator of the MoveOn petition.
According to data by the UMass Police Department, pedestrians were involved in 10 accidents out of a total of 290 vehicular accidents during the past four years. UMass Police note that student pedestrians may have also been involved in accidents adjacent to campus on North Pleasant Street which is under the jurisdiction of the Amherst Police Department.
Professor Michael Knodler, Associate Dean of Research and Graduate Affairs in the UMass College of Engineering, points to speed as, "the biggest opportunity for improvement," in campus pedestrian safety.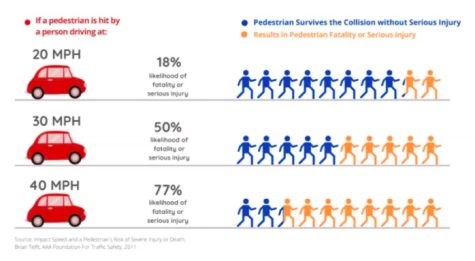 "When we're talking about pedestrian safety, we're talking about reducing speed," said Knodler.
Knodler cited raised crosswalks, the addition of turbulence points like traffic circles, speed limit changes, automated enforcement, and speed feedback signs as strategies for reducing speeds. He noted that speed limit changes are largely ineffective unless accompanied by other speed-reducing strategies.

In the aftermath of the crash on Massachusetts Avenue, the university is taking steps to assess and improve pedestrian safety.

"The university… will hire a consulting firm to analyze pedestrian safety, including potential improvements at crosswalks, sidewalks and intersections," read a university statement on pedestrian safety. "The process will include input and consultation with the campus' Pedestrian Safety Committee."

The statement also said that a covered pedestrian walkway is expected to be implemented on Massachusetts Ave. near Lincoln Ave. by Friday, March 11. Furthermore, push-button flashers will be added to crosswalks across Massachusetts Ave.
Since the accident on Feb. 22, a UMass police officer has been stationed where the accident occurred. The speed limit on Massachusetts Ave. in that area has been reduced from 30 mph to 20 mph.
"UMass failed Elena, and her parents deserve justice," the change.org petition reads. "Hold UMass accountable and make them make UMass a pedestrian-friendly campus. Elena will always be remembered here at UMass and it is our responsibility to make sure this never happens again."