UMass releases their fifth email of the semester on COVID-19 testing data
Testing data from Feb.16-22 shows decrease in positive cases, and vaccine clinics continue to be available through March 10
In an email to the university on Thursday, co-directors of the Public Health and Promotion Center (PHPC) Ann Becker and Jeffrey Hescock explained that as of this week, there were a total of 156 positive cases. In comparison to last week's positivity rate of 7.44%, this week's was 3.6%. At the state-wide level, the most recent positivity rate was 2.35%.
Of those positive cases, 103 are on-campus students, 50 off-campus students and three are faculty and staff.
"We are very encouraged by the overall decline in the number of cases and positivity rate," read the email. 
The university continues to guide their decisions on mask mandate regulations based on federal and state guidance, in addition to "local conditions and the unique aspects of communal life on a large residential campus." It is recognized that conditions are improving, but the indoor mask mandate is still in place.
Vaccine clinics are continuing to be offered on Wednesdays from 10 a.m. to 1 p.m. and Thursdays from 1 to 4 p.m. through March 10. 
The COVID-19 data is monitored through "symptomatic, adaptive and voluntary testing programs as well as wastewater surveillance." 
As a reminder, symptomatic and asymptomatic COVID-19 testing is available for students, faculty and staff on campus, regardless of vaccination status at UHS and CCPH.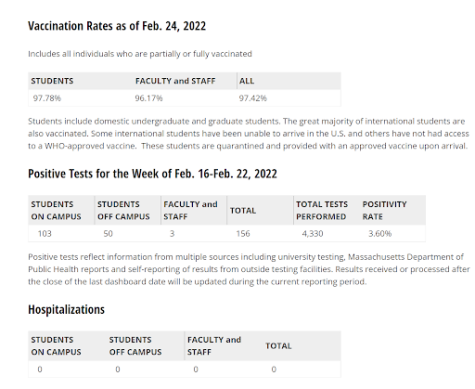 Email Olivia at [email protected]