A Look Inside The O-Hill Music Festival
"SALT" brings the first annual outdoor concert to UMass this weekend
 The UMass Students for Alternative Music Club, (otherwise known as SALT) is putting on their first annual, "O-Hill Music Festival" this Saturday, Apr. 16. The festival is set to take place from 3-7 p.m. on the Orchard Hill Basketball Courts. 
Due to the impending inclement weather, SALT will make the decision Saturday on their Instagram if the event will occur on the courts, or in the Integrative Learning Center's Lounge. Regardless, the festival will take place, rain or shine. 
The O-Hill Music Festival is projected to be the first ever outdoor event orchestrated by SALT. In accordance with the ever growing Amherst/Pioneer Valley music scene and the increasing temperatures; the timing for a larger-scale event was perfect.
"At the beginning of this semester we all were spitballing ideas, and this idea seemed like a great one. An outdoor music festival is just classic," said SALT's president, Maxwell Francke. 
Francke delved into the main initiatives of SALT, ones that have proven successful given the sheer popularity of music-based events in the area.
"We find bands from the local area, probably as far as New York City to come play here. All of our bands are DIY style and donation based. Any of the donations completely go to the bands," Francke said.
Whether it be shows at local houses, establishments, or UMass buildings; the prevalence of their existence is thanks in large part to the work of Francke and his peers. SALT has created an accessible, inclusive, and creative platform for musicians and their fans to receive an escape from the restrictive, often time all consuming college day-to-day.
The culture in which SALT has cultivated, is indicative through the lineup for this weekend's festival. The acts span the likes of UMass student bands, to those based in Boston– their ties to Amherst, and ultimately SALT allowing them to participate.
Track Meat, a post-punk, emo influenced Amherst band is one of the four acts set to perform this  Saturday. The band, who presently is composed of Mike Bergeron, Matt Comoletti, John Davis, and Jeremy Jacques have been an integral piece in the rise of the Amherst music scene. 
 Formed in 2019, Track Meat came to be as a result of the band's two remaining founding members, Bergeron and Comoletti meeting at their high school job. 
"Matt [Comoletti] and I met when we worked together at the same grocery store in high school. We both wanted to go to UMass too, so our sophomore year here we started a band. We had always been in similar music scenes, but we never really played together," said Bergeron.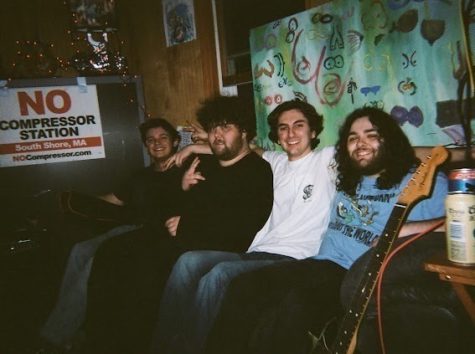 Now in their senior year, Bergeron and Comoletti had Davis and Jacques joined in Fall of 2021 after the other members stepped away due to effects of the pandemic and other commitments. This occurrence was just as ironically destined as the meeting of Track Meat's founding members. Bergeron and Comoletti's relationship with Davis came to be as a result of the now drummer of the band selling a mattress to the two, while Jacques joined Track Meat via discovery of a Reddit post from Bergeron and Comoletti attempting to track down a bassist. 
Since then, Track Meat has released their first EP titled, "Amphibian" which can be found on streaming platforms such as Apple Music and Spotify. Despite the traction Track Meat has gained, the opportunity of performing at the festival is a full circle moment for the band; not only ideal to commemorate their time at UMass, but representative of just how far they have come.
"We all live off campus now, but all of the members have lived up on O-Hill at some point. It's a big deal for us," said Comoletti.
Another band whose roots in Amherst led them to the festival is Orbiter. The Boston-based rock band was started in June of 2021 by Artem Aleksanyan, Christian Edwards, and James Fair. Aleksanyan and Fair, both UMass alumni, had mutual friends still attending the university who, "put in a good word" with SALT, allowing Orbiter to book the gig.
"We're really excited to play at UMass… we will be playing a lot of original, high energy songs. They'll be some you can dance to, some that you can cry to; we just want everyone to have a good time," said Fair.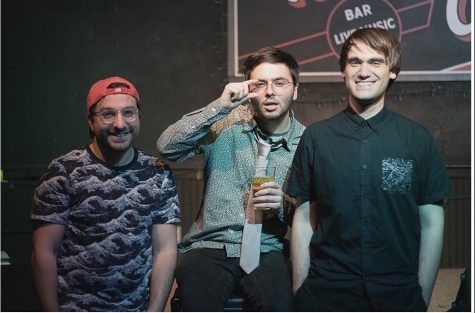 Orbiter will take their, "dynamic and distinct" sound to venues in Massachusetts and beyond in the coming weeks. These shows are to be made available, in addition to recordings of some of their live performances on their Instagram and website. 
The third act to grace the O-Hill courts comes in the form of the newly founded, "Big Egg In The Sky". Its' members, Sawyer Phillips, Sean Quinn, Clancy Conlin, Kyle Turtleman, and Noah Chives center around creating a bluegrass sound. 
"I've been playing with Sean who is our bass player for like three years in all sorts of groups and iterations. This kid named Clancy [Conlin] plays the pedal steel, and I thought that could be really cool on the folky, acoustic music I write," said Phillips.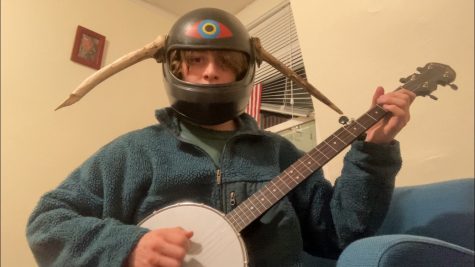 From there, Conlin introduced Phillips to his friends Turtleman and Chives whose drumming and multiinstrumentalist skills brought the group to a new, unique dimension.
"All the groups I've been in before have been loud, electric guitar type music. I play a lot of acoustic music alone, but they came over to jam and we really just vibed," said Phillips. 
Phillips' peripheral involvement in SALT, is what ultimately got Big Egg in the Sky drawn in with the festival; in a quite literal sense. Phillips also offered his artistic abilities to the event, creating the poster art to promote the festival. 
Ollie Schechter is the fourth and final artist set to perform. Schechter, a longtime musician has embarked on a new route with her craft in this next stage of life. Starting out as a classical pianist at age six, Schechter has blossomed as a singer songwriter.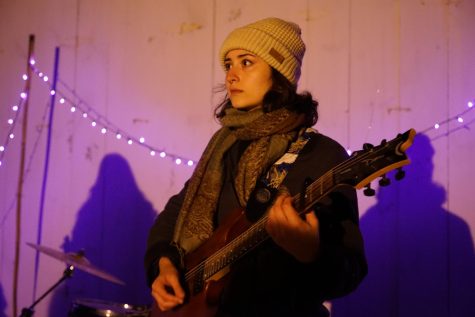 "I had a very rigid approach to music because I was very anxious and not very self confident… when I got to college it was hard to access a piano, so I brought my guitar and messed around with that," said Schechter. 
From there, Francke was among the people who aided Schechter to become immersed in the Amherst music scene, and further this very festival. 
"I was coworkers with them [Francke] last summer and we would drive to and from work and listen to each others' music. They [Francke] started to post about house shows, and then invited me. That's how I really got to preforming," Schechter said.
The haunting, folk-inspired stylings of Schechter are ones audience members can expect vulnerable, dark songs from that serve as reflections of her own observations and thoughts. The intimacy of her work is something Schechter believes can be an unnerving, plaguing ideal to couple with; yet the music has all the while been regarded positively and thoughtfully, a testament to the Amherst community.
"There is a really positive energy always here. I really love that because a lot of artists like myself suffer from imposter syndrome. We can tend to focus on the negative of our work, and then you go and perform and are like, "Oh, people aren't looking for the bad stuff". People are really open minded and kind. That has been healing in a lot of ways," Schechter said.
Schecter sets to devote the next month to recording her original music upon quitting her job, with details to come on her Instagram. 
The courts where Schecter and the other artists are set to perform, are located between VanMeter and Field Residence Halls. Those planning to attend are encouraged to bring their own seating and blankets to best enjoy the festival. 
After the O-Hill Festival, SALT looks ahead to their final two events of the semester. The first comes in the form of a Punk Prom on April 30th, and the second show on May 4th to commence the last day of classes. Lineups and further details are to follow on SALT's Instagram.
SALT's prevalence to so many of these artists is one truly emblematic of the widespread impact and respect those have for music. This has fostered a welcoming, mutualistic environment as opposed to the cutthroat, toxic one known to be linked to entities like the big time music industries. 
Though this school year is quickly coming to a close, one thing is for certain: the music scene is not. 
"The audiences are great. The bands are great, and so many of us are all friends. The harder thing right now is getting shows that especially are safe and well organized. Amherst has such a great legacy for music, and we wanna help grow that even more," Bergeron said. 
Follow Shanti on Twitter and Instagram @shantifurtado or email her at [email protected]