UMass tries to meet demand in 'tighter' housing market
With the "tight" and "expensive" off-campus housing market and increasing demand for on-campus housing, due to higher enrollment rates, UMass tries to accommodate students with triples, quads, and housing in local hotels.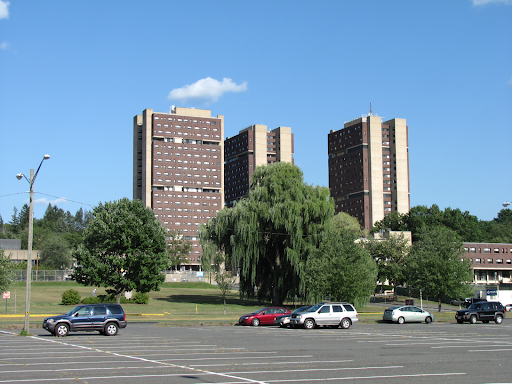 UMass Amherst made multiple changes to the on-campus housing plan for next year to accommodate a rise in demand, according to UMass Residential Life Director, Dawn Bond and News Director, Ed Blaguszewski. 
Some double rooms will be converted into triples, Bond said. Bond said that these rooms are "popular," in part because of their discounted rate. 
Sophomore Engineering major Kevin Roche mentioned that their brother was placed in a triple in Southwest last year. "He said it was miserable," Roche recalled, "It was so cramped and just didn't make sense."
Bond said she knows that the forced triples are "tight," but she had to make accommodations to fit as many students as possible. She needed space for students to live, and said, " I'm not really in a situation where I can just wave a wand and put 300 beds somewhere."
UMass will also be converting lounges into bedrooms for four students, which Bond said are "even more popular."
Isabella Siefken, sophomore Hospitality major at UMass, did not get the housing situation she wanted and was put in a converted lounge dorm room with four people. "This was my last option, but I'm not mad," Siefken said, mentioning that a room with four people was "cramped" but the lounge was a good use of space. 
UMass sent an email on April 12 detailing expanded housing options and accommodations, including hosting students in local hotels to accommodate as many students as possible, the email read. Bond said on April 2 that housing students in a hotel is a "last-line plan."  
Aalianna Marietta, a freshman Journalism major said, "if I was a freshman and they did that, I know that would make the transition into college much harder,"  
Bond said she will continue to encourage students to move off-campus, but Blaguszewski mentioned the difficulty in securing off-campus housing, "in our recent memory, we can't remember a tighter [housing] market," Blaguszewski said. 
UMass is offering an incentive for students to commute for the Fall 2022 in exchange for a $900 rebate on Spring 2023 housing under certain conditions.
Roche applied for an apartment in Brandywine Apartments with two friends in January for $1,720 including utilities, under the impression they would be signing the lease in June, but their application was rejected this month. Brandywine usually has about 25 available apartments and this year had 8 available apartments, Roche said. 
The Amherst Building Authority said that population growth and demand for housing in Amherst is closely linked to student enrollments.
Bond noted the increase in enrollments at UMass, "We are occupied this spring higher than we've ever been occupied in my twenty years," she said. Blaguszewski said more students want to come to UMass and more students want to live on campus.
In 2016, 59% of admitted students decided to enroll and 65.5% in 2019, making predicting how many admitted students will enroll difficult. "It's not an exact science. It's an art," Blaguszewski said. 
After being rejected by Brandywine, Roche and their friends toured Sugarloaf Estates in Sunderland, with rent at $1,500, but they said it was not worth the 30 minute bus ride to campus as it would be a "waste" of time. Roche and their friends then found a house for rent for $2,160 excluding utilities.
The population growth of Amherst and UMass has made the housing market "increasingly expensive," The Amherst Building Authority said. 
Roche said they think the house in Amherst is a better choice than housing outside of Amherst, despite the higher rent. "It takes 3 and a half minutes for me to bike from the house to Frank, so you can't beat that," they said. 
On-campus housing fees are expected to rise 3-5%, Bond said, and the Board of Trustees will finalize the costs in July. In order to do the projects the university wants to do, "that little tick up [in costs] does make a difference," Bond noted.
Marietta said that the university's increase in costs is "selfish," considering inflation in costs across the board.
"How are you not going to have housing and then charge even more?," sophomore Siefken said. 
The university has been receiving "little state support" that is causing a rise in tuition and fees, Blaguszewski said. He said 20% of the university's operating budget now is state funded, while in the 1970s and 1980s, the state would cover 70-80% of the budget.
Bond mentioned that there will be no housing reserved for quarantine and isolation, something Bond was happy about because it would free up living space. "Even a building with 120 beds that might seem insignificant can make such a huge difference," she said. 
Due to a lack of housing, Roche's housing will cost more than they originally thought, over $2,000 plus utilities. Roche mentioned that when their dad was in college in the 1980's, it was "so incredibly cheap" to rent an apartment. 
Rent costs are rising in off-campus housing as the demand rises, according to a Housing Production Plan by the Amherst Building Authority in 2010. Rental housing production fell 12.6% between 1980 and 2010, with average rent rising from $287 in 1980 to $1,108 in 2010. 
Blaguszewski said that UMass housing is more reliable than the off-campus housing market. Marietta noted that the on-campus housing selection process is "stressful" and that getting what she wanted depended on her priority number to select housing. 
Siefken described the difficulty in selecting housing during normal room selection time and summer switch, which is when she switched into the quad. A lot of her friends "got stranded" in Central or Sylvan because they weren't able to get into Southwest. 
In order to fix the problem of overcrowding and lack of housing at UMass, Siefken said that UMass needs to stop admitting so many students, but she doesn't believe they will or that the problem will be solved soon. 
Roche said that UMass's decision to house students in a hotel shows that the university has become "desperate."