The Reality of Transfer Students Living in the Econo Lodge
Housing nearly 150 transfer students, this hotel holds the reality about the UMass 2022-2023 housing crisis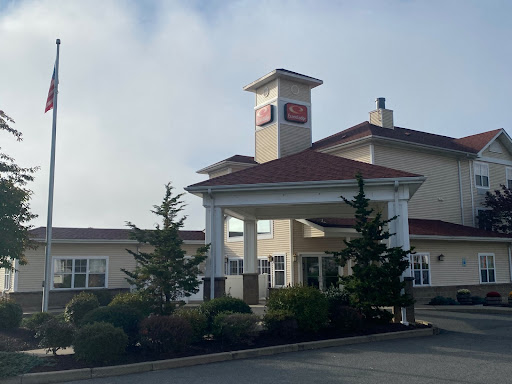 When transferring into a new school students expect to finally feel like they are in their forever home. No one could predict the isolation that UMass transfer students are undergoing this semester. Not even UMass administration fully grips the reality of the situation.
Stepping foot into the Econo Lodge in Hadley, you'll find your typical hotel room halls but this semester they are filled with UMass transfer students and decorated with typical dorm-style informational posters. You can even find Resident Assistants information and the names of each student plastered on each room door.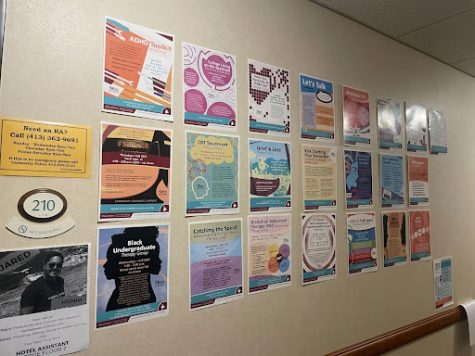 This comes after UMass welcomed its second-largest class in university history. The class of 2026 has approximately 5,550 students. This combined with the increased demand of upperclassmen desiring to live on campus has left a shortage of housing on campus. 
UMass' solution to this problem was to increase the number of economy triples (a set-up where UMass houses three students in one double room for a decreased price). But another issue arose as well: where to house the transfer students.
Residential life decided to rent out the Econo Lodge which is located 15 minutes away from campus by car. One hundred and twenty-two students were placed there prior to move-in. Students without a car who are currently housed there are left to either walk an hour to campus or rely on the bus.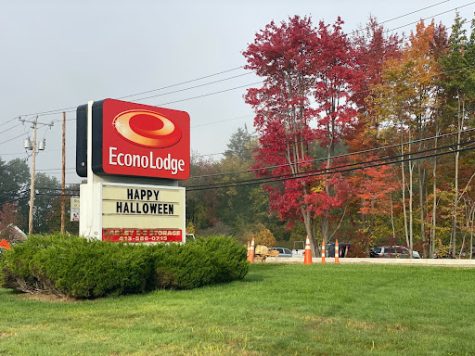 Coral Alicea Manon, a transfer from Quinsigamond Community College, offered some thoughts on the transportation issue. 
"They (UMass administration) told us that the hotel was like six minutes from the campus," said Alicea Manon. "Which even driving is not. That was one of the things that for me, I'm glad I have a car. But my (past) roommate, she used to not have a car. That was one of the main reasons that she moved to campus."
There is a new transit shuttle van system that comes to the Econo Lodge at 7:30, 8:30 and 9:30 a.m. that takes the students to the Fine Arts Center/Haigis Mall. Along with these shuttles, those students can use the PVTA bus B43 at the Mountain Farm (West) or the Home Depot and Chipotle stops. The shuttles and buses are reported by students to get filled very quickly or they come late, and this causes some of the students to have to decide whether they want to walk or bike on the very busy Route 9 (with no sidewalks), or spend money and call an uber. In a year full of big pushes for street safety, this poses a potential detriment to progress. 
"We've encouraged students to get off at the Walmart stop and walk across the parking lot because we do not want them to get off on Route 9 on the side of the street where the breakfast and lunch places are," said UMass Director of Residential Life Student Services Dawn Bond
Bond describes the Route 9 stop as, "a bit of a 'Frogger' walk and I wouldn't want to try to cross that street on a regular basis. There is not a crosswalk there. There's no light." 
When arriving on campus, Econo Lodge students have to plan how they spend their time and money. Alicea Manon's ex-roommate Gabby Fargnoli, a transfer student from Boston University, says that it feels as though she had to wait around a lot on campus.
"It just felt like I was wasting so much time having to… coordinate my schedule with the buses," said Fargnoli. 
Life at the Econo Lodge also makes socializing as a transfer student hard. "We don't go through social life here. We walk into the room and that's it," said Manon.
Fargnoli added that she "didn't really meet nor like, talk to a lot of people in the lodge."
When prompted, Bond responded, "We worked really hard this summer, work to try to mitigate as much as that as we could. We're building community there." She added that there is also a student leadership advisory board there.
Bond also said the primary reason that UMass chose the Econo Lodge was to keep all those students in one area so they could build a community.
 "We didn't want 20 beds at the UMass hotel and 20 beds at Marriott and 20 beds at Courtyard. Econo Lodge was perfect for us. The whole hotel is ours," she said. 
Even Econo Lodge residents who have friends on campus have a very hard time going out at night with them because there are limited options for getting back home. Students either have to take an Uber, Lyft or taxi because the PVTA system does not run in that area past 9:00 p.m. 
Even in the comfort of their own rooms, things haven't always been easy. UMass listed on their website for transfer students that the Econo Lodge would be cleaning their private bathrooms once a week as well as changing the linens. 
Not only do they not come in and clean the bathroom, but they only provide the students with one toilet paper roll a week and haven't given them paper towels since week one. Additionally, the day before students moved into the Econo Lodge UMass disclosed that they would have to bring their own comforters because the Econo Lodge did not agree to supply them with such.
According to Bond, the hotel and the university had communicated about expectations for this semester and put them into writing. However, there were some differing decisions made on the part of the hotel that were unexpected to administration. 
"We were operating under the impression that bed linens…would be provided and that those bed linens would be laundered once a week along with the towels that are in a bathroom in a hotel, which includes the bath mat and the hand towel and the face towel and the bath towel and that did not happen," said Bond.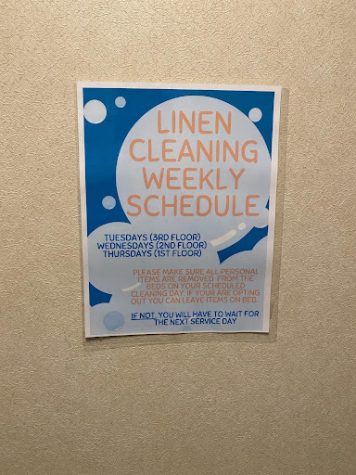 "Students are having their rooms cleaned and their bathrooms cleaned and some of their linens laundered at this time."

On top of both of these issues UMass had to rectify, there was also a discrepancy over Econo Lodge's "continental breakfast." Many students had their own ideas of what a continental breakfast entails yet when they arrived at the hotel those standards were not met. UMass Dining intervened in the issue and created a "Hospitality Room" to make up for the complaints they were receiving. Get a peek into what this room looks like versus on-campus dining.
Next semester, UMass Residential Life has promised transfer students priority in the second semester housing process. According to Bond, their "goal is to get the students (living in the Econo Lodge) into the residence halls by spring semester." There are 53 students still housed in the Econo Lodge as of Oct. 7 as compared to the 122 that were originally placed there.