UKRAINIAN STUDENT FEATURE: LARA STECEWYCZ '24
English and Psychology student Lara Stecewycz shares how it's been living at UMass during Russia's war on Ukraine.
Following Russian President Vladmir Putin's invasion of Ukraine on Feb. 24, Ukrainian students spoke with Amherst Wire about how the evolving conflict has impacted their lives while at UMass. Here's English and Psychology sophomore Lara Stecewycz's, story.
Lara Stecewycz, a sophomore student studying English and Psychology at UMass, is a proud Ukrainian. Her backpack is adorned with a small Ukrainian flag, signifying her heritage to fellow students, professors, and anyone else with whom she crosses paths.
"It's something that I can brag about," Stecewycz said as a smile spread across her face.
While Stecewycz herself was born in Boston, her family has a long history in Ukraine. 
"Everyone in my family kind of knew Ukrainian communities and fell in love and got married," said Stecewycz. "On my mother's side, my grandparents lived with us for a few years and they were always pushing Ukrainian onto me, telling me their stories."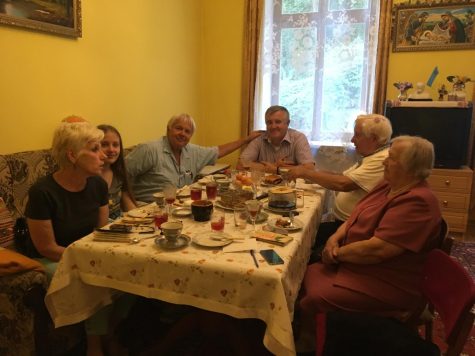 Stecewycz's maternal grandmother was born in Poland, but attended school in Ukraine. During the Holocaust, she and her family built a wall in their pantry to hide a Jewish couple who were previously trying to hide in a wagonload of deceased Jewish people. 
Stecewycz's grandmother met her husband in a displaced persons camp in Germany. "They ended up falling in love and getting married there," said Stecewycz, "which is tragic and sweet."
Eventually, the couple found a sponsor and moved to the US, where her grandfather took a job at a brewing company.
Stecewycz's paternal grandparents grew up in a small village that was invaded by Russian soldiers in World War II.
"They always like to talk about the more positive experiences they had there, but really they were put in labor camps as kids and forced to work," she said. She also explained that, tragically, her grandfather witnessed his mother get shot by a Russian soldier during WWII. Eventually, her paternal grandparents got a sponsor and moved to Ohio.
"That's their history," said Stecewycz, "which I guess is my history."
"I am very proud to be Ukrainian," Stecewycz said as she sat upright in her chair and lifted her chin.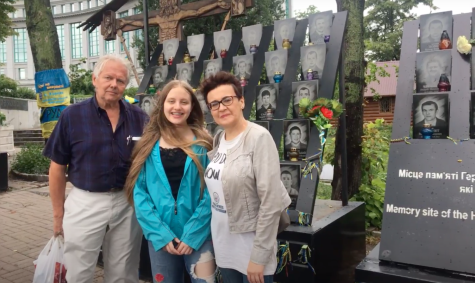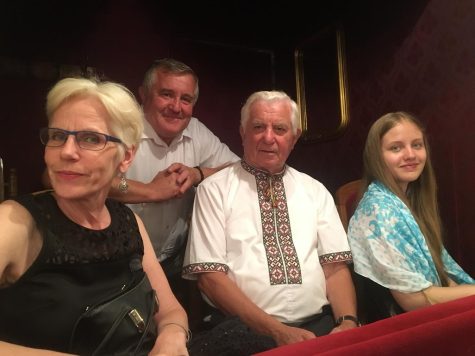 Right now, Stecewycz has family living in Leviev, which is on the Western side of Ukraine. Since the invasion, she and her family have been holding Zoom calls to check in.
"The ones who currently live there just refuse to leave," said Stecewycz. "They have this beautiful house and area of land, so I understand why they don't want to leave. They don't know where they would go, unless it was here or Poland."
"They're like, 'this is our home, and we're going to stay here until we're like, at the brink of being murdered," she said. "While they are there, they are trying to do all they can to help, sending materials and money."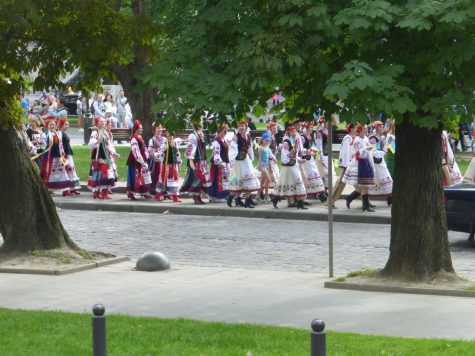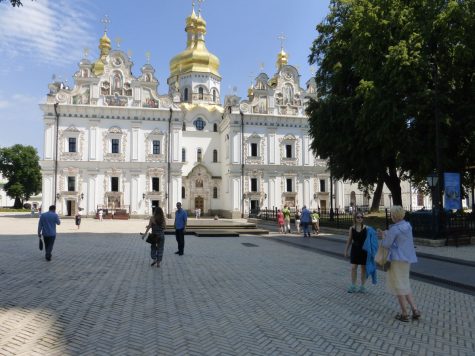 Since the Feb. 24 invasion, Stecewycz says it has been difficult to find support while at school.
"I don't know a lot of Ukrainians [at UMass], so it's a little lonely," she said. "It's been hard to find support. I know Ukrainians are involved on campus, wherever they may be. My non-Ukrainian friends try to be here for me, but they don't really know what to do."
"Professors have been flexible in terms of schoolwork. Other than that though, they're kind of sympathizing from a not completely understanding standpoint, if that makes sense."
Last month, the UMass community received an email from Chancellor Subbaswamy condemning the invasion of Ukraine as an assault on democracy. The email also said that the university had been in direct contact with students, faculty, and staff from Ukraine to offer support and resources.
"From my experience, that was really frustrating to read," Stecewycz commented on the email. "I don't want to accuse them of saying that just to get people off their back, if anyone is. But that hasn't happened in my experience. And from other Ukrainian folks I've talked to, that hasn't happened to them."
Stecewycz proposed a few ideas for how the university could better support Ukrainian students and staff. 
"There are definitely Ukrainian professors or staff members and I feel like they should be given a platform to talk about this," said Stecewycz.
"There are so many events. Why not have an event about this?" Stecewycz noted that she could organize an event, but that the weight shouldn't have to fall on the shoulders of one Ukrainian student. 
She also suggested the possibility of Ukrainian language or history programs. 
"At the least, [the university] could be hosting events and encouraging students to come. At the most, they could be trying to grow the Ukrainian community by means of teaching people about it through language or history."
In terms of student involvement and engagement with the events in Ukraine, Stecewycz wishes that the student response was as passionate as it has been surrounding issues like fraternity culture.
"I'm fortunate that people are being respectful, but I hope that this can be seen as important as other movements we've had," she said. "When UMass dealt with the fraternity issue and that was a big thing," said Stecewycz, "I loved how people were mad at UMass… This is something that's very different, but [is] also important and also should be talked about."
She brought up the potential for more protests to gain more attention from the university. 
"Ukraine has already been at war with Russia for eight years," Stecewycz said. "When I mention this to people my age, too few of them are aware, despite the fact that Ukrainians our age have spent nearly half of their lives with their country –their home– at war."
"It's been frustrating. And I hope even that my one voice can do something to influence the school."