You should embark on self care in college, here's why it matters
The Out of the Darkness Walk is a fundraiser for the American Foundation for Suicide Prevention (AFSP), which does an annual collaboration with the student-run mental health advocacy club, Active Minds in support of advocacy for mental health awareness and suicide prevention.
Are you aware of the support and education offered on campus for mental health? University of Massachusetts Amherst senior, Christine MacCune has reflected on the experience and elaborates on the importance of advocacy and mental health on a college campus through the UMass organization Active Minds. 
MacCune expresses the need college students need for mental health awareness and why it matters. For the Out of the Darkness Walk held at 11 p.m, Apr. 24,at the Hagis mall, MacCune felt it was a great success. The collaboration with the American Foundation for Suicide Prevention Massachusetts Chapter associate director, Michele Lee, aims for more awareness of suicide prevention and mental health education on college campuses. About 80 people registered in total for the walk with around $9,000 in donations. UMass students and community members came together and participated in the conversation. 
Active Minds is a national organization founded by Alison Malmon in June 2003 who lost her brother to suicide. Active Minds was established by Malmon to inspire young people with self-care resources, education for mental health awareness and giving them a voice. The organization has chapters across the country that work to reduce stigma and save lives. UMass has a chapter of Active Minds that dates back several years. 
MacCune expressed, having two older sisters who attended UMass while she was in high school, they knew she was passionate and empathic about mental health concerns due to her own experience, this brought her to The Active Minds on campus.
 "I went through and still experience my own mental health struggles. In high school, I experienced more mental health issues and I was hospitalized. I felt very isolated at that time, and I did not feel like I had a community that supported me, especially when it came to mental wellness." MacCune said. As a result, MacCune became an advocate and a voice for those who didn't have a voice. Soon after, she started sharing her story and wanted to continue that in college. 
Active Minds was a space for MacCune that encouraged being brave and healthily sharing stories. "I've been part of Active Minds since my freshman year at UMass. This year I have served as President of this awesome group. I am so inspired by what this club does every day. Being in a place where there are people with common experiences, was reassuring and helped me continue to want to be an advocate because having mental health concerns can be really isolating. I am very passionate about it." MacCune said. Through MacCune's advocacy she has found a family of great friends through Active Minds. She has done various initiatives to spread awareness of student mental health awareness such as working with AFSP where she has met Michele Lee. 
MacCune feels the next President of Active Minds will have the fortune of working with the American Foundation for Suicide Prevention's Michele Lee. Lee has helped Active Minds navigate through the world of booking events and coordinating projects at UMass. "She is a great resource. Michele helped do programs to train us for suicide prevention at UMass through Active Minds. I feel good leaving the next Co-President in her hands for the future walks that we have." MacCune expressed.
Lee's focus is on overseeing all of the college campuses' Out of the Darkness walks. Lee has done the Out of the Darkness Walk with UMass and further campus initiatives like programming support. Lee also oversees three community walks in the fall in the Southeast part of the state, as well as coordinating the loss and healing initiatives across Massachusetts. Lee attended her first Out of the Darkness Walk about 15 years ago. She tragically lost her father to suicide when she was just 14, and her family was looking for support through their grief and found AFSP.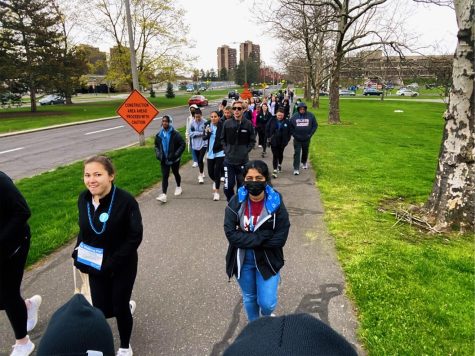 "That's how I got involved. Losing him to take his own life wasn't something I could fathom. My father was a police officer at a school so everyone called him officer friendly, and it was always a friendly joke. He would listen to and support students who were struggling. Students and people who were on staff through the Department spoke so highly of him. He is what drives me every day. Every day I'm also motivated to continue my work by the students I meet with. I'm inspired by the volunteers because I know we are all sharing this history." Lee said. 
To break the stigma of suicide, it would be appropriate to have socially aware conversations with loved ones and friends who are going through difficult times. Through Active Minds and American Foundation for Suicide Prevention, they offer social outreach. 
"Active Minds' message and mission are to have conversations. To break the stigma, Active Minds focuses on storytelling. So having these difficult conversations in common spaces, obviously not talking about suicide or mental health struggles in a glorified way, but allowing that conversation to happen." MacCune said. 
If when someone can ask, Are you feeling suicidal? They are providing a space where suicide can be discussed in a non-judgemental way, including the hard feelings that come with it: loneliness and despair. Getting people to feel comfortable enough to seek out help when they need it is crucial. 
The American Foundation for Suicide Prevention, every May begins an additional campaign to take action amid Mental Health Awareness month. Lee explained, "The last couple of years, we've used the hashtag Real convo. It was to have a real conversation with someone you might be concerned about. 'How are you? I'm good. How are you?' It was more of an honest conversation." 
The American Foundation for Suicide Prevention is expressing the concerns of those who have been deeply affected by suicide whether personally or through a loved one. "We have had the real convo, acted upon it, and raised awareness, and now we demand more in terms of mental health services. Our goal is to continue to support accessible and affordable care, education in schools, and funding for suicide prevention." Lee explained. 
While it is mental health awareness month, we must be reminded to check in on our loved ones and friends, in turn, we must do the same for ourselves in our time of need. Self-care is a genuine part of mental health, it reduces various symptoms of anxiety and depression, and uplifts mood and overall well-being. There is so much sadness happening in the world and what we face in classes, on the job or at home. We tend to be hard on ourselves and must remember we are doing our best to navigate through the challenges we face day to day in the midst of our own mental health struggles. 
MacCune has reminded herself, as a student to slow down, "Going into my house after a long shift, I take five minutes, and I sit outside on my deck and look at the stars for five minutes, ground myself, be like, this is where I am. I'm here right now in this moment to recollect myself and be like, all right, I can be home now."
When we pay attention to our physical, social, emotional, and mental health, we develop compassion and acceptance for ourselves at school, at home, or with our friends and family. The key to improving your mood is learning what works for you in your self-care journey. MacCune mentions that focusing on life's small pleasures is important to finding self-love.  
"So that's been big for me, as well as just like, small things that give me joy, like crocheting. I started crocheting when I was in the hospital in high school, and I've continued doing that. It's just like a simple movement that feels good, and repetitive. And I now share that experience with my roommates. So we all sit on the couch or sit outside and crochet together." MacCune reminded, we need this as an encouragement to try our best to stay present and grounded in these isolated and trivial times and be kind to ourselves. 
There are several resources on the UMass campus to promote education about suicide prevention and also resources to help people in need. The Center for Health Promotion, The Campus Recreation Center, and the Center for Women and Community, with the initiatives to hear students in their times of need.
Active Minds' goal is to bridge the gap between students and the University. MacCune said, " I think we've done so this year pretty well. Active Minds got the National Suicide Prevention hotline number on the back of UCards this past semester. So we're excited about that. I know there have been changes at the Center for Counseling and Psychological Health as well." 
MacCune as the President of Active Minds has also worked closely with Betsy Cracco this past year, who is the Executive director of Wellness Access and Prevention here at UMass. MacCune said, "Betsy has been working hard to amplify student voices. As the director of Wellness, she is very interested in hearing what students need and what they want so that she can then make it happen."
One of the objectives of Out of the Darkness Campus walks is educating about mental health and suicide prevention on college campuses. The American Foundation for Suicide Prevention supports various programs that are catered toward college students and recognizing signs of depression and recognizing signs of other mental health conditions both in ourselves and also others. "Those are the biggest pieces within the resources through the wellness center, and knowing what support is available on campus, sharing the national suicide prevention lifeline is vital. We strive to describe different approaches to how we can help support someone who might be struggling." Lee stated. 
It is a positive experience for peers whose classmates are taking part in advocacy for mental health and suicide prevention. They sense that they are not alone, that help is available, and that there are people out there willing to support and raise awareness. 
Lee reminds us, "Just being there, listening and being paying attention to any changes that you might be noticing, and then getting the support. Another big piece is one of the best ways to be an advocate for someone is to have the National Suicide Prevention Lifeline number provided." 
The UMass Active Minds chapter worked in partnership with the American Foundation for Suicide Prevention to amplify student voices and create an awareness of the importance of mental health and suicide prevention. Participating in an #OutoftheDarkness Campus Walk lets others know they are not alone. By decreasing stigma and increasing awareness and minimizing the taboo around mental health through active conversations. By 2025, American Foundation for Suicide Prevention hopes to reduce suicides by 20%,through funding. To comfort those who have lost a loved one or to help those who are struggling to feel heard, every penny counts. By signing up on Afsp.org, you can become a field advocate for American Foundation for Suicide Prevention, and Mental health. You will receive an alert whenever a bill is introduced or a policy priority that involves mental health or suicide prevention arises. 
The American Foundation for Suicide Prevention invites anyone to share their story. It's so important that legislators' representatives are hearing from supporters and know that there are people who are so passionate about mental health and suicide prevention. Your voice matters. You are not alone. 
National Suicide Prevention Lifeline: 1-800-273-TALK (8255) or 800-273-8255 Active Minds: [email protected] 
To contact the writer, please email, [email protected]