The 1975's "Being Funny in a Foreign Language" deserves a standing ovation
Exceeding expectations, the group's latest album reasserts themselves as leaders in pop music
English pop band The 1975 released their fifth studio album, "Being Funny in a Foreign Language," on Oct. 14. Based out of Manchester, England, the group originated in 2002 and consists of four members: lead vocalist Matthew "Matty" Healy, lead guitarist Adam Hann, bassist Ross MacDonald, and drummer George Daniel. The musical quartet has been playing together for 20 years since their teenage years, as their latest collection of songs sends listeners back in time with its 80s-inspired style and old-school feeling.
Fans of The 1975 were optimistic about the latest album after being left disappointed by the group's fourth album, "Notes on a Conditional Form," which was released in May 2020. Lacking the original influences and meanings of the pop band's first three albums, the 2020 collection featured far too many songs, adding up to nearly 80 minutes in an awkward, prolonged disaster. Twitter quickly became a nightmare for The 1975, as critics shared their harsh opinions by repeatedly saying, 'Bring back the old 1975". Two years later, "Being Funny in a Foreign Language" was determined to end this array of negativity and prove to the music world that The 1975 could bounce back and re-enter conversations about talented, proven bands.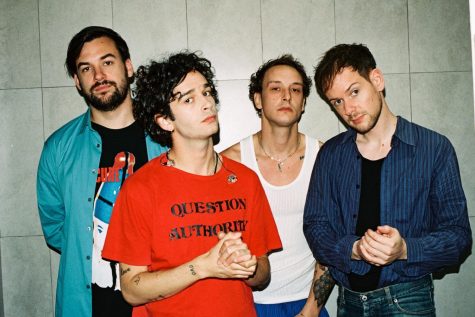 Starting off the album, the first track is titled, of course, after the beloved group's name. "The 1975" features a variety of instruments in the instrumental background, including a fast-paced piano and slow humming of a saxophone towards the end of the tune. Healy sings about living during one's prime stages of youth. "I'm sorry if you're living and you're seventeen" is the most repeated lyric, preaching to the struggles young people can face, even during times of excitement and promise. "Happiness" flips the early mood to a more cheerful sensation with its upbeat rhythms. Dedicated to loving only one person in his life, the lead singer proudly says, "She showed me what love is," confirming his strong feelings for this special someone. Next, "Looking for Somebody (To Love)" continues the theme of searching for true love, as some will go to extreme measures to find and keep it in their hearts. From competing with other potential mates to going through all the typical emotions of a breakup, The 1975 perfectly describes the common ways in which we push ourselves to discover who fits best for us in life.
"Part of the Band" is definitely the most unique track of the album, as it shares Healy's inner thoughts and feelings. The lyrics, "So many cringes in the heroin binges / I was coming off the hinges, living on the fringes" are sort of confusing to understand, but this may be the point that The 1975 is trying to address, as everyone's mind works differently under stress and diverse experiences. The fifth track, "Oh Caroline" simply makes you feel good every time you listen to it. As my favorite song on the album, this track is pure harmony with the soft piano chords and Healy singing about his dream girl who he cannot live without. "I'm in Love With You" adds to the popular love-motivated energy of "Being Funny in a Foreign Language". Exactly as the title suggests, Healy expresses his devotion to his loved one for nearly four and a half minutes, repeating that one lyric to show his admiration and care. 
Slowing down the pace, "All I Need to Hear" reassures listeners that telling people that you love them truly means more than you think. Hearing those three special words can make a difference in someone's day or life. "Wintering" is a nostalgic tune, as Healy tells the stories of his journeys back home for Christmas amongst his family's joy for the holidays. "I drive up on the 23rd" sets the scene for Healy to share how he feels prior to the big day, which can be both comforting and overwhelming. Taking the ninth spot on the list, "Human Too" serves as a friendly reminder that everyone makes mistakes, as that is an essential part of being a human. Occasionally, things do not go as planned, but we are forced to accept it and move forward, which Healy clearly resonates with.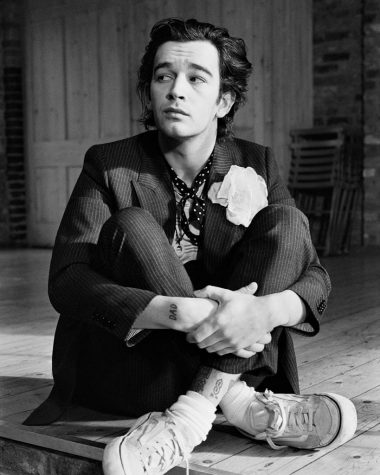 Closing out "Being Funny in a Foreign Language," "About You" beautifully sends listeners to a different level of understanding the impact of past lovers. Healy constantly asks, "Do you think I have forgotten?" to deny the idea that forgetting love is a simple task. His voice is so gentle yet powerful, making this track one of the album's strongest projects. Finally, "When We Are Together" rounds out the 11-song collection, which features soft guitar sounds amid conversations about searching for city apartments, sweater weather, and scented candles. When the two are together, they are at their very best and nothing in the world can take that away from them.
Challenged with brutal critiques from fans and music experts, The 1975 stepped up their game just in time with the release of this nearly perfect album. Healy's voice is paired exquisitely with his three companions' musical talents, making for a cohesive, harmonious pop band. There are only one or two songs that are potential skips, but with that said, I could listen to "Being Funny in a Foreign Language" straight through without any complaints. We are able to learn about heartbreak, identity, and life's wonder in this album, as The 1975 opened their hearts for everyone to feel the love.
"Being Funny in a Foreign Language" is now streaming on all platforms.
Email Sean at [email protected] or follow him on Twitter @seanpdunham.