Santiago Vidales: A person of action
AMHERST — At his first political rally in Washington D.C. as a high school student, the "adrenaline of the collective" made Santiago Vidales realize the impact of people power.
Fast forward over a decade and Vidales, 28, is a key player in activism at the University of Massachusetts Amherst, bolstering support for a sanctuary campus and leading the Graduate Employee Organization (GEO) union as co-chair.
"It's important to remember that, at the end of the day, it's person by person and about finding community and building bonds that can build movements," Vidales said. "Activism has to be seen as a long-term life endeavor to make sure society is less cruel and more welcoming and accepting of difference."
Originally from Bogota, Colombia, Vidales emigrated with his mother to the United States in 1999 and moved to Alexandria, Va. before attending school in Amherst. When he is not organizing or studying, Vidales can be found exploring the mountains.
"My true passion in life is riding my bike and being in the woods and going climbing. That's where I find my strength," Vidales said with a smile.
While Vidales may gain his inner power from nature, his academic interests come from his mother, who has a Ph.D. in philosophy.  
"She's an intellectual and we always talked about politics and issues of philosophy," Vidales stated. "I was always very engaged and asking her a lot of questions about what she was doing in class and what she was working on," said Vidales. "It was kind of natural that if these were the kinds of conversations I was having at home with her that I would continue to have those in an institutional setting."
First impressions count
Vidales, now a Ph.D. student studying U.S. Latino and Latin American literature and culture, graduated from UMass in 2010 with a bachelor's degree in philosophy. After studying for a year in California, he returned to his alma mater with a full scholarship to finish his master's degree.  
During his first semester back on campus, an impromptu conversation with two GEO members sparked Vidales' interest in union work. At that time, Vidales taught introductory Spanish and expressed concerns about his contract, which he stated did not provide the appropriate wages or time needed to successfully teach two classes.  
With full support and guidance from the union, Vidales met with other graduate workers who felt similarly and organized to change the contract's conditions.  
"We ran a campaign and talked to the university and to the faculty," explained Vidales. "We got people energized and excited…and, within a year, we were all on a one on one schedule —20 hours per week working only one class per semester."  
Vidales, who previously joked that he had never won a raffle ticket or even a T-shirt in his life, had just won his first campaign.
"Activism on campus can be very powerful but the results can be murky and, for whatever reason, my experience was very positive," Vidales stated. "So, I stayed involved and, when the opportunity arose to run for a paid position as a leader and co-chair, I did it."
"It's been a pretty massive job of learning and building an organization that speaks to what people on this campus need," said Vidales. "It's difficult work but it's engaging and I love it."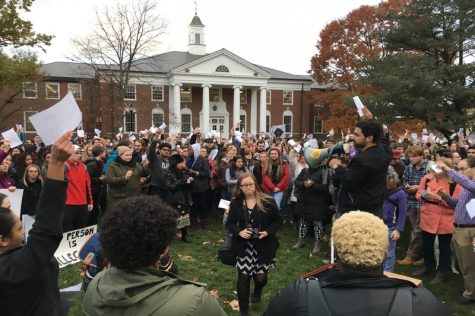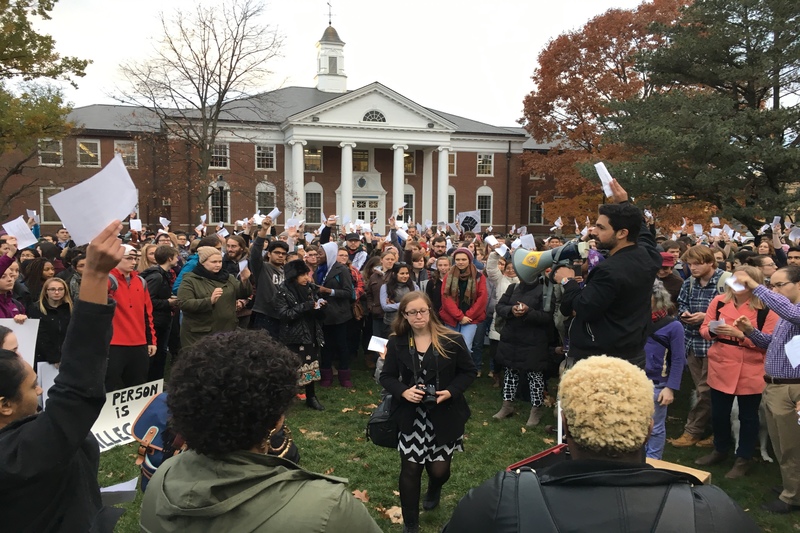 "No one said democracy would be easy"
At 1 p.m. on Dec. 9, Vidales sat inside the Student Union, clad in all black with a single orange square pinned to his hoodie. His attire symbolized solidarity with two prominent social campaigns on campus, Divest UMass and the Sanctuary Campus movement.
Vidales revealed that earlier in the morning, he braved the frigid temperatures with roughly 50 other individuals who marched with colorful signs to the Old Chapel, where they then stood in formation as the Board of Trustees assembled for a meeting.  
"When we were done with the ceremonial proceedings we just did a mic check to let them know we are here because we have clear demands," Vidales explained. "Both the Sanctuary Campus and Divest movements requested to be on the agenda and be able to speak…but they were denied that option, which is pretty messed up since these are mass movements that are garnering a lot of energy and attention."
Vidales stated that this semester, after Republican candidate Donald Trump's presidential victory in November, he has worked diligently with other union members to organize support and demand that UMass commit to protecting undocumented, refugee and international community members.     
His co-worker, GEO Mobilization Coordinator Adam Garfield, stated that Vidales' interest and confidence in social justice and experience within the union show when talking to members and garnering support for campus action.
"He's the type of person who can definitely get people involved and excited for the work we do," Garfield said.
On Nov. 16, Vidales drew on his public speaking experience to energize and inform a crowd of roughly 800 students and faculty members who gathered near the Student Union for a walkout in solidarity with the movement.  
Vidales recalled the crowd and stated that he had never seen anything quite so massive.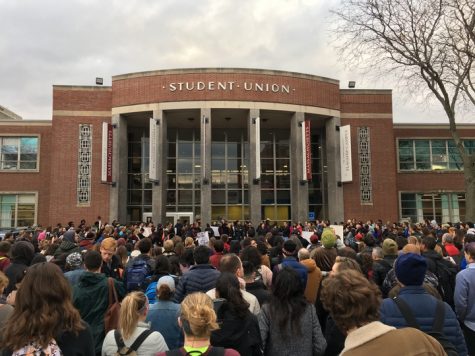 "Even though I speak publicly a lot for my union, I've never stood in front of that many people in that capacity," Vidales stated.  "So, it was definitely overwhelming…but also empowering to see that this kind of work can be done. That something was said to trigger people's imaginations to come through and participate."
"This is not something that we as students, as people of color, as immigrants ever have to experience," Vidales added. "Sort of appreciating that like people are listening to me, people are following my instructions…and they're willing to put their bodies on the line to make these demands and take a risk."
Although Chancellor Kumble R. Subbaswamy and university administrators have not officially declared the campus a sanctuary after an email campaign by UMass students and faculty demanded a response, Vidales said that he and union members will continue to push for protections so that everyone in the campus community may feel safe and welcome.
"As a person who has a certain degree of privilege — I speak English, I have my papers, people look at what I do as important — I have a responsibility to make sure those who have less and those who are in worse positions have their voices raised and their concerns centered," he continued.
"That's why I do activism."
Email Maria at [email protected], or follow her on Twitter @Maria_Manning4.