UMass TA from Syria uses research article to reveal humility some Syrians feel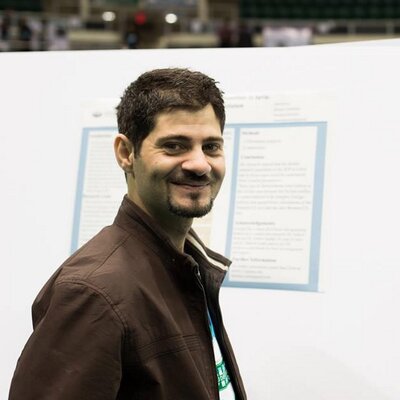 Basileus Zeno arrived in the U.S. on Aug. 8, 2011. Prior to this, he was working on his Ph.D. in classical archaeology and worked at an international museum where he documented Seleucid coins. He was also an active writer, who wrote for many Arabic newspapers in support of the Syrian uprising, and participated in conferences for the opposition, hoping for a political transition.
"You come here, you start from zero, most people have no problem with that," Zeno said. "But there is no recognition of the experience they had before, so they have to assimilate themselves into the new system."
Zeno is now pursuing a doctorate in political science at the University of Massachusetts Amherst and is a teaching assistant in the political science department. He has previously taught courses such as American Foreign Policy with Paul Musgrave, Comparative Politics with Timothy Pachirat, and now Power with Angelica Bernal.
Zeno completed a research article, "Dignity and Humiliation: Identity Formation among Syrian Refugees" last year and it was published at Middle East Law and Governance. He made sure that his research touched upon the crisis theoretically and academically without sharing too much of his personal life.
"I'm in a weird position, where I'm displaced, an asylum seeker, most of my family are refugees and displaced around the world, but at the same time, I'm a scholar," Zeno said.
Zeno wrote his article for multiple reasons. One of the things that motivated his research was the picture of Alan Kurdi. Zeno said that even though many people shared this picture as a symbol of the refugee crisis and many people in Europe mobilized to support the refugees, for him, it was a moment of humiliation. He saw his pain being shared all over the world.
Zeno thinks that all these kinds of incidents are ephemeral, meaning that they will vanish quickly when another incident happens. "I was right about that because soon enough ISIS attacked Beirut and Paris at the same time," Zeno said. "No one knows about Beirut but in France, all of a sudden the policies and reactions are different."
Another thing that motivated him to write this article was because he felt dignity in Syria. "In Syria, my life was a daily life of humiliation and dignity at the same time," Zeno said. When he was with his intelligent group of friends, they created a spot of light in the heart of darkness and that is all he carries with him now.
Lastly, he wrote it because of a slogan that Syria, Yemen and Egypt shared, "The Friday of Dignity." In February 2011, about a month before the Syrian uprising, there was an incident in Al-Hariqa, a neighborhood in Damascus, where the police violently attacked a man who was entering the Hamidiya market. All of the sudden, for the first time, many people gathered and began to demonstrate that the Syrian people will not be humiliated. 
"No one told them that, no activist organized that, unlike the March 15 organization. No one came up with this idea, it was not the reaction but an action where you reflect upon the biggest thing that hurts you every day which is humiliation," Zeno said.
As the civil war broke out in 2011 and all that he grew up with was getting destroyed, Zeno knew it was time for him and his wife to leave Syria and seek asylum in the United States. Going to the U.S. was a long and hard journey for them because they not only had to start their lives all over again, but also didn't and still don't have equal access to resources.
Zeno received a J-2 Visa and had saved around $5,000 alongside his wife, who received a scholarship from the Open Society Foundation to do her master's degree at Ohio University.
One of his priorities was to be at the same school as his wife, but Zeno tried, without luck, to find a program where he could continue to study classical archaeology and also be around his wife. After having a hard time finding a school that offered this field, he volunteered to help transcribe interviews that a professor had conducted with Palestinian refugees. During this time, he shared articles he had written with the professor, and it was this professor who introduced him to the idea of studying political science at Ohio University.
"Apparently archaeology had a deadlock now because, with the militarization, all expeditions were withdrawn from Syria," Zeno said. "You can't just stay still and wait until the end of the war."
He applied to the political science masters program at Ohio University and his thesis focused on the role of social media and nationalism in the context of the Syrian uprising. 
The reason Zeno was eager to enroll in a masters program that same year was because he didn't want to fall into the "asylum gap."
"If I wasn't accepted at the time, my status would be pending asylee, so it would be more difficult to enroll in school again because some refugees fell into this gap," Zeno said. "The status of their case becomes pending asylee, which means when they are applying for a masters program or a Ph.D., the state can't offer assistantship or anything because they have application status."
Zeno said he is not from a privileged family in terms of socioeconomic or anything else, but he thinks that being able to stand up again and be in school means that he is entitled to something that many of his friends died trying to do.
"I'm responsible now, I'm responsible for sharing this," Zeno said.
Zeno and his wife sought asylum in July 2013 and are still awaiting asylum to this day.
Email Sifa Kasongo at [email protected]