Six movies to swoon over this Valentine's Day
Did you set up an at home theater this Valentine's Day? Next step is playing one of these movies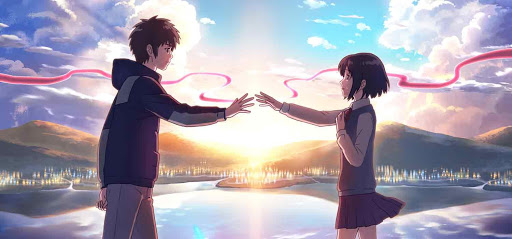 Valentine's Day is usually celebrated with a partner, but movies can be watched with or without one. These six movies are a great choice if you can't decide what to watch with your partner on Feb. 14 or if you just want to watch a good romantic movie.
"10 Things I Hate About You"
"I screwed up… I fell for her."
Synopsis: Popular high school heartthrob Bianca is the interest of every boy at school. However, her father forbids her to date until her "undesirable" moody sister does. In order to bypass this rule, the boys devise a plan to have the school troublemaker attract the older sister.
There isn't one thing I hate about "10 Things I Hate About You." This movie is a classic that I watched when I was in elementary school. Now that I am in college, I think that the movie is even funnier than ever before. There were multiple times where I forgot that I was watching "10 Things I Hate About You" on Disney Plus of all streaming services. The most prevalent feature of this movie is its more mature humor, but the second-most prevalent feature would have to be Patrick, Heath Ledger's character. Patrick begins the movie as the typical 1990s high school troublemaker that skips class, drinks beer and smokes cigarettes. However, after being paid to attract Bianca's sister, his true side is unveiled as a deep down sweetheart. The development of his character alone tells audiences to never judge a book by its cover.
Year: 1999
Streaming on: Disney Plus
"Coming to America"
"…when I marry, I want the woman to love me for who I am, not because of what I am."
Synopsis: Foreseeing an arranged marriage, affluent African Prince Akeem, played by Eddie Murphy, travels to New York to find someone that truly loves him for who he is.
The jokes in this movie are very adult and I feel like what makes this movie so great is how it isn't afraid to hold back. The two lead actors, Murphy and Arsenio Hall create a dynamic duo like no other. Also to note, Murphy and Hall play the two main characters, but they also act as more minor characters. I got a good laugh at seeing Murphy as an old man or Hall in a long wig. Aside from the humor, the movie lays down the important message to find someone that loves you for who you are, and not what you are or how much money you have. The movie's sequel, "Coming 2 America," will be available to stream on Amazon Prime Video on March 5, citing a 33-year gap between the two movies. Many of the original cast members are set to star in the successor including Hall and Murphy. 
Year: 1988
Streaming on: Amazon Prime Video
"Portrait of a Lady on Fire"
"In solitude, I felt the liberty you spoke of, but I also felt your absence."
Synopsis: In 18th century France, female painter Marianne paints the portrait of a young woman named Héloïse for her betrothed. However, as Marianne puts more paint on her canvas, she begins to form an unexpected bond with her subject.
There's a certain style to this movie that makes it so visually appealing. Set in the 18th century, the movie's lighting is illustrated to match that of an 18th century painting. The cast of the movie, although small, is set up to emphasize the relationship between Marianne and Héloïse. Every line of dialogue that is exchanged between the two feels natural and mesmerizing.
Year: 2019
Streaming on: Hulu
"The Artist"
"I've made way for you."
Synopsis: In the late 1920s, a silent movie legend and a starlet star in a film together. Years later, when the demand for silent movies spirals downward in favor of "talkies," the silent movie legend's fame disappears. However, the starlet shines brighter than ever in this new era of film. This contrast in their careers brings them closer together.
Words can't describe how unique "The Artist" is. The entire movie is portrayed as a silent film. This means that there is no spoken dialogue, if a line of dialogue is essential to the story, a card flashes with a direct quote from the character after they mouth their sentence. Due to the lack of spoken dialogue, actors put a lot of care and emphasis into their facial expressions and mannerisms. The slight raise of an eyebrow from a character can lay down more than any composed sentence. Additionally, the film's score creates a spectrum of emotion. While a fast-paced song creates a sense of urgency, a slow-paced song creates a sense of melancholy. The writers took advantage of the lack of voices to pull jokes that no other modern movie could make. Lastly, the dog in this movie is a better actor than some of the human actors that I've seen lately. Anyone would have to see it to believe it.
Year: 2011
Streaming on: Netflix
"In the Mood for Love"
"He remembers those vanished years. As though looking through a dusty window pane, the past is something he could see, but not touch. And everything he sees is blurred and indistinct."
Synopsis: Two couples move into apartments side by side. A wife from one apartment and a husband from the other instantly connect with one another when they speculate that their absent spouses are having affairs.
This Hong Kong "romance" movie would not count as a romance movie for all audiences. During the movie, the two neighbors make an agreement to keep their relationship platonic no matter what to avoid following in their cheating spouses' footsteps. However, as the audience witnesses the interactions between the two main characters and realizes that the absent spouses are cheating, there is that lingering sense that the two neighbors should form a relationship that is more than platonic. "In the Mood for Love" is not just a "romance" movie, but also a commentary on Asian traditions converging with western traditions, something that would be difficult to portray on film, but even more difficult to portray through romance.
Year: 2000
Streaming on: HBO Max
"Your Name."
"There's no way we could meet. But one thing is certain: if we see each other, we'll know."
Synopsis: A city boy and a small-town girl switch bodies at random times for unknown reasons. As they live each others' lives vicariously, the two of them build an attraction and wish to bridge the distance between them.
This anime movie is beautiful, both story-wise and visually. The plot is something that I have never seen before and I don't think many people could have thought of something so bizarre. Despite it being bizarre, it tells a great story of two high school teens forming a connection with one another even though they have never met each other before, they have only lived days in each others' body. The movie is portrayed through a mix of hand-drawn images and CGI which shocked me to realize how much effort was put into each individual frame. Music in this movie had me rocking my head up and down and singing along to the lyrics even though I don't speak any Japanese whatsoever. If anime is not typically your forte, "Your Name." is a great place to start.
Year: 2016
Available to rent on Amazon 
Email Aaron at [email protected] or follow him on Twitter @WhatTheFacundo.