UMass student turned K-Pop icon
How videos set in a Southwest dorm room gained the attention of thousands
It was six years ago that Katya Taylor, then 13 years old, sat in her living room mesmerized by the "Growl" music video by well-known Korean pop group EXO. She began to mimic the choreography before deciding to film herself dancing and posting it to Instagram. "I was immediately enamored with the advanced choreography in the music videos. This led me to create an Instagram account and start posting the dances I picked up from watching the music videos," Taylor recounted.
"I was just terrified before posting it, just because I didn't know if it was good enough," Taylor recalled. Today, Taylor is no longer the nervous girl in her living room. Now a sophomore at UMass, Taylor has amassed 139,000 followers on Instagram. She couldn't believe that it all started because of the video she posted so long ago and continues to post today. 
 "I knew since my mom put me in ballet classes at age 4 that I wanted to dance forever, but I did not expect to be posting K-Pop and Street dance videos to social media by this point in my life," said Taylor. Taylor, who is now a dance major at UMass, has been dancing for 14 years, favoring dynamic contemporary and hip-hop/street styles. Still, she never imagined that her love of dance would make her an Instagram creator. 
Her success, however, was gradual. While she began posting these videos in 2013 (many of which have been archived or deleted), it wasn't until around 2015 that her following started to increase. Taylor said it wasn't one particular video that gained traction, but rather her profile as a whole began to take off. 
By 2016 Taylor had what she called a supportive and dedicated audience, individuals who continued to watch her videos and leave kind comments. Her audience demographic primarily spans the age range of 18-24, more commonly resonating with individuals who identify as women. Much of her audience resides in the United States, although countries like Brazil, Indonesia and Mexico also displayed interest. 
 "Since I made my account and started interacting with this niche community, I have seen it grow to be something huge and I am honored to have been one of the catalysts for Instagram K-Pop dance covers," she said.
Taylor had discovered the dance world goldmine. Her job? She learns the choreography from popular K-Pop music videos and then recreates it for her audience, along with choreographing some of her own dances. The K-Pop fandom is known to be a collective of devoted individuals who try to consume the media in any way possible. From watching the K-Pop group music videos and interviews to song and dance covers, the fans tend to keep up with whatever content is available.  While dance covers are a niche subcategory, K-Pop covers have gained traction over the years as the genre spread like wildfire across the globe beginning with the song "Gangnam Style" by Psy in 2012.
"I realized I could actually do something with this once I discovered the rest of the K-Pop cover community on Instagram. Popular dancers who had been in the game for a bit inspired me to keep pushing and trying to gain a supportive audience," Taylor said. Once you watch one of her videos, the fascination becomes clear. Her body moves quickly, but fluid to such complex moves that someone with two left feet could never keep up. Some of her videos gain thousands of views, while others get views up in the millions. Taylor averages out at 40,000 views for every one-minute video she posts.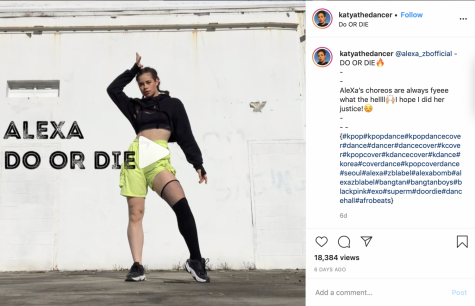 With a following like this, is she able to make a living from this work? In 2019, Taylor was selected by a company called Kung Fu Tea to be a special guest and dance workshop instructor at an event called K-Con New York that would be held that summer. According to their website, K-Con, which is held in both New York and Los Angeles, is "the world's largest fan celebration of Korean culture and music." Taylor spoke highly of the experience, "I was able to meet a lot of dancers and artists who were either my online friends or people I had looked up to for a long time," she said, "It was an amazing experience that really influenced and boosted me in many ways."
Brands are looking to sponsor people like Taylor, similar to many other social influencers, who have become the fascination of eager brands hoping to cater to a certain audience. These are known in the social media world as sponsorships. Taylor broke it down, "Usually the company reaches out to me via email and requests my rates," she said. "If I am interested in working with them, I make sure they fit my brand and send them my rates for packages like a feed post and a story or an IGTV video and a link in my bio section."
However, Taylor never wants to present a brand she doesn't feel fits her image. "I work with a few companies that reach out and connect me with brands they feel fit for me. When a brand and I agree on a deal, I post for them and receive compensation."
Taylor has worked with brands like Amazon Music, Just Dance, YesStyle K-Beauty and a Beauty Blender collaboration with the app TikTok. When asked about the rates Taylor charges brands, she politely declined to comment saying, "I don't really share my rates with people."
She didn't start doing covers to make money, but it definitely has been a bonus. "I would say this manifested itself. I didn't plan to amass a following of any significance originally, but once I did start to gain followers It encouraged me to continue improving myself and creating good content. I am very grateful," Taylor said.
Taylor isn't the only person doing this. There are thousands of people who perform dance covers on platforms like Instagram, Tik Tok and YouTube. Why do they do it? Some do it in an effort to get famous, but most do it because they're passionate about dance.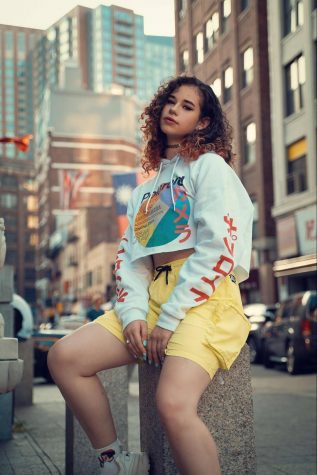 Surely with a following like hers and financial compensation, you'd think Taylor had it made. In reality, she sees herself like any other UMass student, juggling the chaotic schedule that comes with being a dance major and sophomore in college. "I have a very set schedule that I live by and rely on to get everything done," Taylor said.
She tends to have a lot on her plate, from choreographing pieces for the UMass Dance Company and the Aashka Dance Company out in Boston, dancing with two  K-pop dance crews and teaching at her home studio which is also in Boston. Right now, she is focused on a required show for her dance major which is set for February 28-29. How does she do it all? "When I'm not busy doing one of these above things (or schoolwork) I am learning and filming K-Pop dances," said Taylor.
Taylor recognizes how lucky she is to be born in the digital age. Knowing her work as an Instagram creator has already begun to help her dance career, she hopes that it will continue to do so in the future. Taylor plans to continue using her platform to support herself financially, supplementing her work as a commercial dancer once she graduates. "I know others who are making a living from posting K-Pop and Street dance content and I hope to continue to grow as they have," she said.
Many don't make the cut, but Taylor has hit the jackpot.
Email Nasya at [email protected] or follow her on Twitter @lilbbynas.