COVID-19 Hits Home: How the Pandemic Has Affected Small Businesses in Amherst
Small businesses have taken a particularly hard hit here in Amherst due to the COVID-19 pandemic, but the town has been building itself up again piece by piece.
AMHERST – Thirteen small businesses in Amherst, Massachusetts closed due to the COVID-19 pandemic, according to Gabrielle Gould, the executive director of the Amherst Business Improvement District. Out of those 13 businesses, 11 new businesses are moving into these vacant locations, such as Amherst Oyster House, which will be taking over the beloved Judie's restaurant. 
Gabrielle Gould was hired as executive director in Aug. 2019 before the COVID-19 pandemic. In 2019, her role was to improve the physical appearance of Amherst and to host events downtown as much as possible. Those plans were put on hold once the pandemic struck Amherst.
Seventy percent of small businesses in Amherst are minority owned, with most owners speaking English as their second language. Gould explained the biggest challenge of the pandemic was giving small businesses grants because they struggled with the language barriers. 
"Passion and talent are what makes these businesses run," Gould said. Most businesses were able to stay open during the pandemic, but some owners decided it was time to close. Judie's, a 44-year-old business located in the center of Amherst, "was in a good place and ready to retire," Gould said, once the pandemic shut down their restaurant. 
Some businesses that were truly lost were M&M Links, a jewelry store, and Amherst Yoga. M&M Links had a strong online presence, but was not enough to keep the business in operation. Amherst Yoga would be "impossible to keep open," according to Gould, because all participants have to breathe together and feel safe while doing yoga. 
However, there were some businesses that boomed during the pandemic, such as Henion Bakery, and "every liquor store in Amherst," Gould said. Henion Bakery created an online order system that worked well for customers. After 28 years, the owner of Henion Bakery announced retirement. The pandemic gave business owners an option to retire, and "Many businesses chose it was their time," Gould said. 
Glazed Doughnut Shop was closed for 16 months before reopening in Sept. 2021 with the return of college students on campus. Gould mentioned that the owner chose to stay closed for her two kids who are under the age of the vaccination requirement.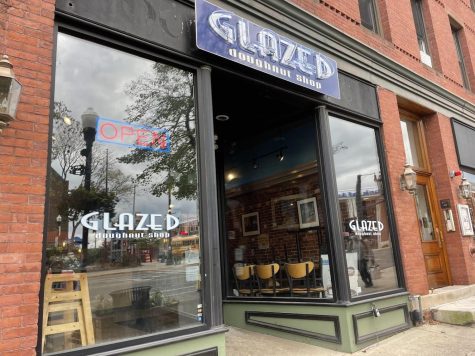 Even with the vaccine numbers going down, a mask mandate is still in place in the towns of Amherst and Hadley. Gould hopes that when the mask mandate is over, more people will go out and sit inside. The mask mandate has not stopped some of the businesses in Amherst, with Amherst Coffee offering home delivery, and Antonio's staying open for all of 2020. For Amherst Coffee, the location became a mini market, as the business reinvented themselves. Deliveries of wine made work feel fun for Amherst Coffee. 
Outdoor seating is still a popular trend for the Amherst dining area. According to Gould, many  residents of Amherst still don't feel comfortable eating inside, especially with college students coming back to town. Senior citizens were seen going out more after the vaccine was released, but with the Delta variant, outdoor seating became popular again. At the front and side of the new Garcia's restaurant, two outdoor patios are located for guests who prefer to sit outside. 
Garcia's Mexican Restaurant & Bar is a new eatery that has moved into the old Bertucci's building at the corner of Kendrick Place. With an entire renovation inside of the yellow building, decorations and furniture in the restaurant are straight from Mexico. Federico Mendi, owner of Garcia's, mentioned that he chose the location of Amherst due to its diversity.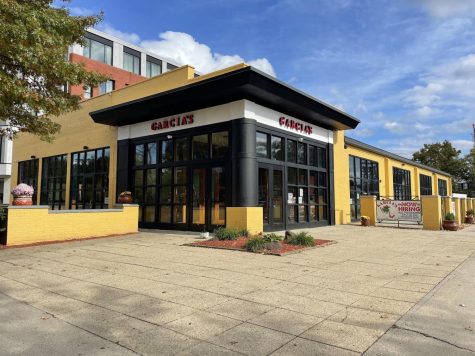 Two different bars are located inside for guests, one with three 75-inch televisions, and another with four 75-inch televisions. Although "there is no function room offered at this location, there is lots of space for parties from five to 40 to gather for sporting events, or to come by and have a beer," Mendi said. The hours of Garcia's are 11 a.m. to 10 p.m. Sunday through Thursday, and 11 a.m. to 11 p.m. Friday through Saturday. 
Mendi owns three other restaurants in Western Massachusetts and has earned nine awards for his service. His main goal is to bring culture from Mexico to Amherst because most individuals have American Mexican food. When asked why he chose this location for his restaurant, he mentioned it has lots of space, which was specifically remodeled to hold all Mexican culture. Inside is a "feeling of home, lots of tile, an arch way, Mexican paintings and furniture. Everything came from Mexico," Mendi said. 
 "Amherst is a diverse community with people who come from all over the place around the country and will enjoy our Mexican recipes," Mendi said. Garcia's waited for an inspection and could not set an opening date until this was completed. They were recently awarded their license and are open and running currently. 
The Spoke, a popular bar in downtown Amherst, is located on the side of Garcia's. The owner of The Spoke and Mendi have close ties with one another and stated that college students can spend their night at Garcia's and head over to Spoke after their meal. 
The Spoke, Stacker's Pub, McMurphy's Uptown Tavern and Monkey Bar are the only four bars in the town of Amherst. In order to reopen and abide to social distancing guidelines, The Spoke built a new kitchen for clientele. Stacker's and McMurphy's could not open at all during 2020, as it was illegal due to social distancing guidelines. Bistro 63 is the well-respected dining that stayed afloat while the Monkey Bar located inside was closed until Fall 2021. High Horse, an old brewery located across the street from Antonio's and Glazed Doughnut Shop, was another hot spot that closed just before March 2020 before the pandemic started. 
Gould's next project for the town of Amherst is the reopening of The Drake, a familiar name among pioneer valley residents. By winter 2022, the town of Amherst hopes to open a facility for live music and performance. The Drake is scheduled to vacate in the building High Horse was located in.  
In order to support small businesses, free advertising and leaving positive reviews on sites such as Yelp and Tripadvisor bring more profits than just ordering food. Social media shoutouts and committing to short staffed businesses also helps. 
Locations
Amherst Coffee: 28 Amity Street, Amherst, MA 01002
Amherst Oyster House (previously Judie's): 51 North Pleasant Street, Amherst, MA 01002
Antonio's: 31 North Pleasant Street, Amherst, MA 01002
The Drake (previously High Horse): 24 North Pleasant Street, Amherst, MA 01002
Garcia's Mexican Restaurant & Bar: 51 East Pleasant Street, Amherst, MA 01002
Glazed Doughnut Shop: 19 North Pleasant Street, Amherst, MA 01002
Henion Bakery: 174 N Pleasant Street, Amherst, MA 01002
McMurphy's Uptown Tavern:  37 North Pleasant Street, Amherst, MA 01002 
Monkey Bar/Bistro 63: 63 North Pleasant Street, Amherst, MA 01002
The Spoke: 35 East Pleasant Street, Amherst, MA 01002
Stacker's Pub: 57 North Pleasant Street, Amherst, MA 01002
Gabbie can be contacted with any questions or comments at [email protected].