Snowboarding in Style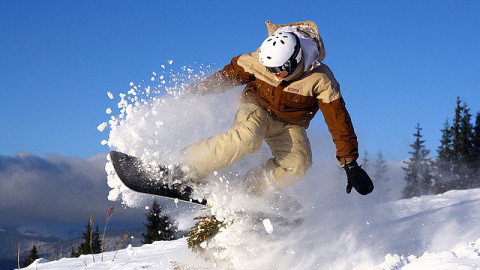 by Kelsey Hebert
[slideshow_deploy id='9647′]
Snowboarding is surrounded by a unique culture characterized by personal and traditional styles. What started out as "snurfing" (snow-surfing), invented by a surfer who had a dream of "surfing" in the Rocky Mountains during winter, has spiraled into a lifestyle for the old and young.
Snowboarding has always been accompanied by evolving fashion trends. As the evolution of the snowboard changed through the decades, so did the attire for the ride.
Early snowboard style looked like a typical day out to sled: sweaters, scarfs, and wool gloves. Jeans and sunglasses became popular in the early '60s, while the '70s ushered in puffa jackets and race-inspired skin tight leggings and gilets, which are sleeveless jackets or vests.
The '80s brought a new dynamic to the style that plays a major role in current slope fashion. Neon colors made their debut for both clothing and boards. Snowboarders also wore thrift shop inspired sweaters, sunglasses, and sometimes headbands. Fortunately, the majority of snowboarders strayed away from the neon one-piece jacket-snow pants combination that our parents embarrassingly sported in this decade.
Neon color spilled over into the '90s, along with new styles like baggy snow pants and sweatshirts. Snowboarding in flannel became popular, as did boarding in flat hats and wayfarers. Similar styles carried over into the new millennium, with snowboarding goggles instead of sunglasses, and even baggier clothing.
A few years ago, jeans and neon colors made a comeback in some areas, but skinny snow pants and larger, baggier jackets were the norm. Skater style, camouflage patterns, and balaclavas, typically known as ski masks, are common too. Slouchy hats and goggles are uniform for boarders, opposed to the helmets that skiers wear.
Snowboarding style depends on the rider's unique style on and off the slopes. Trends are adaptable to the individual—some match jacket and snow pants, while others may mismatch crazy colors and patterns in one outfit. Despite their individual styles and preferences, riders create a community with their desire to shred the slopes as often as possible during the winter months.
Kelsey Hebert can be reached at [email protected]